The Dairy Industry
India has been the leading producer and consumer of dairy products since 1998 and accounts for 22% of the global milk production annually that stood at 852 mn metric tonnes in FY19.
Indian dairy cows recorded the highest head count of 58.5 mn in FY19 which accounted for over 19.5% of the world's total number of cattle in 2019.
The industry generated revenue of $87,223 mn in FY20 and is expected to reach $1, 25,219 mn in FY25.
The industry provides employment opportunities particularly to marginal and women farmers and is an important source of income generation.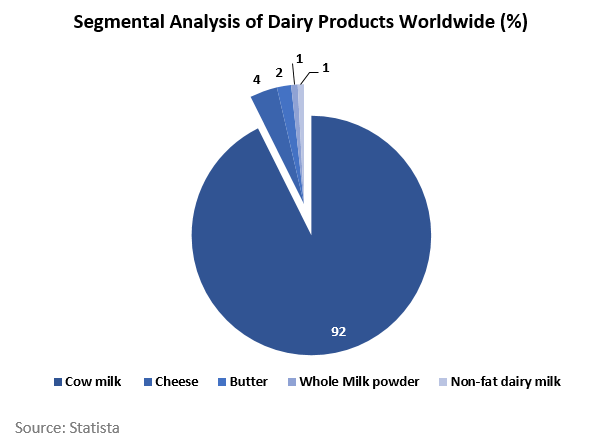 Secret behind the Growth of the Indian Dairy sector
The volume of milk production globally has been increasing at a compounded annual growth rate (CAGR) of 1.6% compared to India that saw a CAGR of 6.1% for the period FY14-19.
The Government of India has initiated various Dairy Development schemes to promote the growth of the Indian Dairy sector.
The National Program for bovine breeding and National Program for Dairy Development (NPDD) focuses on tightening the milk production, processing, marketing and procurement through state implementation.
National Dairy Plan (Phase 1) aims to enhance the productivity of milch animals through proper breed and animal nutrition.
Dairy Processing and Infrastructure Development Fund (DIDF) was launched in 2007 to modernize milk processing facilities for the manufacturing of milk products (VAP).
Most of the rural population is engaged in dairy business as milk is readily available at cheap prices. Uttar Pradesh is home to 18.62% of the total rural population, making it the largest producer and consumer of milk in India.
Moreover, rising income level, demand for alternate products, nutrition as the major facet and the large youth population has been driving the growth and demand for dairy products in India.
Performance of some Listed Companies
Parag Milk Foods Ltd.
The main aim of the Company in FY19 was to enhance its distribution capabilities. Owing to this fact, the Company saw an increase in its retail chain by 40% as compared to FY18.
FY19 marked a landmark shift from pure-play dairy major into an FMCG Company.
The Company has been capitalizing on the value-added products (VAP) i.e. cheese and paneer other than traditional milk products.
Milkfood Ltd.
The Company adheres to a cost-effective strategy for its operations. It has successfully established milk procurement and chilling centres intending to improve the quality of raw milk and minimize wastage.
The Company has a huge client base both domestic and international and for the distribution of its products, the Company has settled redistribution depots in almost all states.
Heritage Foods Ltd
The Company has a well-defined technological enabled "grass-to-glass" supply chain. It uses the digital transformation of messages and data from milk procurement levels to material management. This enables the Company in setting up an effective value chain by leveraging on IT and Analytics.
The Company adapts to "twin growth strategy" i.e. expanding VAP portfolio and augmenting national presence.
The Company has a diverse network of Heritage Parlours (franchise outlets) and Heritage Distribution Centers (HDC) to supply authorized Heritage products to its customers. This enhances the brand equity of the Company in the market.
India's largest dairy cooperative: Gujarat cooperative milk marketing federation that owns Amul brand announced that it will invest US$700 mn by 2022 on capacity expansion and generation.
Recent Government Initiatives
The Union Cabinet has assented ₹4,558 crore towards DIDF to promote the dairy sector by benefitting 95 lakh farmers in about 50,000 villages.
The Cabinet also augmented interest subvention from 2% to 2.5% with the revised outlay of ₹11,184 crore towards DIDF in Feb'20.
A new scheme of "interest subvention on working capital loans for the dairy sector" was launched to support dairy cooperatives and farmer producer organizations with a budgetary provision of ₹ 100 crores during 2020-21.
In 2020, the Cabinet approved Animal husbandry infrastructure development fund worth ₹15,000 crore with an agenda to boost private investments in dairy processing, value addition and cattle feed infrastructure.
Future Outlook
Scope for Innovation
Indian dairy sector is projected to grow at a CAGR of 15% to reach $9.4 tn by 2020.
Despite a large number of players in this sector and customers being highly fragmented, improvement in the supply chain and further innovation can aid start-ups in the milk delivery segment.
The Entry of MilkTech Start-ups
Indian customers are used to getting packaged milk delivered at their doorstep. However, hyperlocal delivery companies and start-ups are analyzing consumer demands and taking steps to offer tailored services of online delivery of milk and milk products through a subscription-based model. This plays a vital role in providing holistic grocery experience to the customers through application-based services.
Niche Dairy Products attracting the Market
Customers in the Indian market have remained pivoted to cow and buffalo milk and its products. However, product awareness and internet availability have demolished this traditional norm. Products like camel milk and goat milk are sure to lure customers in the coming years pertaining to multifarious health benefits.
A Shift from Liquid Milk to Milk Products
Demand for milk products (VAP) is expected to grow more in the HoReCa (hotel, restaurants and café) segment in the coming years. VAP guarantees higher profit than milk itself and the share of the same is projected to grow at 30% from the current 23% in the organized market by the end of 2020.
These investments made in the dairy sector will unveil potential growth opportunities both in the capacity generation as well as in the value-added segment. Hygiene factors have become all the more important and post-pandemic; people will surely switch to products with added health benefits. Private investments in the dairy processing will boost the output and customers will have a wide choice of dairy products with them.
Are we going to get milk delivered online just the way we get other products through e-commerce platforms? This question remains. However, the dairy sector will surely surprise us in the coming years with its innovation and new product range.
Contributor: Madhav Khemka
Research Desk | Leveraged Growth
I am a third-year B.Com (H) student at St. Xavier's College, Kolkata and a CFA-L2 candidate. I have an ardour for Finance and an inquisitiveness to explore its universe. Writing, reading and playing badminton is my escape from the modus operandi. Dedication and commitment towards each and every endeavour has been my driving force.