Water is a finite resource with just 0.5% of Earth's water in the usable form.
The Organisation for Economic Co-operation and Development (OECD) has estimated that the demand for water will become twice by 2055 with respect to 2015's demand. This is mainly attributed to population growth. The world's population is estimated to go up by 2 bn over the next 30 years. Due to scarcity in freshwater, every year 2 mn people die. Moreover, United Nations has estimated that by 2030 the world would face a 40% shortage of water.
But did you know that you can also invest in water?
Anyone can invest in stocks, bonds or mutual funds of companies that collect, treat, pack and distribute water. Additionally, companies that provide equipment to water plants, purify contaminated water for reuse and develop technologies to improve water availability form part of water investments.
Global Water Indices – A View on the Performance of Water Investments
The Dow Jones Brookfield Water Infrastructure Index tracks returns of companies involved in the manufacturing, research, lease, concession, or management of water-related infrastructure.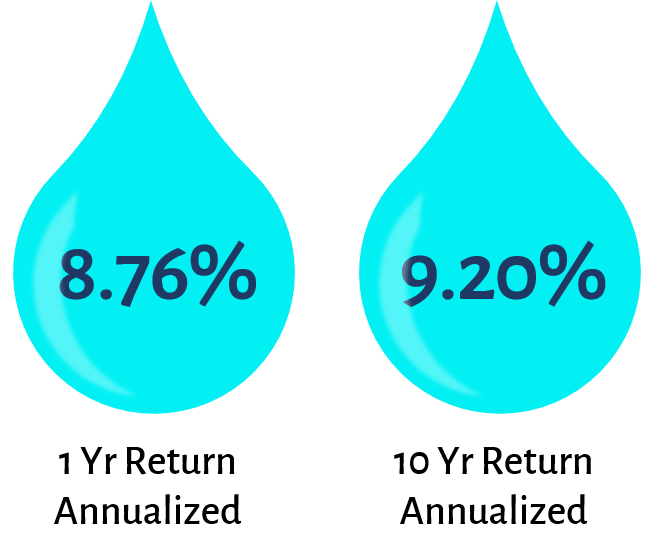 The S&P Municipal Bond Water & Sewer Index consists of bonds related to the water and sewer sector.
The S&P Global Water Index tracks exposure of 50 companies which are into Water Utilities & Infrastructure and Water Equipment & Materials from around the world.
Movement of prices is similar in the S&P 500 and S&P Global Water Index. For example, the recent falls due to coronavirus and its recovery show a similar pattern. However, the level of drop at the end of 2018 due to the trade war between the US and China was lower in water index compared to S&P 500. Moreover, the future returns and growth in water stocks are expected to be much higher due to rising water scarcity and demand.
The Companies that operate in the water infrastructure segment are capital-intensive because they invest in machinery and research, making them vulnerable to liquidity and credit risk. This sector is still in the early stage of development and most investors are skeptical about their returns. Further, the Industry faces regulatory and labour-related issues especially in wastewater and water purification plants.
Moreover, the water stocks related indexes may have more risk compared to a common stock index like S&P 500 of because the former lacks diversification.
Although the risk for water investments was higher in the past because many companies have ventured into these areas recently, in future water investments, are likely to be less risky and will recover sooner during recessions compared to other utility investments because most of its demand comes from residential use and its demand will always grow with the rising population.
Water Sector: In India
As per Research and Markets, the Indian wastewater treatment plants market stood at $2.4 bn in 2019 and is estimated to reach $4.3 bn by 2025 due to increased demand for sewage treatment plants and refined municipal water across the Country.
Several organizations like Xylem India, Jaldhara Technologies, Wabag, etc. have entered into wastewater treatment in response to the rising demand for water by households and industries. Wabag has started its first wastewater to drinking water plant in South Africa and will soon implement similar technology in India. This will significantly reduce water scarcity. Similarly, Xylem is known for residential water treatment technology using chemical-free technology and Jaldhara for rainwater harvesting. With growing water issues and water-related diseases need for such technologies will grow.
Government Initiatives
The Development of water and sanitation facilities in India has improved with the implementation of the Swachh Bharat Mission and National Rural Drinking Water Program.
Irrigation
Allocation: ₹13.15 tn
India's public irrigation sector, one of the largest in the world is set to improve through technological innovation. Under these projects, the irrigation sector is expected to be led by innovative technology like a solar-powered lift micro-irrigation system. Also, drip and sprinkler irrigation systems are gaining prominence. Engineering Procurement Construction (EPC) contractors, technology and equipment suppliers gain the most from these projects.
Sewage Management
Allocation: ₹0.7 tn
62 million tonnes of municipal wastewater is being generated in India every year with an expected growth of 4% on an average. Approximately 405 projects are scheduled for commencement between 2020-25 water sanitation and sewage treatment
Water Treatment Plants
Allocation: ₹7.57 tn
India has 1,123 bn cubic meters of water which can be used for domestic and industrial purposes. While it has estimated that 1072 bn cubic meters of water will be required for just irrigation by 2050. ₹3.6 tn is allocated to 'Jal Jeevan Mission' which aims at providing safe piped water to every household by 2024. Water sector companies that manufacture water pipes, pumps, meters, etc, will benefit from this project. This budget allocation alone has resulted in a 4.9% increase in Jain Irrigation Systems Ltd and a 20% increase in Shakti Pumps India Ltd.
₹279,492 crores has been planned to be spent on river linking, water supply, rejuvenation of river and wastewater collection and treatment.
Pune MUNI Bond
Pune Municipal Corporation issued a 1st listed bond with a 7.59% coupon rate in 2017. CRISIL, a leading credit rating agency has given this bond AA+ rating. The proceeds of this bond will be used for a ₹2300 crore water project to provide water 24/7 to every household in Pune.
Accordingly, several development initiatives of the governments will make water investments more attractive in the future.
The Packaged Water Market in India
The Indian packaged water market is estimated to grow at 20.75% CAGR and cross ₹403.06 bn by 2023, says Business Wire. The demand for purified drinking water is likely to go up with the increased awareness of health and sanitisation due to the outbreak of the coronavirus.
Tata Consumer Products Ltd., IRCTC (Railneer) and United Breweries Ltd. are few listed Indian Players in the Market.
Success Stories from the Water Sector
At present in India, we have very few investment options available for the general public to invest in water. With the rising demand for water, more funds, stocks and bonds are likely to be available in the Indian Market. Investing in these will encourage sustainable development.
Investing in water will be highly profitable because there aren't many players in this sector yet, which reduces the competition while the demand will continue to increase. The demand for water is not uniform across geographies so an investor needs to conduct an in-depth research to find the best stocks and also, maintain a well-diversified portfolio.
Note: All values mentioned in the blog are as of 25 August 2020 unless otherwise mentioned.
Contributor: Kavya Venati
Research Desk | Leveraged Growth
I am a recent MBA Finance graduate and currently preparing for FRM. I am an Economics enthusiast looking forward to research on Econometrics and Quantitative Finance. I am passionate about making Finance simple for everyone. Apart from that I also enjoy reading books and trekking.