Logistics and warehousing constitute a critical relationship in the chain that links the manufacturer to the ultimate consumer. It is the proficiency of a business' logistics and distribution mechanism that commands their extent, time to market, and cost competencies which demonstrate to be an important aspect enabling businesses to stay updated in today's ultra-competitive surroundings. The need to continuously reduce the inventory cycle is transforming the role of the warehouses from a simple storage yard to a one-stop solution that assists in inventory management, ancillary packaging, cross-docking and extraction of products in the least possible time.
The warehousing sector gained prominence in the last few years, witnessing a threefold growth from 14 mn sq. ft. in FY17 to 41.3 mn sq. ft. in FY20 across the top 8 cities of India. At the same time, the institutional investment in the industry has also grown from $125 mn in 2016 to $1.8 bn in 2019. The government's push to the sector such as giving infrastructure status to the logistics sector, the 'Make in India' initiative, projects to develop industrial freight corridors like Delhi-Mumbai Industrial Corridor (DMIC) and logistics parks have further powered demand for warehouses.
Annual Growth of Warehousing Stock (In mn sq. ft.)
Source: Knight Frank Research
Annual Growth of Investments in Warehousing Sector (In $ bn)
Source: Knight Frank Research
Benefits of Investing In Warehouses
The key benefits of investing in warehouses vs. other commercial real estates are as follows: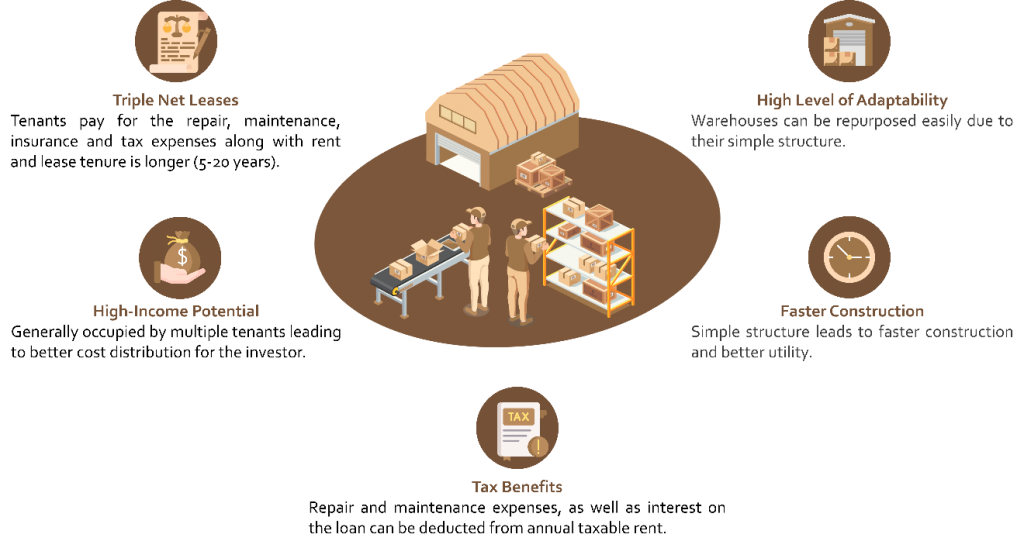 Warehousing Stock in India 2020
Source: Knight Frank Research

In FY20, 41.3 mn sq. ft. (46 mn sq. ft in FY19) of new warehousing stock was added summing up to 307 mn sq. ft of warehousing space in India out of the 500 mn sq. ft. of total warehousing potential available. The remaining 193 mn sq. ft. of prospective warehousing space, which is equal to 5 times the current absorption rate, can be accommodated on the existing commercial land available.
Institutionalization of Warehousing Industry
Earlier, the motivation to enter India's warehousing sector was negligible for organized players as the occupants themselves were satisfied to participate with marginal partners offering low-cost options with a network of small storage facilities near consumption centers. Numerous state and central level taxes made it practical for companies to maintain smaller warehouses in each state. Further, this restricted the focus on automation and higher throughput. But now, services offered by the organized logistics and warehousing providers are progressively seeing more demand from occupier groups. The factors responsible for this wave of change are compliance requirement from regulators (e.g. pharma industry), economies of scale being realized through larger warehouses, safety and security of goods, operational efficiency, faster turnarounds, and the arrival of e-commerce and other transnational businesses that favor only compliant facilities. This was further augmented by the implementation of Goods and Services Tax (GST), assigning infrastructure status to the logistics sector, the 'Make in India' initiative, etc. The growing supremacy of e-commerce, third party logistics (3PL) players and corporates with global operations have led to a steep rise in the demand for compliant and quality warehouses.
Profile of Investors (2020)
Source: Knight Frank Research
Warehouses have a shorter construction period (around 12–18 months) as compared to residential and office buildings. Hence, Private Equity (PE) funds, which generally have a fund life cycle of 8 to 10 years, are utmost active in this sector. PE funds had a 52% share of the total investments into the warehousing industry in FY20.
Earlier the typical warehousing lease tenures used to be normally less than 3 to 5 years. However, as the warehousing sector in India began evolving and occupiers started amalgamating their undertakings in larger warehouses, a huge amount of investment was required on the part of the occupiers for automation, robotics, inventory management tools, etc. The high capital intensive nature of investments led to occupiers favouring long-term leases, which generally extended from 8 to 10 years or more in some cases. This ensured the steadiness of annuity incomes for the investors and therefore, the long-term investors, like Sovereign and Pension funds, began investing in warehouses which ensured long-term annuity income. This is reflected in the share of Sovereign and Pension funds, which as a segment of investors had 29% or the second-largest share of investments into warehousing. Real estate and warehouse developers invested the remaining 19%.
Citing the prospective growth opportunities for organized segments, the institutional investors have collectively invested over $6.5 bn since 2017. Growing demand from tenants and significant policy interventions have guaranteed an impetus towards the institutionalization of the warehousing industry.
All India Industry Wise Share of Transactions (2020)
Source: Knight Frank Research
The 3PL and e-commerce companies are the biggest implementers of organized warehousing and have continued to dominate the space taken up during 2019. The share of the FMCG and retail sectors has reduced year on year because these sectors have been increasingly outsourcing their warehousing requirements to 3PL players due to the efficiencies brought in by these warehousing experts. Before the implementation of GST, in-house logistics operations were the backbone for supply chain undertakings. However, after the implementation of GST in 2017, a dedicated facility for storage and distribution of goods offered by Third-Party Logistics (3PL), has gained importance. Apart from the flexibility and cost efficiencies achieved by outsourcing to the 3PL companies, the input tax credit on GST also played an important role in increasing attention for 3PL services.
Even before COVID-19 struck the Indian economy, e-commerce had already established itself as a primary occupier group. The sector's share stood at 23% in FY20, preceded by the 3PL segment. At present, the pan-India trail of e-commerce warehousing is projected to be around 50 mil sq. ft. and more than half of it is occupied by a single player, Amazon. Flipkart comes next with around 15% share and the combined occupancy of both the players is estimated to be around 70-75%.
Noteworthy Investments during June 2019 – June 2020
Source: Knight Frank Research
Embassy Industrial Parks, a JV between real estate firm Embassy Group and private equity firm Warburg Pincus, will invest around ₹2,100 cr. to develop its ongoing logistic and warehousing projects in Pune, Nation Capital Region (NCR), Tamil Nadu and Hyderabad.
Blackstone Group will invest up to ₹380 cr. in Allcargo Logistics warehousing business.
Ascendas India Trust will acquire 2 lakh sq. ft. from Arshiya Limited for ₹95.15 cr.
Singapore-headquartered Mapletree Investments has acquired an under-construction logistics park in Pune from KSH Infra Industrial Park for ₹300 cr.
Government Policy Boost to the Warehousing Industry
Source: Company, Leveraged Growth
The Indian warehousing sector gained importance in the last 4-5 years as the system for a competent supply chain had been initiated by the enactment of Goods and Services Tax (GST) in 2017. In the same year, the logistics sector was granted the "infrastructure status" by the central government. Since then, the warehousing sector has undergone a swift modification towards institutionalization. Amongst the most distinguished triggers in the Indian warehousing industry was the reorganization of supply chain led by the implementation of GST where warehouse location and size strategy was rebased on efficiency rather than tax saving. This paved way for larger fulfilment centers around key markets.
Another major influencer for the warehousing industry is the corporate tax rate for new manufacturing companies in India, pegged at 17.6%, which is the least among the MVITI (Malaysia, Vietnam, Indonesia, Thailand and India) countries. This will attract new investments from various Multi-National Companies (MNCs) to set up their production facilities in India and in turn boost the demand for logistics and warehousing operations.
Impact of COVID-19 Pandemic
With COVID-19 pandemic and the subsequent nationwide lockdown, the nation witnessed large scale supply chain disruptions. Automobile, engineering, consumer durables are some of the segments which will experience a slowdown thus impacting their warehousing demand, whereas 3PL, e-commerce, FMCG are likely to increase their footprint. The COVID-19 pandemic, the nationwide lockdown combined with record-breaking unemployment and shift to BS-VI emission standards have resulted in a slowdown of the automobile sector. Same is the case with almost all the manufacturing industries. The pandemic also brought about certain other changes as shown below:
With a rapid increase in online consumer base and the influence of contact-less order, payment and delivery concept, Indian e-commerce industry is likely to witness a faster recovery as compared to other sectors thus further increasing its share in warehousing demand in the long run.
Sector Wise Recovery In Warehousing Space Leasing (2020)
Source: Knight Frank Research
The e-commerce industry was already registering strong growth and would have continued to do so, irrespective of the pandemic induced demand. After the near term hit to e-commerce demand due to the crisis, the growth in the segment is likely to accelerate as more and more people find merit in online shopping, especially of essentials. With limited mobility, many first time consumers tried to purchase on e-commerce channels during the lockdown. Due to the convenience offered by e-commerce platforms, many of these customers will become permanent even after the pandemic ends. Going forward, the fear of coronavirus infection will accelerate the adoption of e-commerce purchases as consumers restrict mobility over a short to medium term until there is a cure for the virus.
Conclusion
In India, the warehouses are still undeveloped and lag behind the global standards in terms of technological penetration. A large number of unorganized players in the warehousing sector, lack of technology supportive infrastructure within warehouses and massive availability of the human resource in the country are the key reasons for technological deficiency of warehouses in India. The recent COVID-19 crisis, however, triggered a remarkable turn of events. The Directorate General of Civil Aviation (DGCA), India granted special authorization to 13 e-commerce companies to test and use drones for deliveries until September 2020. Could the misery of the pandemic be the silver lining for a technological revolution in Indian warehouses? Only time will tell.
Contributor: Harshil Ghatalia
Research Desk | Leveraged Growth
I am an engineering graduate from Gujarat Technological University (GTU), Ahmedabad and currently pursuing MBA Finance from Pandit Deendayal Petroleum University, Gandhinagar along with CFA Level 1 from CFAI, USA. I am a sports enthusiast with state and national level exposure in Basketball. I have special interests in geopolitics, macro-economics and martial arts. I firmly believe that suffering the pain of discipline is much better than suffering the pain of regret. I'm an ardent learner who aspires to find a solution for every problem by employing my creative and analytical bent.