E-Sports is the competitive play of video games, where professional players play a basket of games. Many games are played online, most of which are multiplayer games. The industry has been growing rapidly and so has been the investment opportunities. In the 2010s, the simultaneous emergence of dedicated online streaming services allowed eSports to expand its audience and support regularly scheduled broadcasts. The resulting consumer brand interest in pro-gaming competitions allowed a number of tournament operators to scale into sustainable enterprises.
Thus, eSports is becoming a lucrative investment opportunity for many venture capital firms as well as retail investors. The market revenue shows positive growth witnessed by the industry: –
The year 2019 was a landmark for the global eSports market, as it was the first time when revenues crossed the billion-mark. The highest-grossing eSports revenue stream worldwide is sponsorship, which generated $456.7 mn in 2019, up from $340.2 mn in 2018. The world's fastest-growing eSports revenue stream by far is media rights with a CAGR (2017-2022) of +39.6%, compared to sponsorship's +28.4%.
But why invest in the E-Sports?
Who is investing in E-Sports?
As expected in any nascent industry, venture capital has been the predominant driver of investment within the eSports industry over the last several years. 2018 was a record year for venture capital investments, as 49 investments were made, i.e. double than that of 2017. In terms of sub-industries, venture capitalists was largely focused among media platforms & advertising (45%), developers (31%), and team organizations (18%). This is likely due to the pre-revenue nature of many types of investments.

How to invest in E-Sports?
The following is a breakdown of the five primary categories of eSports investment opportunity:
Team Organization
Just like in traditional team sports, competition within eSports takes place between players representing a specific organizational brand
When investing in a team organization, investors should identify a Company that has consistently made smart decisions when choosing which games to invest in and has also shown a willingness to cut its losses in failing titles. The eSports teams like Faze Clan, Cloud 9, etc. function like franchises in other sports and provide great returns to their owners by winning tournaments.
Game Developers
Game developers are companies that create the games, of which the tournaments are held. Companies like Valve and Epic games have proven to be great investments. The developer is also the primary source of eSport's infrastructure and prize money. The modern eSports ecosystem is heavily reliant on the success and sustainability of its most prominent developers. Unlike other subsectors of the eSports ecosystem, developers represent a more mature industry with several major developers attaining market capitalizations well into the billions. These larger developers consistently dominated the market, with the top 25 companies accounting for 77% of the total Global game market in 2017.
Third-party event coordinators
While many of the most prestigious eSports tournaments are operated by developers, there is an entire ecosystem of third-party event coordinators operating throughout the world. From International championships to high school leagues, third-party organizers play a critical role in the industry and are often contracted by developers to operate regional leagues and select events within a tournament circuit. The individual eSports event organizers like Major League Gaming (MLG) and Electronic Sports League (ESL) are also worthy investments as they make a lot in tickets and merchandise sales.
Media Platforms & Advertising
Media platforms & advertising encompasses a variety of different categories which focus on fan engagement. This ranges from advertising agencies that support nonendemic brands seeking to gain exposure within the space, to companies exploring new ways to get viewers more engaged with the influencers and teams they watch regularly through different streaming services. From an investment perspective, this category remains in its infancy. Of the 15 investments into media platforms & advertising companies in 2018, three had a venture capital investor. Media platforms like Twitch and YouTube play an integral role in the industry as they broadcast the games hence, are very popular investments.
Consumer Products
One of the most attractive eSports segment for traditional private equity and strategic buyers continues to be consumer products. These companies typically offer consistent revenue streams with a strong runway for growth, which can make for a well- suited partner and investment opportunity.
The gaming peripheral companies like Logitech and Razer provides more consistent revenue stream and thus, appeal more to the traditional investors.
Major E-Sports Teams and Clans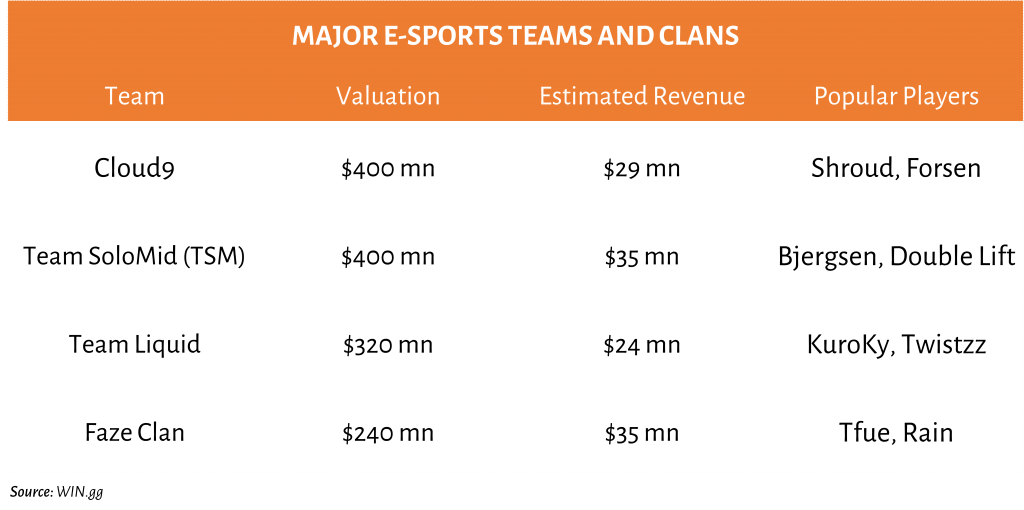 Largest Investments in E-Sports
Some of the largest investments in E-Sports are listed below: –
• Chinese streaming platform DouYU listed on Nasdaq, the IPO valued the Company at nearly $4 bn
• Artist Capital Management, an investor in 100 Thieves raised $135 mn and established a $100 mn E-Sports fund
• A $110 mn games, eSports and digital sports fund was launched by Hiro Capital
• E-Sports organization Gen.G raised $46 mn from investors, including Will SmithMoney spent on E-Sports and Gaming: India vs The World
India's average is growing fastest in comparison to the other countries. The Country is a relatively unexplored market as spending on video games is still not preferred by Indian gamers due to lower individual spending capacity.
However, the COVID-19 has led to a change in the consumption patterns of the Indian youth. Multiple lockdowns, zero income streams, and free-time has led the E-Sports industry to see explosive growth in the Country.
Impact of The Coronavirus on E-Sports

In the pre-Coronavirus era, the viewership had a CAGR of 9%. This showed that the audience was already highly engaged.
But with the global pandemic and people being locked down in their homes, gaming had to suffer as all the major live events like League of Legends Champions Korea and IEM Katowice was canceled.
Due to these cancellations, the revenue from merchandise and tickets went down. Newzoo reduced its forecast for the 2020 tickets and merchandising revenue from $121.7 mn to $106.5 mn. Also, the ecosystem of reporters and analysts surrounding these events took a hit.
As a result, all these events have transitioned to digital events, leading to a bigger eSports fanclub.
Due to the current situation, this is the only competitive sport that can be played at this time, thus bringing in new audiences. Gaming has come out to be a favorite pastime during this pandemic.
The graph above shows the immense success of the eSports industry in the lockdown and how it has given a major boost to the industry.
Although many events have been canceled or postponed due to the limitations of online platform, new ones have risen to take their place like the PUBG mobile India League.
The industry is evidently growing due to the lockdown, for example, Paytm First Games, the gaming section of the digital payments platform, which started in 2019 and witnessed a 200% increase in user base during the lockdown.
All in all, gaming has seen positive growth in the last 1 year and a massive audience traction during this period. The industry looks optimistic with several avenues still unfolded.
Contributor: Team Leveraged Growth
Co- Contributor: Ujjwal Mehra
Research Desk | Leveraged Growth