Umbrella branding enables companies to launch a variety of products under the same brand name. Consumers often prefer purchasing from a known and a trusted brand assuming it holds the same higher-quality brand attributes as the other products of the same brand. Hence, allowing companies to leverage the good brand name associated with them and diversify their product lines.
Brands work hard to retain and increase their customer loyalty. They are in constant pursuit of gaining a competitive advantage in the market so that the customers do not switch to some other brand. Offering a plethora of products across different categories, not only helps the companies diverse and reap the benefit of a good brand name but also offers the customers a one-stop go-to brand that they can trust.
Is This Effective? How?
Brand awareness: There is a lot of investment in terms of time and money, which goes in creating an awareness of the brand, new products under the same brand umbrella can enjoy the investment made on existing successful products.
Reduced costs: Initial cost for any new product is usually very high, with umbrella branding, market entry is made economical. This leads to lot of reduced costs in terms of advertising and marketing expenditure.
Promotion efficiencies: The companies can also employ all expertise and investment towards one umbrella brand thus, leading to promotion efficiencies.
Positive brand equity: Positive brand equity as a range of successful products results in the success of other products as well. The good brand image due to the success of certain products will reflect on the sales of other products as well.
But, there also lies the risk of a negative brand image, incase a particular product of the brand does not do well in the market. For example, when Nestle's Maggi was banned due to a high amount of lead component, other products of Nestle were affected too.
Is Umbrella Branding same as House of Brands?
Umbrella branding is not the same as the 'House of Brands'. The latter refers to a company with a range of products sold under different brands, some of which could be umbrella brands. With 'House of Brands', generally, consumers do not link the product with the parent company, but to the brand it comes from. Companies like Unilever and P&G have a wide variety of products under different brand names.
Some Success Stories
Umbrella branding has been practiced by top companies, since many years, and has helped them gain a huge market share in whichever industry they belong to. Over the years, these companies have leveraged their good brand name in diversifying their product lines.

APPLE INC.
The success of Apple is not unknown. One of the major tech giants in the world, with the vision of Steve Jobs who knew how to keep expanding its portfolio for consumers and professionals, selling both desktop and portable. Under the same umbrella brand name of Apple, it has introduced products like laptops, desktop computers, mobile phones, televisions, speakers, tablets, smartwatches, wireless earphones, streaming music, and even finance.
Apple has created such brand loyalists, making it impossible for customers to switch brands. Also, all the Apple products complement each other so well, making it easier to track data using any Apple device.

IKEA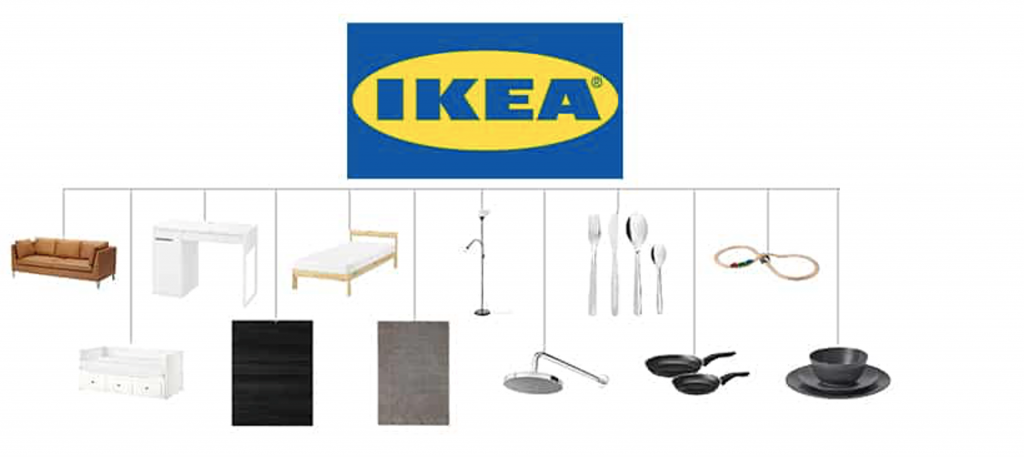 The unique factor of IKEA is that they are the manufacturers, retailers, and distributors, hence, characterized by vertical integration, that makes it easier for them to have such a vast product range. The idea behind such immense diversification is to fully service their client, as it makes sense to sell kitchen utensils too if a company is already selling all kinds of kitchen cabinets and countertops. Their product range includes sofas, chairs, tables, beds, toys, carpets, lighting, cookware, faucets, and prefabricated cabinetry. Although the manufacturing of such a diverse product line gets tough, IKEA has been successful in carrying it out and is a successful profit-making brand.

TATA MOTORS
Tata Motors, one of the top 3 vehicle brands of India was started nationally but has operations all around the world. From passenger cars to commercial vehicles they are known for their quality because of the 'TATA' brand name. TATA Motors incorporates in its product portfolio- commercial trucks, passenger cars and SUVs, vans, buses, municipal service vehicles, construction equipment, and military vehicles. It has created a huge market base for itself and has relied on an umbrella brand name to add new products over the years.

AMUL

The most successful dairy brand, Amul has been using this strategy for ages. Due to this, Amul's marketing and advertising expenditure has always been as low as 1% of its revenues. The customers are convinced of the quality Amul offers, and such brand loyalty helps Amul add more and more products with changing times. Earlier, Amul used to have basic cheese and butter, but with popularity and change in consumer preferences, it has introduced pizza cheese and flavored butter as well. Its product range includes milk, cheese, butter, beverages, ice-cream, ghee and chocolates among many others.
Thus, Umbrella Branding strategizes to enhance the marketability of the company products. It is human nature to go for a trusted brand, companies realize that and use their brand name to introduce more and more product lines. At the same time, companies should not be ignorant in paying close attention to each product line. As a bad image from a particular product could hurt the entire brand as well. But if implemented successfully, Umbrella Branding enables companies to have a wider market, higher profits, and easier acceptability.
Contributor: Nidhisha Chaudhary
Research Desk | Leveraged Growth
I am a finance Graduate from Narsee Monjee Institute of Management Studies (NMIMS), Mumbai and currently pursuing CFA. A movie buff and foodie at heart, I firmly believe in working hard, as it has the power to beat talent, luck, and any shortcoming. I aim to infuse the business of commerce with a sense of purpose, and a notion of success which is beyond money.