With a subscriber base of 1.18 billion, India is the world's second-largest telecommunications market. The dramatic growth witnessed by the mobile industry over the last few years was driven by affordable tariffs, the roll-out of Mobile Number Portability (MNP), and expanding the network coverage. The Government too has placed considerable emphasis on the growth of network coverage in the country as part of its Digital India Campaign. Mobile has now emerged as the main platform for internet access in India, bringing connectivity to many previously unconnected populations.However, the telecom sector has been under a lot of pressure owing to the twin blows of Reliance Jio entering the market and the age-old fiasco between the Department of Telecommunications (DoT) and the telecoms. The DoT has been demanding Adjusted Gross Revenue (AGR) dues on annual license fees worth ₹92,641 crore (as on 17th July 2019) from 16 telecom companies out of which only 3 are operational, Vodafone Idea, Bharti Airtel and Reliance Jio. Adding to this, the AGR dues on Spectrum Usage Charges (SUC), penalty, and interest, the total liability to the DoT amounted to a whopping ₹1.47 lakh crore.
How have things panned out?
1994: According to the National Telecom Policy, the telecom companies had to pay a fixed license fee every year to the Department of Telecommunications (DoT).
1999: Telecoms defaulted on their license payments. With an aim to provide relief to the telecoms, the Government changed the model from a fixed license fee to a revenue-sharing model, wherein they would charge annual license fees and spectrum fees at a rate of 8% and between 3-5% respectively of the Adjusted Gross Revenue (AGR). Hence, lack of clarity on the definition of AGR created a dispute between DoT & the telecoms.
As per DoT, AGR should comprise of all revenues (before deductions) from both telecom & non-telecom services. However, the telecom companies argued that AGR should include revenue from core services only & exclude dividend, interest income, profit from the sale of fixed assets or investments, and especially Interconnect Usage Charge (IUC).
But why is IUC a problem?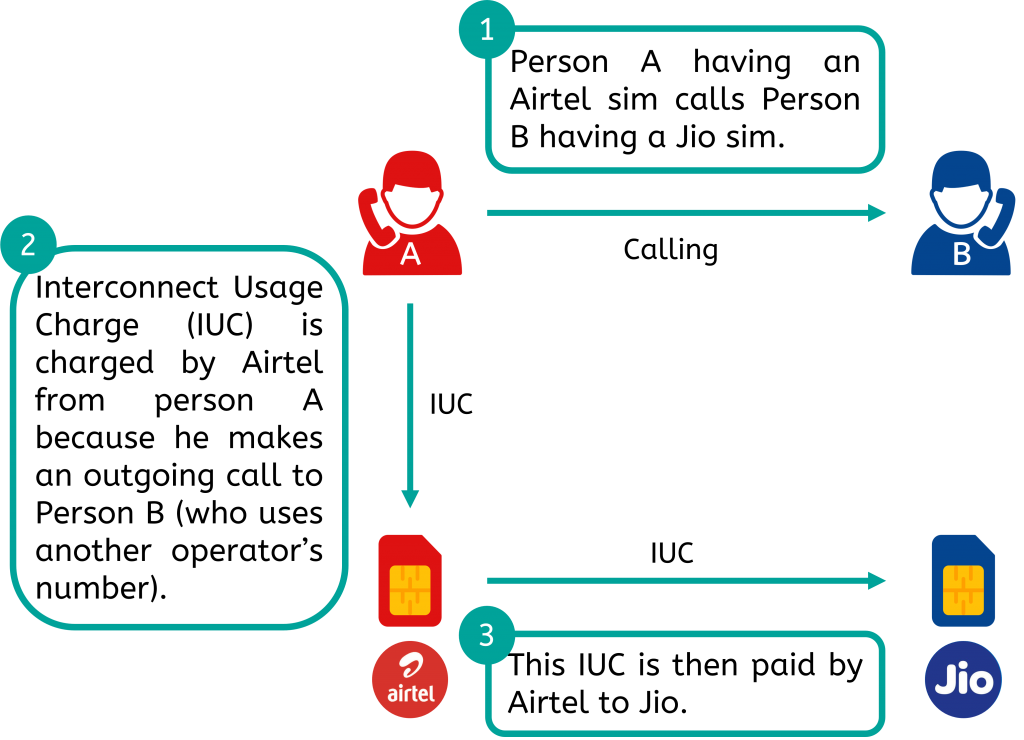 IUC is what a service provider charges its customers when they make outgoing calls to someone who has a different operator's number. This IUC is what is paid by the initiating operator to the other operator, to whom the call has been made. It is a charge which the other operator levies as a result of connecting the call.
Hence, because the telecom companies don't get to keep IUC, disallowing its deduction from AGR to pay the fees was a problem.
2003: A few members of Association of Unified Telecom Service Providers of India (AUSPI) moved to Telecom Disputes Settlement and Appellate Tribunal (TDSAT) questioning AGR's definition.
2006: Telecom Disputes Settlement and Appellate Tribunal (TDSAT) sought Telecom Regulatory Authority of India's (TRAI) recommendation on the same. TRAI ended up supporting the telecoms and excluding non-telecom revenue from AGR.
2007: DoT challenged TDSAT's recommendation in the Supreme Court.
October 2019: After several hearings, SC finally put an end to the 14-year long dispute by upholding DoT's AGR definition. The aftermath of which was 16 telecoms owing ₹1.47 lakh crore to DoT.
January 2020: Telecoms missed the Jan deadline, and SC rejected their pleas regarding relief on interest and penalty payments.
February 2020: DoT asks telecoms to submit their self-assessed AGR dues.
March 2020: SC lashes out at the telecoms for largely understated self-assessed AGR dues and DoT for allowing self-assessment in the first place.
June 2020: SC asks for a roadmap from the telecoms for a staggered payout with adequate guarantees.
July 2020: SC dismissed arguments related to re-assessment and reserved judgement on the 20-year plea for a 20-year staggered payment timeline for telecoms.
Where do the Telecoms Stand Now?
Needless to say, the SC ruling has crippled the two telecoms: Vodafone Idea Limited (VIL) and Bharti Airtel.
The telecoms have requested for a 20-year staggered payment option which has been approved by the DoT but the Supreme Court is yet to make a decision on this. Vodafone Idea Chairman, Mr. Kumar Mangalam Birla, even went to the extent of saying that they would have to shut operations if they don't get government relief or a staggered payment option. In response to the June hearing, VIL said it won't be able to provide adequate bank guarantees for a staggering payout. Bharti Airtel, however, was able to furnish bank guarantees and assets in excess of the demands.
Vodafone Idea reported a record loss of ₹73,878 crore in FY20, the highest ever by an Indian corporate as it made provisions for the Supreme Court's ruling. On the other hand, Bharti Airtel reported losses of ₹32,183 crore in FY20 as they fell short towards provisions made for AGR dues earlier.
The large differences in AGR dues between the self-assessments & the amount as per DoT were mainly due to IUC, the deduction of which was disallowed by DoT.
How has VIL been Planning to Come Out of this Situation?
Vodafone Idea is hoping to get some relief from the government but that possibility looks bleak. It has been trying all sorts of ways to get past this mess.
Income Tax Refunds: VIL has alleged that the taxman is yet to process income tax refunds worth ₹3,193 crore.
GST refunds: VIL has been seeking ₹8,000 crore as GST refund from the government.
Asset monetization: To raise capital and as a part of this process, the Company has been talking to investors interested in its optic fibre business with which it hopes to cough up at least ₹10,000 crore to ₹14000 crore.
Sell stake: VIL has been looking to sell its 11.5% stake in Indus Towers to Bharti Infratel which would fetch them around ₹4500 crore.
All in all, the company looks in no mood to step down given the fact that they have been working on improving its operations by shifting to a cluster-based approach. There have been talks to introduce a floor price in the telecom sector. In the latest hearing on July 20, VIL & Bharti Airtel reduced their demand from a 20-year timeline to 15 years. However, SC is yet to decide on this part as it reserved the judgement on the same for the next hearing that is expected to be held on August 10.
Contributor: Team Leveraged Growth
Co-Contributor: Nikhil Agrawal
Research Desk | Leveraged Growth