The outbreak of the novel coronavirus presents an alarming health crisis that the world is grappling with. The spread of this virus has become one of the most important threats to the world economy and financial markets. In a trial to contain the spread of the virus, India, like many countries across the world, is taking several measures, including a nationwide lockdown; shutting down public places and transport, and urging the general public to remain indoors, maintain social distance, and work from home. However, this pandemic has led to the starting of a full new digital era and has broadened our horizon for the virtual sphere. From office meetings to high school classes, from buying essentials to paying through digital mode and socializing, everything is going on over the internet. During this lifestyle transformation, we have studied and analyzed the effect of this pandemic on shopping style, digital payment, and education.
Impact on shopping style
Since the spread of the virus, there has been a major increase in online shopping usage globally. In India, it has led to an increase in the number of FTUs or the First Time e-commerce Users. Amazon, the largest e-commerce player in the world, has announced on its site that the customers are counting on them like never before, in their social distancing and self-quarantine efforts. Moreover, since the announcement of nationwide lockdown, online grocery players like Big Basket and Grofers have witnessed a sudden spike in demand, as people have started stocking essentials.
What can we expect post-COVID-19?
As we all know that retailers are worse afflicted by this pandemic. Thus, their initial task has been to lure customers back, which requires making people feel safe in stores. While current closures of retail shops are increasing online shopping, it is not a full substitute for in-store shopping.
Opportunity for 'Made in India' – Consumers are focusing on the origin of products and have been showing their loyalty to the trusted brands only.Thus, creating an opportunity for "Made in India".
Research & Smart Shopping – The consumers are expected to tend to salient research and smart shopping post the pandemic, with more health awareness and more caution around spending.
'Click and Collect' will continue to gain traction – A notable crisis-inspired development is the surge in online delivery orders, especially for essential goods. The pandemic has introduced more shoppers to full grocery e-commerce.
Impact on Digital Payments
All the major sectors of the Indian economy, manufacturing, auto, retail, aviation, and hospitality have been bearing the brunt of the lockdown. Shut down of shops, travel bans, and reduced spending on dine outs, movies and entertainment have negatively affected the fast-growing digital payment sector which is closely linked to the growth of these sectors.
Digital payment volume has seen a downward trend in airlines, tourism, hospitality, hotels, entertainment, e-commerce (non-essentials), and restaurants, among other sectors. However, there are some sectors like online grocery stores, online pharmacies, OTTs, EdTechs, online gaming, recharges, and utility/bill payments that are witnessing an upward trend in digital payments since lockdown.
The government has pledged monetary assistance to the poor via direct transfers to bank accounts, thus giving a lift to digital payment. The Minister of Finance and also the CEO of the National Payments Corporation of India has also urged people to increase the use of digital payments applications to promote contactless payments.
According to the results of a survey done by Statista on the impact of the COVID-19 and its consequent, nearly 42% of Indians have increased the use of digital payment applications during the lockdown wherein a majority of Indian respondents used Paytm to make digital payments. The graph shows the application-wise increase in usage.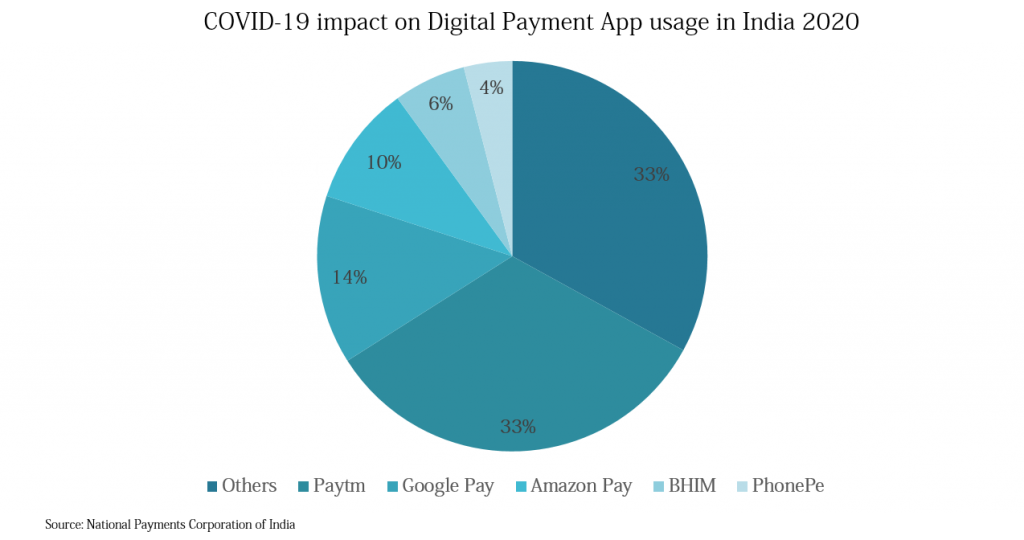 What can we expect post-COVID-19?
Though there is no clarity on when the COVID-19 crisis will abate, it is indisputable that this unforeseen pandemic will have a greater impact on our way of doing transactions.
Greater adoption of digital payment methods – With the advent of contactless payments, there will be a surge in the number of transactions made online. As per a Paytm spokesperson, "There is a 15% increase in incoming requests from offline merchants to partner with Paytm".
Growth for tokenized mobile wallets – With the increase in demand for digital transactions witnessed during the pandemic, the use of token-based wallets is expected to grow considerably in the near future, while the use of physical payments cards may shrink.
A strong push towards a cashless society – WHO has warned that banknotes may spread coronavirus and it recommends using contactless payments wherever possible to help control the virus.
Impact on Education
Across the world, there are currently over 1.2 billion children in 186 countries hit by school closures due to the pandemic. But this doesn't mean that the door to education is shut. All round the globe, teachers and faculty admins are continuing with their essential duties through virtual lessons using online training apps like Google Classroom, Blackboard, Zoom, and Microsoft Teams. Many online learning platforms including BYJU'S, are offering free access to their services. Since the announcement, BYJU'S has seen a 200% increase in new students using its product.
There has been a big surge in the usage of videoconferencing apps. In March, these apps observed 62 million downloads in one week. However, all this seems to be accessible by only a portion of India's population and not all. Students living in the rural districts of India, and belonging to the lower sections of the society aren't privileged enough to have access to the internet. Hence, even though online education appears to be a logical solution to prevent the spread of this virus, its execution in India is still difficult.
What can we expect post-COVID-19?
The pandemic has changed the centuries-old, chalk–talk teaching model to one drive by technology.
Evolution of the method of learning – Post pandemic there will be a more integrated and experiential method of learning with greater implementation of the technology. The pandemic has forced governing bodies and college management to look at digital learning as the only workable solution.
A concentration on bigger Issues – Perhaps, education post-COVID-19 will embrace learnings from science and emphasize on issues that endanger our health, society, life, and the environment. The pandemic may be the catalyst for a change that has been long pending. What we will witness as the aftermath of this global health crisis may very likely be the adoption of approaches different than the normal ones.
A change in the purpose of learning – The course of learning and therefore the way curriculums are taught may change. Aspects that were once considered fundamental to education could also be revised largely to accommodate the life skills useful in the long run. Learning in schools will have a brand-new purpose given the crisis mankind is currently facing, and it will be a serious deviation from the information-focused education of today.
Hence, even though the pandemic has disrupted many businesses, there are a few for whom the situation is definitely acting as a tailwind. But it will be interesting to see whether or not these businesses will continue to grow once the crisis subsides.
Contributor: Devansh Bihani
Qualifications: I am currently a post-graduate student at the Gokhale Institute of Politics and Economics, Pune, and a CFA Level 1 candidate at CFAI, USA. Being a fitness enthusiast I take part in many sports activities. I am an International as well as National Karate Champion. I'm a keen learner who aspires to find a solution for every challenge by employing my creative and analytical bent.