Industry Insights:
The aviation industry has contributed significantly to global economic growth. The global aviation industry is expected to be worth $471.82 billion in 2021, supporting $3.5 trillion (4.1%) of global GDP. India has surpassed the United Kingdom and Ireland to become the world's third-largest aviation market, following the United States and China. However, given rising disposable income, the introduction of low-cost carriers, and improved air connectivity through the UDAN scheme, there is enormous room for growth that is yet to be explored. Commercial, General, and Military aviation are the three major pillars that support the entire industry.
Impact of COVID-19:
Revenues in the industry totaled $328 billion in 2020, which was 40% of revenue in 2019 and the same as revenue in 2000. The economic slowdown has resulted in a significant drop in air travel demand, casting doubt on the sector's short- to medium-term recovery. The Covid-19 pandemic had a significant impact on the capacity and passenger growth of the Indian aviation industry. IndiGo's net losses in Q1 and Q2 of 2021 were ₹2,884 crores and ₹1,194 crores, respectively. Whereas, SpiceJet reported net losses of ₹600 crores and ₹112 crores in Q1 and Q2, respectively.
Not only do the airport operators have to postpone capital investments and reduce operational costs, but they also have to find ways to cut back on discretionary spending, stop non-critical recruitment, and collaborate with suppliers to reduce costs. Numerous employees were laid off or placed on unpaid leave or had their pay reduced. Several credit-rating agencies have maintained a negative credit outlook on the Indian aviation industry, predicting that the balance sheets of Indian carriers will remain pressurized until they are able to lessen their debt burden through a blend of improved operating performance and/or equity infusion.
Top Indian Companies in Aviation Sector:
IndiGo, Air India, SpiceJet, Vistara, and Go First are the major players in the Indian aviation industry. The airline industry is transitioning from the Low-Cost Carrier (LCC) model to the Ultra Low-Cost Carrier (ULCC) concept. Companies are constantly attempting to reduce costs by developing IT and increasing efficiency. With the expectation of a significant increase in air traffic in the coming years, companies are attempting to purchase aircraft in bulk, in order to reduce unit costs while also meeting future demand.
However, the pandemic has created a huge disparity between the companies. Carriers that have been financially stable throughout the COVID-19 will have an advantage in absorbing the immediate demand and occupying high market shares.
Indigo vs SpiceJet
Indigo
IndiGo remains India's largest passenger airline, with a current market share of 58.6%. With a fleet of 274 planes, it accounts for roughly 12% of the total seat capacity to and from India. Despite operating in a massively loss-making industry, the company has been able to stay financially afloat, thanks to its strong balance sheet and robust financial control systems. Indigo gains a competitive advantage over its competitors due to lower aircraft acquisition costs achieved through bulk purchases. Indigo is always on time thanks to its high employee productivity, short-haul, and point-to-point route structure.
The company's emphasis is on three success pillars – low fares, on-time flights, and a hassle-free experience. This is what distinguishes IndiGo.
SpiceJet
India's third-largest airline is a low-cost carrier that caters to the lower middle/middle-class population by providing low-cost flight tickets with no frills. Unfortunately, the company does not have an international presence because it only offers domestic travel services. However, the company has significant growth potential because its target audience is expected to increase demand shortly, and it has numerous opportunities to explore international destinations.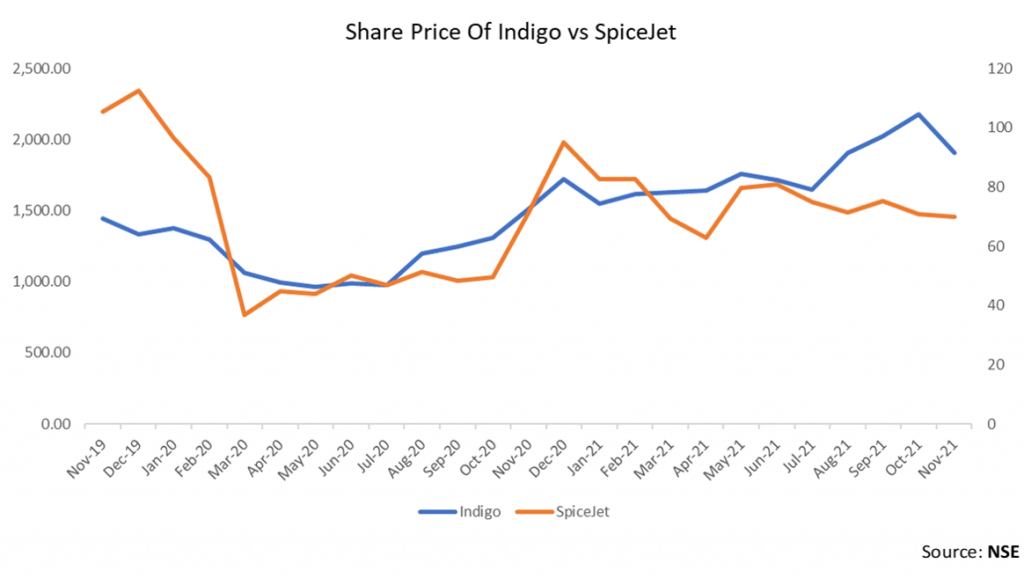 Tata Sons operates 25% of the Aviation Industry-
Tata Sons owns 25% of the aviation industry, with Air India, AirAsia India, and Vistara becoming the second-largest airline in the domestic market and the largest Indian airline on international routes.
Air India, formerly owned by the government, is one of India's largest flight service providers. It is highly appreciated by passengers because it offers one of the lowest fares while providing the most luggage capacity among other airlines. Tata Sons won the bid to acquire a 100% stake in Air India in the government's disinvestment process, offering ₹18,000 crores ($2.4 billion). Following this divestment, investors expect the debt-ridden Air India to take off and fly high under the pilotship of Sir Ratan Tata.
AirAsia India, a joint venture between Tata Sons and AirAsia, is the world's cheapest airline, with a unit cost of $1.25 per available seat kilometer. Unlike other airlines, AirAsia places a high value on ancillary revenue. It sells tickets at rock-bottom prices but charges for almost every other service, such as preferred seating, pillows, baggage, onboard meals, entertainment, and so on.
Singapore Airlines formed a joint venture with Tata Sons to launch Vistara, which quickly gained popularity for its low fares and high-quality service. It focuses on giving passengers the best in-flight experience possible, with onboard meals included in the ticket price (even for Economy class).
Upcoming Players in the Industry-
Akasa Air: Rakesh Jhunjhunwala, a veteran stock market investor, is launching Akasa, an upcoming ULCC airline company, with a 40% stake. Akasa took advantage of Boeing's significant downfall by ordering several Boeing planes at a significant discount. While not suffering the same high losses as the rest of the aviation industry during the pandemic, Akasa will have a price advantage over its debt-ridden competitors. However, the government's fare restriction policies may limit its aggressive pricing strategy.
Jet Airways 2.0: Jet Airway ceased operations in 2019 due to a poor financial outlook and inability to pay off multiple aircraft leases. Jet Airways 2.0 plans to relaunch its airline operations, making it the first Indian carrier to be resurrected under bankruptcy laws. To meet both short-term and long-term business objectives, the company plans to lease more than 50 aircraft over the next three years and more than 100 over the next five.
Major Global Manufacturers
Airbus SE and The Boeing Company dominate the commercial aircraft market, whereas Lockheed Martin Corporation dominates the military & defense aviation market. Textron Inc. and Embraer S.A. are the major players in the General aviation business.
Airbus, Europe's largest aircraft manufacturer, meets aircraft demand in all three aviation markets. It has the world's largest market share in the aerospace sector. Boeing, the world's second-largest aircraft manufacturer, has been America's largest exporter for more than a decade, as well as the world's second-largest defense contractor. Airbus has dominated the commercial and space sectors in recent decades, while Boeing has dominated the defense and security sectors.
Throughout the years, Boeing has provided stiff competition to Airbus, allowing it to maintain its position in the aerospace industry. However, Boeing's business suffered a significant drop in orders as a result of crashes and failures of the737 Max in 2018 and 2019. Following the malfunction, the model ​was grounded in many countries, including India, resulting in order cancellations and lawsuits.
Government Initiatives & Development of the Industry:
In order to boost the sector's growth and expand the growth potential of airport infrastructure, the government is working to build 100 airports by 2024.
To encourage foreign investment, 100% FDI in the airline industry has been permitted (automatic up to 49% and Government route beyond 49% for NRIs).
The Digi Yatra Policy was implemented to improve the hassle-free experience for all air travelers by going paperless, reducing airport wait times, customizing digital offerings at e-zones, eliminating redundancies at checkpoints, and bringing numerous other updates.
The government has launched the NABH Nirman scheme, which aims to increase airport capacity by more than five times over the next 10-15 years in order to accommodate a billion trips per year.
Aircraft Leasing and Tax Incentives are made available in GIFT City, which will eventually encourage the establishment of offices of foreign aircraft leasing companies due to the attractiveness of the tax incentives.
Regional Connectivity Scheme to improve air connectivity to smaller cities and northeast states through fiscal incentives, infrastructure support, procedural simplifications, and monetary subsidies – although only two of the 12 routes are currently operational.
The UDAN scheme intends to improve and expand connectivity to India's unserved and underserved airports. It aims to make air travel more affordable and widespread, as well as to make air travel accessible to the average person.
Future of the Industry:
The aviation industry is one of the most severely affected by the pandemic. Business travel is expected to recover to around 80% of pre-pandemic levels by 2024. Leisure trips or visits to friends and relatives, on the other hand, will pick up quickly, providing relief to the industry.
Since 2020, the global aviation industry's debt has increased by 23% to $340 billion. Analysts predict that unless precautionary measures are taken, the industry's debt will exceed revenue by 2024. This could lead to an increase in flight prices. Furthermore, the post-pandemic period of vengeance travel would create a supply-demand imbalance, resulting in even higher short-term prices.
In the next four years, India's aviation industry is expected to receive an investment of ₹35,000 crores ($4.99 billion). It includes a $1.83 billion investment by the Indian government to upgrade airport infrastructure and aviation technology by 2026. The country's expanding middle-class demography, combined with an increase in the working-class population, is expected to increase demand for air travel, resulting in long-term growth for the industry.
Contributor: Team Leveraged Growth
Co-Contributor: Nitin Agarwal & Priyanka Dugar
Research Desk | Leveraged Growth