Crowdfunding- What is it?
Crowdfunding is a practice of financing a new business venture by pooling in capital from a large number of individuals.
A form of alternate funding for people who aren't able to raise finance for their venture.
Crowdfunding is done through social media platforms and crowdfunding websites by bridging the gap between investors and entrepreneurs.
This has expanded the pool of investors from the traditional sources that included angel investors and venture capitalists.
Crowdfunding Scenario: Global
The transaction value of crowdfunding segment is expected to reach $940.9 mn in CY20. Moreover, the transaction value is expected to see a growth of 12% in the CY21.
Increase in start-ups and small businesses, number of investors, campaigns, establishment of regulations and increase in the success rate have been the main facets behind their growth.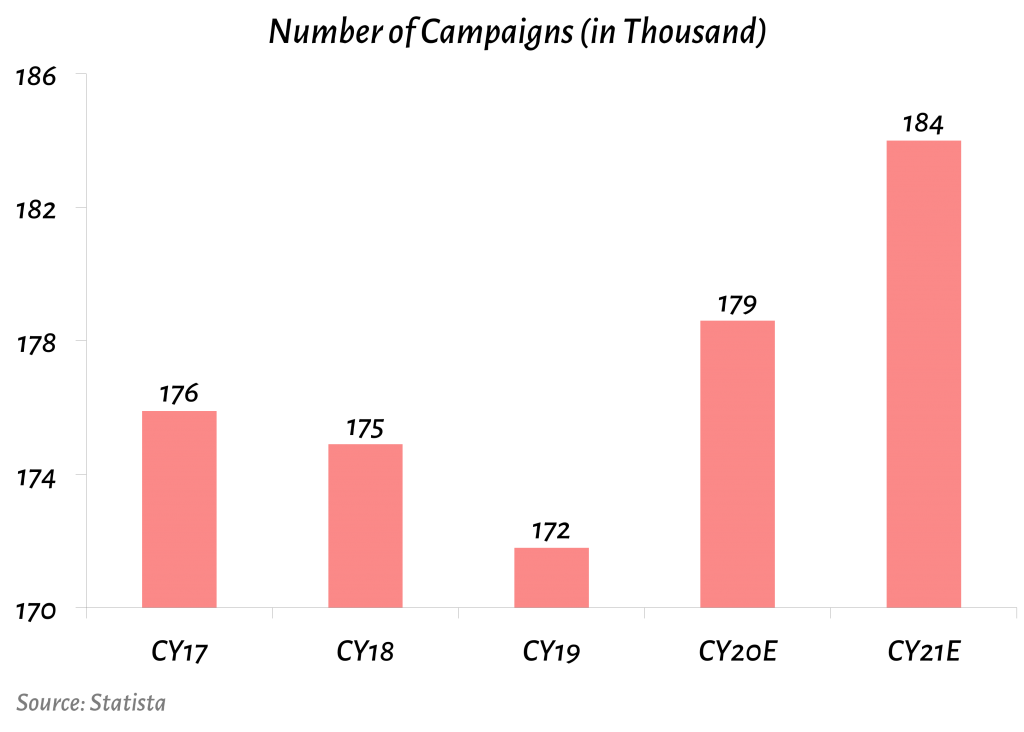 According to the New York Times, the crowdfunding platform "GoFundMe" has witnessed an augment in the number of campaigns by 60% in March 2020 due to the virus outbreak and has generated revenue of $60 mn.
Crowdfunding Scenario: Global vs India
The market size of crowdfunding worldwide is expected to grow with a CAGR of 15.9% between 2018-25. While the market value of the same in India is estimated to grow at 0.81% CAGR between 2020-24.
Indian crowdfunding segment witnessed a humongous growth in its transaction value due to two imperative reasons:
Increase in the internet usage especially on mobile: Crowdfunding typically takes place via the internet.
Social media penetration among the internet users: The continuous like and share on social media platforms helps one raise funds by reaching beyond one's own network.

However, due to lack of regulatory stance and trust on online fundraising, Indian crowdfunding segment witnessed a decline in their growth.

Moreover, in the light of helping MSME's to raise financial assistance, Amazon has come up with the fundraising program: Amazon Wings in collaboration with Ketto, a crowdfunding platform.
Ambit of Crowdfunding in India
Health Care Industry: India's public health care sector is still not in shape and the Government has been spending only 1.15% of the GDP on an average for medical necessities. Moreover, personal bank loan adds up to the burden because of high-interest rates. Crowdfunding has gained traction in this sector by helping ventures who assist people with medical loans.
Education Sector: Students in India confront financial turbulence when it comes to higher education. Applying for an educational loan has become all the more competitive and expensive. Education crowdfunding serves as a solution for those ventures that help Indian students pursue higher education. ImpactGuru received a contribution of worth ₹13.2 lakh for the education sector.
Entertainment Industry: Crowdfunding has started gaining momentum in the Media and Entertainment Industry as well. Independent writers, artists and directors can earn a lot for their projects through the support of crowdfunding. Some platforms also ensure that the creators are recognized for their work and they get the right set of audience for the work they do.

Performance of the Crowdfunding platforms during COVID-19
Crowdfunding platforms have been running campaigns amidst the pandemic to provide succour not only to daily wage labourers but also to UBER drivers, delivery personnel and freelancers. This is expected to gain back the lost trust of the investors and create traction in the crowdfunding platforms.
Contributor: Team Leveraged Growth
Co-Contributor: Madhav Khemka & Kartik Sethi
Research Desk | Leveraged Growth