The World MSME Day was introduced on 27th June 2017 by UN General Assembly to acknowledge the importance of Micro, Small and Medium-sized Enterprises (MSME) and promote innovation, creativity and help them achieve sustainable development goals.
India has the second-largest MSME (Micro, Small and Medium Enterprises) sector in the world after China. The Indian MSME sector has been a major growth catalyst and job supplier. There are:
63.05 million micro-enterprises,
0.33 million small enterprises, and
5000 medium enterprises.
Nitin Gadkari, Minister of Road, Transport and Highways, and MSME is aiming the MSME sector's GDP contribution to reach 50% in the next five years from the existing 29%. The sector even contributes about 48% of the exports as per the Directorate General of Commercial Intelligence and Statistics (DGCIS).
Impact of Covid-19
As per a survey conducted by the All India Manufacturers' Organisation, 71% of MSMEs weren't able to pay salaries in March.
WTO made an annual trade forecast in April 2020, where it had estimated a drop in the global trade by between 13% in the best and 32% in the worst scenario. However, despite global trade registering its largest drop of 18.5% YoY in Q2, WTO revised its trade outlook for 2020 projecting its 'unlikely to reach worst-case scenario' amid the pandemic. This comes on a positive note for MSME as the impact of the same can be easily estimated with almost 36.3% MSMEs being involved in the trade activity that is also responsible for creating 38.7 million jobs.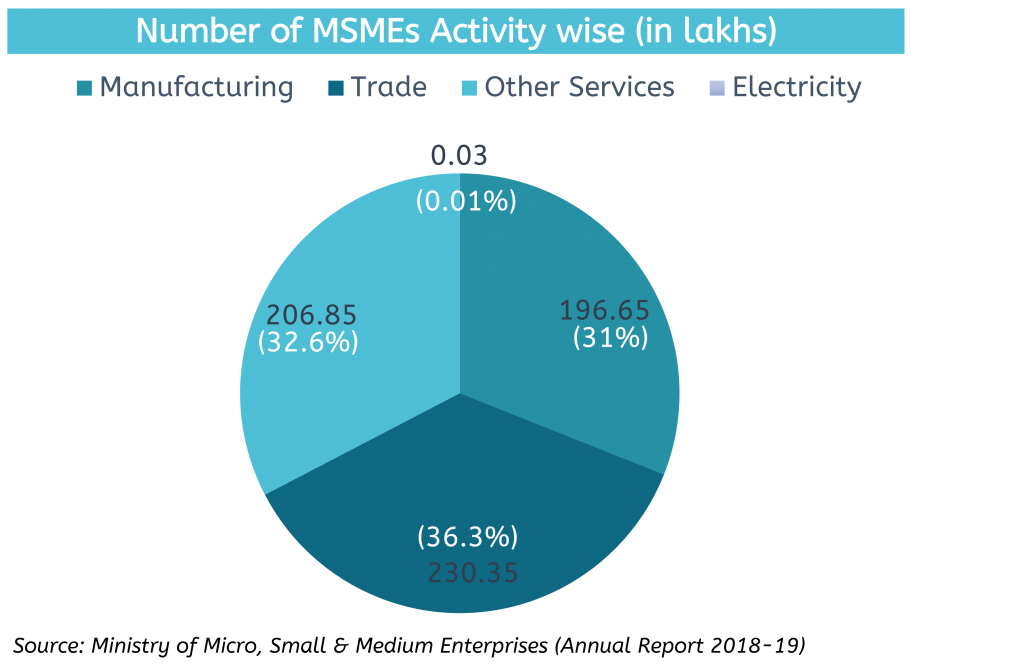 The 5% contraction in the Indian economy as estimated by CRISIL will have a significant impact on the MSME sector, which acts as a major growth catalyst for the economy.
Nearly 60% of MSMEs believes that it will take 6 months for businesses to return to normal.
36% of MSMEs have been asking for loans at cheaper rates or zero interest rates.
Credit Exposure of MSME
In a crisis situation, wherein revenue streams of several MSMEs have dried up, their credit exposure has been creating panic. Nitin Gadkari in an interview stated that the Central and State government (including PSUs) together owe approximately Rs.5.5 lakh crore to MSMEs as on March 31, 2020.
At a time when most of the MSMEs are facing a liquidity crunch, halted operations, and are burdened with high dues, defaulting on salary payments & laying off lakhs of employees becomes very likely.
Build the enterprise of your dreams
Coronavirus package proposals aimed at offering relief to MSMEs.
The government:
Sanctioned collateral-free automatic loans worth Rs.3,00,000 crore for a tenure of 4 years along with a 1-year moratorium on repayment. In case of any default, the government will be paying off the loans to the banks on behalf of the MSME.
Issued a subordinate loan of Rs.20,000 crore.  
Benefit: To provide equity support to stressed 2 lakh MSMEs.
Equity infusion Rs.50,000 crore for MSMEs via Fund of Funds. 
Benefit: It will aid in enlarging the size, capacity, and encourage them to get listed on Stock Exchanges.
The new definition for MSMEs has been widened:
Micro: Investment < Rs.1 crore & Turnover < Rs.5 crore
Small: Investment < Rs.10 crore & Turnover < Rs.50 crore
Medium: Investment < Rs.50 crore & Turnover < Rs.250 crore
Benefit: It is going to boost the confidence among the entrepreneurs along with fair competition as the fear of outgrowing the minimum threshold being left out of all the benefits among the MSMEs has now been taken into consideration
Disallowing global tender for government procurement up to Rs.200 crore
Benefit: It is done to address the MSME's issue of the unjust competitions from foreign organizations because of their size.
E-market linkages to promote MSME, enhance the transaction-based lending using Fintech, wherein the receivables from government and central public sector enterprises will be released in 45 days.
Benefit: To market and promote MSMEs, e-market linkages will be used instead of trade fairs and exhibitions