Click here to download the report
Key Highlights
The company reported a multifold rise in its PAT, growing ~800% as compared to FY21
The company introduced an AIF named Info Edge Venture Fund (IEVF), focusing on long-term value creation in tech-enabled companies.
In FY22, the revenue of Naukri and 99 acres surged 44% and 25%, respectively, as compared to FY21
The Company has made several acquisitions recently, including 4B Network Private Limited, Zwayam Digital Private Limited ('Zwayam'), and Axilly Labs Private Limited ('DoSelect')
During FY22, there was the successful listing of two of the first generation of investments that were made over a decade back – Zomato Limited ('Zomato') and PB Fintech Limited ('Policybazaar')
India's Information Technology Industry
India's technology industry recorded its highest-ever growth rate, reaching USD 227 bn in revenue in 2021, from USD 200 bn in 2020
All the sectors that the company operates in – real estate, matrimony, recruitment & education will experience positive growth in the coming years
Growing internet penetration with over 646 mn internet users in 2021 propels the customer base for all of Info Edge's solutions
In the Union Budget FY23, the government has announced some significant digital developments, such as further digitization in banking, higher education, the health sector, and government administration, helping the IT industry
According to industry estimates, India's consumer digital economy is expected to be an USD 800 Bn market by 2030, registering 10 times growth from 2020
India's Profitable Pure Play Online Company
Info Edge (India) Limited (NSE: NAUKRI) is an internet-based solutions giant holding a diversified portfolio of brands catering to industries including recruitment, real estate, matrimony, and education. It is the market leader in India's online recruitment solutions market, controlling 75% of the total traffic share among traditional job sites. Apart from this, the company has 11 subsidiaries and an investment division that deploys capital in tech-based startups like Zomato and Policybazaar.com. The company is among the few profitable pure-play internet companies in the country, backed by years of experience, strong cash flow, and business portfolio diversification.
Journey
Info Edge started its journey in 1995 when founder Sanjeev Bikhchandani envisioned an internet company when the internet infrastructure was not developed in India. The company wanted to solve the big problem of inefficient offline job searching. To solve this problem, the company launched the now-famous job portal Naukri.com in 1997. Later the company forayed into other sectors where the inefficient offline setup needed a tech makeover. Thus, Jeevansathi.com and Sikhsha.com were launched to cater to the matrimony and education industries which have expanded to foreign markets. In 2006, the company became the first dot com company to enter the public equity market listing on the NSE and BSE.
In recent years the company has outgrown into a conglomerate with an active presence in the Indian Startup Ecosystem. The company's investment portfolio has grown multifold with crucial investments in several tech-based startups, including the food delivery platform Zomato, which went public in 2021, and the InsurTech giant Policybazaar. It launched a venture fund of INR 1,000 mn focusing on tech-enabled solution-driven startups in 2020. Mr. Hitesh Oberoi is the Co-Promoter, Managing Director & Chief Executive Officer of Info Edge. He has been with the company for over 22 years and has played an important role in the company's success.
Industry Overview

Info Edge offers tech-based solutions catering to diverse industries, including recruitment, matrimony, real estate, and education. Growing internet penetration with over 646 mn internet users in 2021 propels the customer base for all of Info Edge's solutions.
Online Recruitment Industry
The global recruitment market is expected to grow at a CAGR of 7.1% and be valued at USD43.39 bn by 2027. The industry has witnessed a shift from conventional job searching to digital platforms. This online model benefits both the recruiters and potential employees. Recruiters benefit through cost reduction and a larger pool of applicants, whereas time reduction and a broader array of job postings benefit employees. The market was hit by the pandemic but is showing signs of reversal. Recent trends show that most companies prefer all communication regarding job posting and screening through online channels, which is expected to drive the growth of this industry.
Key players in the online recruitment industry in India include Naukri.com, LinkedIn, and Monster India.
Online Matrimony Industry
The revenue of the online matrimony market was estimated to amount to USD260 mn in FY22. With over 10 mn marriages annually and increasing smartphone penetration, the potential user base is expanding. Though over 1500 players function in the Indian market, only a few prominent players dominate due to credibility concerns in this highly fragmented market. Over 50% of the market can be attributed to southern India, with growth prospects witnessed in the rest of the country.
Key players in the online matrimony industry in India include Jeevansathi.com, Shaadi.com, and BharatMatrimony.com.
Online Real Estate Sector
The Indian real estate sector is expected to be valued at USD1 trn by 2030, comprising ~20% of the country's GDP. Online searches for Indian residential properties have witnessed a 27.7% growth in 2022, indicating the potential of this industry. Changes in consumer preference, growing inflation, and rising prices increase buyers' confidence will drive the demand in the foreseeable future.
Key players in the online real estate industry in India include 99acres.com, Magicbricks, and HomeBazaar.com.
Online Education Sector
The online education market in India is expected to grow by USD2.28 bn during 2021-2025, at a CAGR of ~20%. In 2021, the market grew by 19.02% in India. Having the world's largest population in the age bracket of 5-24 years, nearly 500 mn people, the country provides a great growth opportunity for the education sector. Factors such as skill development and the emergence of cloud computing significantly drive the Online Education Market in India.
Key players in the online education sector are BYJU'S, Unacademy, Vedantu, Khan Academy, Wonderschool, etc.
Business Model
Starting as a classified online recruitment business, Info Edge has followed a growth-oriented strategy and expanded into a conglomerate divided into three domains.
The first domain includes the standalone entity which manages business verticals, including recruitment, real estate, matrimonial, and education
Secondly, a series of investments are made to support and create synergies with the standalone entity
The third domain comprises investments into various sectors with value creation
These are independently managed, with Info Edge providing the requisite guidance. To leverage the economics of scale, the different businesses are supported by a centralized system comprising human resource management, finance, legal, and IT infra teams.
The company presents its revenue into three categories, recruitment solutions, 99acres.com, and others, which includes jeevansathi.com and Shiksha.com.
Recruitments
Naukri.com, the flagship business, is the company's primary revenue and profit source. It is the market leader in the online recruitment solutions market, with a 75% total traffic share among traditional job sites. Leveraging the highest number of listings boosts traffic, and the company drives clients to the website, which increases the job postings creating a cycle for propelled growth.
The business continues to leverage its market leadership position to grow further. The current focus is to create customer-focused services leveraging the expansive customer pool of recruiters and employees; increasing Profit derived per customer. The company also offers customized value-added solutions for specific customer groups using sophisticated internet and data management tools that increase customer engagement.
The company earns revenue from 2 sources, B2B and B2C, from recruiters and job seekers. For recruiters, the company provides job listing management, employer visibility, resume screening, and recruitment management services while providing advisory services for job seekers.
Other brands:
Jobhai.com: The Company launched jobhai.com, a platform for the blue-collar segment, and is going through the first incubation phase.
Firstnaukri.com: This is the largest recruitment space for recent graduates, exclusively targeting entry-level hiring.
Naukrigulf.com: The local job site was launched to enter the gulf market, with the UAE being the primary focus.
Quadranglesearch.com: Using a success fee model, it focuses on providing offline placement services to middle and senior management.
Recent acquisitions include iimjobs.com, India's leading recruitment platform for management professionals, and hirist.com, which focuses on premium technology talent.
The company also acquired Zwayam, which focuses on SaaS-based sourcing and screening, and Do Select, which provides technical assessment services to recruit tech talents.
Real Estate

99acres.com is one of the country's first online real estate platforms, with a presence in more than 25 cities containing listings of properties for sale, rent, and purchase. Using online platforms in the real estate sector for better customer engagement seems to be evolving positively post covid, which pushed the digitization of this industry.
99acres.com derives its revenue from 3 sources – advertising, listings, and subscription fees. This includes projects through listings, featured listings, email campaigns, banner advertisements, resale of properties and rental properties through listings, and featured listings.
99acres Strategy
Although it has successfully maintained its leadership in traffic share, the company foresees a rise in expenses backed by immense competition from new entrants in the space. The Company has invested strategically in related companies like Terralytics Analysis Pvt. Ltd. and 4B Networks Pvt. Ltd.
Matrimonial
Jeevansathi.com, one of the premier matrimony websites in India, was acquired by Info Edge in 2004. It focuses on creating a secure matchmaking experience for all members through proper screening and verification processes. The country's diversified social and demographic scenario drives the industry.
The revenue model includes paid access to contact information while listing, searching, and showing interest is free of cost. The company has introduced certain offline centers providing assisted services to support its online site.
Education
Shiksha.com, launched in 2008, primarily focuses on the online education space. Designed as a course selection platform, it educates students regarding exams, careers, colleges, and course options. With an increasing number of students willing to pursue online courses, the customer base for the company is expanding.
The revenue model includes two sources. The company receives advertising revenue for providing branding solutions for universities and lead generation, including counseling services.
Investee Companies
Apart from wholly-owned brands, Info Edge is an investor in external entities through equity investments. Key investments include Zomato and Policybazaar, which have matured to become huge enterprises. Objectives for external investments include financial gain, developing synergies with existing in-house brands, and acquiring offerings adjacent to existing businesses.
With a vision of streamlining its investment portfolio, the company introduced an AIF named Info Edge Venture Fund (IEVF), focusing on long-term value creation in tech-enabled companies. The INR 100 mn fund has been structured with Info Edge and MacRitchie Investments Pte. Ltd. committing equal amounts.
SWOT Analysis
Strengths
Info Edge has successfully created a diversified portfolio of giants, with Naukri.com being the revenue leader. Allowing independent functioning of all companies with maintaining centralized support services has given the company an operating edge.
Market Leadership & Brand Recognition
The portfolio companies of Info Edge are among the top players in their respective industries, backed by superior brand positioning and robust marketing. Thus, Naukri.com, 99acres.com, and jeevansathi.com have expanded into household names.
All solutions provided by the company have technology at their core. Thus, it has created a large User Interface (UI) and User Experience (UX) division and a well-established business analytics team leveraging technology, product design, artificial intelligence, machine learning, and data science.
Almost all of the company's core businesses have leveraged the first-mover advantage of being among the initial companies to offer a respective solution.
Weaknesses
Matrimony and Real Estate businesses have been experiencing losses due to increased expenses required for innovation and marketing, causing the company to burn cash in these operations.
With over 70% of the total revenue derived from Naukri, Info Edge is dependent on it. However, the Company is taking measures to diversify its business to curtail concentration risk.
Rising Other Income and Low Operating Income
Info Edge is viewing rising other income quarter on quarter; however, the share of operating income is not showing the same trend. This indicates a dependence of other income on the company's total revenue.
Opportunities
Increasing Internet Penetration
All portfolio companies have tech-enabled solutions, thus benefiting through increasing internet penetration and expanding their user base.
Accelerated Technological Innovations
Advances in technology can help Info Edge significantly venture into adjacent products and manufacture a vast array of products and services.
Customers Migrating to Higher-End Products
The firm has strong brand recognition in the premium segment, and customers have experienced excellent customer service provided by Info Edge; therefore, customers who purchase in the lower segment will be drawn here. It can be a win-win for the company and provides an opportunity to increase profitability.
Threats
Being a technology-driven company, it must constantly invest in new technologies to maintain its competitive edge. The risk of obsolescence prevails in industries forayed by Info Edge.
There has been an inflow of tech-enabled startups entering industries like recruitment, education, and real estate, increasing competition.
The increased proportion of youth in the population pyramid and their preference for exploring and choosing different brands and ways can be challenging.
Differentiating Strategies
Diversification through Acquisition
Info Edge has diversified through frequent strategic investments and acquisitions in varied industries to leverage operational synergies. These investments and the newly introduced AIF have created a robust portfolio of tech-enabled brands.
Focus on Innovation
Info Edge has successfully integrated technology into its offerings, developing market leader brands in diverse industries. Focus on AI and ML to understand consumer behavior has influenced their journey.
Best in the Category Features
The company maintains leadership by offering features that drive user engagement. For example, the Jeevansathi platform provides features like online verification, video-calling, and video-based online meet-ups continuing to be among the best in the category.
Michael Porter's 5 Force-Analysis
1. Barriers to Entry
The barrier to entry is low to medium, backed by a decreasing trend in website development costs propelling further participation in various industries forayed by Info Edge. Despite the ease of entry, creating a successful household name and winning customers' trust is very difficult. For example, there are over 1500 players in the Indian online matrimony space, but only a few have been able to create a meaningful brand.
2. Bargaining Power of Suppliers
The bargaining power of suppliers seems to be on the low to moderate end. With the presence of several suppliers in the industry reduces their bargaining power.
3. Bargaining Power of Buyers
Due to the digital nature of all portfolio companies, a highly competitive market coupled with low switching costs, the buyers' bargaining power remains on the higher end.
4. Rivalry among Competitors
Info Edge faces intense competition in all the sectors in which it operates. Nonetheless, the Company has successfully created a brand value for itself by leveraging superior marketing activities. The threat ranges between low to medium.
5. Threat to Substitutes
With rapid technological advancement in the industry and low switching costs, the threat of obsolescence through new competitor offerings prevails. Therefore, we can conclude that the threat to substitute is high.
Branding and Other Initiatives
Naukri.com runs several campaigns encouraging professionals to aim for their dream job. Using a 360-degree digital marketing mix, the campaign '#MyKindaNaukri' was launched to cater to individuals' diverse skill sets and workplace and job needs.
Intending to add value to professional's post covid, the company launched an out-placement service called Naukri Fast Forward Transition for recruiters and tagged the individuals laid off as 'immediately available.'
Apart from this, the company launched Step-up, an initiative helping laid-off individuals plan their next career steps through live job trackers educating them regarding the skills in demand.
At Jeevansathi, there is now an emphasized effort at creating a much stronger brand positioning across a wider geographic spread of India. While this is a broad strategy, its execution warrants a highly differentiated approach across regions aiming to establish local dominance. To begin with, there has been a strong emphasis on regional influencers and localized celebrity marketing.
Financial Analysis
1. Record high PAT margins
Info Edge reported a multifold rise in its PAT for FY22. In FY22, the consolidated entity reported a remarkable PAT of INR 1,28,822.30 mn compared to INR 14,180.30 mn in FY21. The primary reason for this exceptional gain is its investment in Zomato and its remarkable listing. The company held an 18.6% stake in Zomato before it went public and received INR 3,750 mn for its sale of 49 mn shares through Offer for Sale, while the remaining unrealized mark to market gain has been credited to the PL account.
Moreover, the growth was also led by Naukri, which saw its segment revenue shoot up to INR 1,1542 mn in FY22 from INR 8,003 mn in FY21. 99acres.com also saw its revenue surge to INR 2,173 mn in FY22 from INR 1,737 mn in FY21.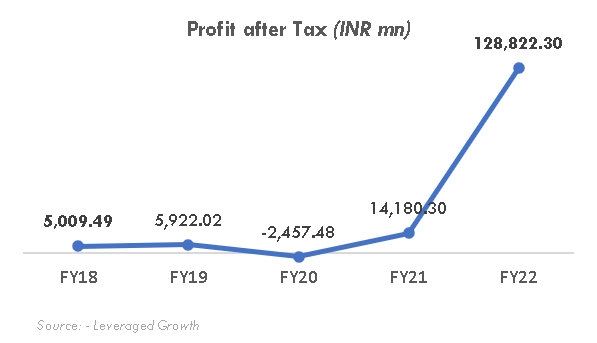 2. Significant increase in Dividend
The company strives to maintain a dividend payout ratio of 25% – 40% of standalone profits after tax. Your company had declared an Interim Dividend at the rate of INR8/- per equity share of the face value of INR 10/- for FY22 and a final dividend of INR 5/- per share.
Dividends are declared out of the current year's Profit after Tax of the Company; the company registered a PAT of INR 89,225.47 mn & INR 1,28,822.30 mn for the standalone and consolidated entity owing to the listing of Zomato shares and the growth in other verticals – 99acres & Naukri. Hence, the company gave a dividend of INR 13 in FY22, one of the highest ever.­INR
3. Accounts Receivable
Accounts Receivable or Debtors Turnover Ratio is computed on credit sales over average debtors. Net credit sales consist of the total credit billing less sales return. In FY22, the credit billing increased from INR 3,414.94 mn to INR 6,044.94 mn, resulting in a change of 85%. This increase indicates that the customers are paying on time, and Info Edge is good at collecting from debtors.
4. Increase in EPS
The huge rise in the EPS is attributed to the company's significant net income increase, which grew by ~800% from FY21 to FY22. Overall, for FY22, Info Edge recorded recruitment EBITDA of INR 6,790 mn, up by 55%, and recruitment cash EBITDA of INR 9,870 mn, up by 110%, compared to last year.
Moreover, the company management believes they are experiencing strong tailwinds in recruitment and the real estate business.
Environmental, Social, and Governance
Environment
The Company strives toward including green sustainable products, processes, and practices to have a negligible negative impact on the environment. The company intends to improve energy efficiency, use of renewable energy, procurement of greener products, and waste recycling. To ensure optimal resource consumption, the company has incorporated environmentally friendly installations such as energy-efficient equipment, including the Installation & Commissioning of a 50 kW Rooftop Solar Power Plant, usage of Automated Energy Monitoring & Control Product named 'Zenatix,' which enables monitor, configuration, and control of the electrical devices of the organization, replacement of conventional lights to LED lights in the offices across all the locations, etc. The corporate office is IGBC Silver Certified Green Existing Building for the enhanced performance in Site & Facility Management, Water Efficiency, Energy Efficiency, Health & Comfort, and Innovation & Design categories.
Social
Info Edge has undertaken several projects to augment the higher education standards in India. Its major focus is on Foundational Literacy and Numeracy (FLN), intending to achieve grade-level competency and equity in learning. It promotes multidisciplinary technology research and Improves learning outcomes through teacher training, enhancing parental and community engagement in government schools. It lays importance on mentoring & guiding aspiring entrepreneurs by equipping them with the necessary skills. The company assists in developing and strengthening infrastructure for the education of children with or without disabilities as well as first-generation learners from under-resourced and marginalized communities. It has built socio-emotional and leadership skills through art-based education, experiential learning, and empowering historically marginalized and vulnerable communities.
Governance
The company's Board comprised ten directors, of which three were Executive Directors, one was a non-executive director, and six were Independent Directors, including two women Directors constituting 60% of the Board's strength. The Board of Directors met 13 times during the year.
In the last 3 months, foreign institutional holding of the company has decreased by 1.27%. The company had declared an Interim Dividend at the rate of INR 8 per equity share of the face value of INR 10 for FY22 in its meeting held on January 7, 2022, in line with its Dividend Policy. A final dividend of INR 5 per share was paid on August 18, 2022, subject to approval by the shareholders at the ensuing Annual General Meeting of the Company.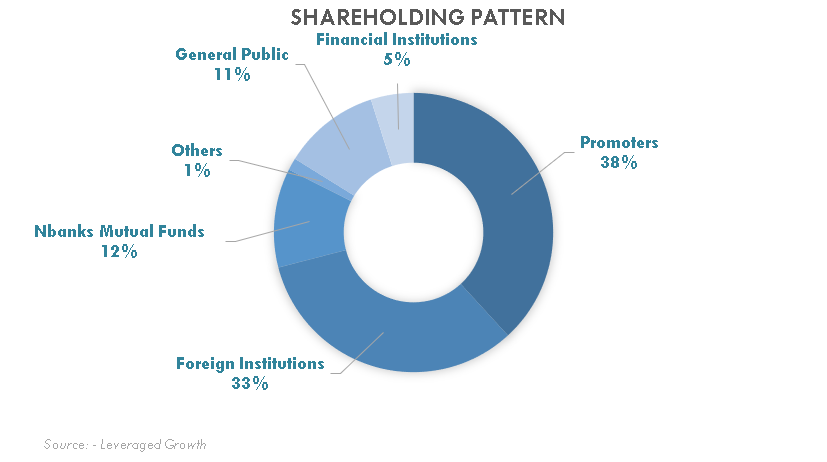 Risk Analysis
Operational Risks
Data corruption and security breaches common in the technology industry could occur due to server breakdowns. To enable disaster recovery, Info Edge has developed a secondary site in India. Info Edge, with technology at its core, has to consistently pay attention to technological and innovation advancements prevailing in the industry since these could make its offerings obsolete and redundant.
Strategic Risks
Overreliance on recruitment solutions to generate profits could inhibit long-term growth. The company is responding through diversification efforts which have yielded positive results with ~27% of standalone revenue contributed by other businesses. An exposure of ~INR 7,320 mn in start-ups adds to the company's riskiness since many of these investments might not translate into economic benefits. Over 13% of all investments have already been written off or exited, validating the risk involved.
Privacy Risks
Changes in the legal framework surrounding data and privacy could affect Info Edge's business model, restricting it from sharing data on the websites of portfolio companies. Info Edge does obtain requisite prior consent from all users to minimize this risk.
Financial Risks
Future cash flows may be impacted if the company loses the existing income tax and service tax cases against it. Errors in billing or financial reports in the ERP system could affect the Company's billing and statutory reporting. Following the new phase of expansion strategy, additional capital may be required which might be unable to obtain in a timely manner or on acceptable terms, or at all.
Manpower and Regulatory Risks
Info Edge is a knowledge-driven business. Therefore, a significant increase in attrition may affect the course of the business. The company is focusing on making workflows process-driven.
Most of the portals rely on information being posted by users. Fraudulent postings/profiles on the website and spamming by some users may damage the company's reputation and make it vulnerable to claims. Filters are in place to contain the quantity and quality of uploads and downloads.
COVID-19 Impact
Among all portfolio companies, 99acres was the worst hit by the pandemic, with billings down by 13.62% in FY2021. Despite the fall, the company continued its investment plans in data quality, technology, and product development.
Recruitment solutions witnessed growth in the second half of FY21 after plummeting in the initial half with reduced hiring activities. With the market condition improving, Naukri would better monetize its large traffic and database.
Jeevansathi.com was the least affected by the pandemic, with billings growing 15.23% in FY2021. The business is still incurring operating losses despite revenue growth.
End Note
As an entity, FY22 witnessed very strong growth in cash generation and billings. With the rapid digitization in the post-COVID era, a massive surge in human resource requirements in the IT space has emerged. The recruitment vertical, which is the core developed business, is envisaged to observe growth. Allied to this requirement of human skills, the education platform is also expected to move forward since there will be an increased need for focused knowledge in skilling and diversified education that caters to market demand. The matrimonial business is going through a transitional phase. Strategic changes are being brought up to steer the next growth round and gain market share. The real estate sector in India is recovering, and inventories are reducing. Anticipated is the launch of new projects at an expeditious pace.
Across businesses, through multiple offerings, the focus is now on providing a more comprehensive and focused support mechanism to the users and strategic investment will continue to be made to enhance the offerings of the core business.
Do we expect a revival in 2023?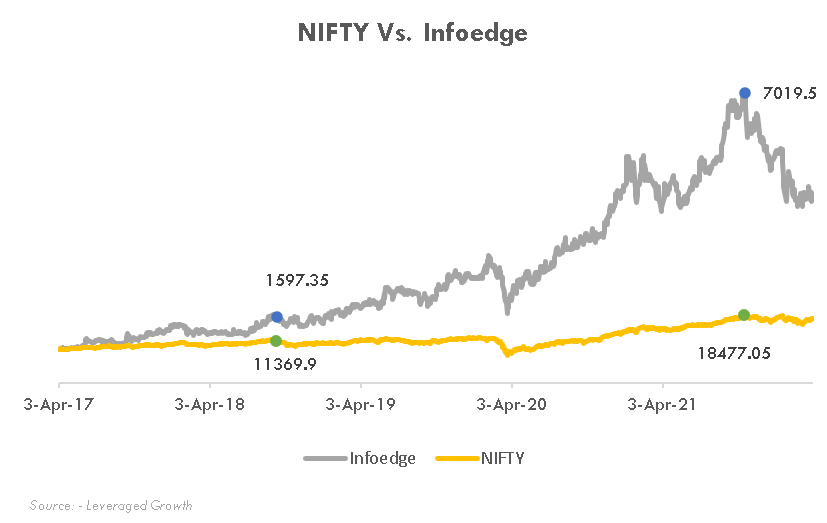 Disclaimer: The report and information contained herein are strictly confidential and meant solely for the selected recipient and maynot be altered in any way, transmitted to, copied, or distributed, in part or whole, to any other person or the media or reproduced in any form, without prior written consent. This report and information herein is solely for informational purposes and may not be used or considered as an offer document or solicitation of an offer to buy or sell or subscribe for securities or other financial instruments. Nothing in this report constitutes investment, legal, accounting, and tax advice or a representation that any investment or strategy is suitable or appropriate to your specific circumstances. The securities discussed, and opinions expressed in this report may not be suitable for all investors, who must make their own investment decisions based on their investment objectives, financial positions, and the needs of a specific recipient. This may not be taken in substitution for the exercise of independent judgment by any recipient. Each recipient of this document should make such investigations as it deems necessary to arrive at an independent evaluation of an investment in the securities of companies referred to in this document (including the merits and risks involved) and should consult its advisors to determine the merits and risks of such an investment. The investment discussed or views expressed may not be suitable for all investors. Certain transactions -including those involving futures, options, another derivative products, and non-investment grade securities – involve substantial risk and are not suitable for all investors. No representation or warranty, express or implied, is made as to the accuracy, completeness, or fairness of the information and opinions contained in this document. The Disclosures of Interest Statement incorporated in this document are provided solely to enhance the transparency and should not be treated as an endorsement of the views expressed in the report. This information is subject to change without any prior notice. The Company reserves the right to make modifications and alternations to this statement as may be required from time to time without any prior approval. Leveraged Growth, its associates, their directors, and the employees may from time to time, effect or have effected an own account transaction in, or deal as principal or agent in or for the securities mentioned in this document. They may perform or seek to perform investment banking or other services for, or solicit investment banking or other business from; any company referred to in this report. Each of these entities functions as a separate, distinct and independent of each other. The recipient should take this into account before interpreting the document. This report has been prepared based on information that is already available in publicly accessible media or developed through an analysis of Leveraged Growth. The views expressed are those of the analyst, and the Company may or may not subscribe to all the opinions expressed therein. This document is being supplied to you solely for your information. It may not be reproduced, redistributed, or passed on, directly or indirectly, to any other person or published, copied, or in part, for any purpose. This report is not directed or intended for distribution to, or use by, any person or entity who is a citizen or resident of or located in any locality, state, country, or other jurisdiction, where such distribution, publication, availability, or use would be contrary to law, regulation or which would subject Leveraged Growth to any registration or licensing requirement within such jurisdiction. The securities described herein may or may not be eligible for sale in all jurisdictions or to certain categories of investors. Persons in whose possession this document may come are required to inform themselves of and to observe such restriction. Neither the Firm nor its directors, employees, agents, or representatives, shall be liable for any damages, whether direct or indirect, incidental, special or consequentially including lost revenue or lost profits that may arise from or in connection with the use of the information. The person accessing this information specifically agrees to exempt Leveraged Growth or any of its affiliates or employees from any and all responsibility/liability arising from such misuse and agrees not to hold Leveraged Growth or any of its affiliates or employees responsible for any such misuse and further agrees to hold Leveraged Growth or any of its affiliates or employees free and harmless from all losses, costs, damages, expenses that may be suffered by the person accessing this information due to any errors and delays.
Contributor: Team Leveraged Growth