Click here to download the report
Key Highlights
Tata Steel is extending its business footprint beyond steel by diverging into the new material business of graphene, composites, medical materials, and devices
During FY22, Tata Steel attained the highest ever consolidated EBITDA of ₹638 billion, following annual growth of 107%
The company commissioned India's first plant for CO2 capture from Blast Furnace gas at Jamshedpur in FY22
By 2030, Tata Steel plans to increase its annual crude steel capacity from 34 MTPA to 55 MTPA
The company completed the acquisition of Neelachal Ispat Nigam Limited in the first quarter of FY23
On 3rd May 2022, Tata Steel announced a stock split in the ratio of 10:1
Indian Steel Industry
Valued at ~$76 billion in FY22
Tata Steel leads the industry with a market share of 20%, accompanied by JSW Steel (18%), SAIL (16%), and Jindal Steel Power (7%)
As of October 2021, India stood as the second-largest producer of crude steel globally, with an output of 9.8 million tonnes
The steel exports boosted to a record high of 13.5 million tonnes worth ₹1000 billion, whereas the imports significantly declined in FY22, amounting to ₹460 billion
Pioneering for 115 years in the Steel Industry
Tata Steel Limited (NSE: TATASTEEL), the flagship company of India's largest conglomerate, Tata Group, has established itself among the top global steel firms in FY22, with an annual crude steel capacity of 34 million tonnes. The Indian multinational firm emerges as the world's most geographically diversified steel producer, engaged in the business of steel-making, mining, and providing value-added solutions. It has a commercial presence in over 50 countries with significant operations in India, Europe, and Southeast Asia. It owns and operates captive collieries and iron ore mining sites around Jamshedpur, Kalinganagar, and Dhenkanal.
Products and Solutions
Tata Steel provides a wide range of products and solutions, including hot and cold rolled coils, wire rods, and bearings, as well as downstream value-added solutions such as designed furniture, steel doors, and windows. The steel manufacturer meets the specific needs of its market segments, comprising agriculture, automotive, construction, general engineering, and more. Tata Steel Ltd is an established B2B company catering to the demand of its industrial customers such as Ford, Telco, and Maruti. Moreover, the company has expanded its footprint further in the B2C segment with the advent of its online platform named "Ashiyana," which offers steel products and solutions to the end consumers.
Journey
The Indian pioneer industrialist Jamshedji Tata had rooted India's biggest conglomerate company, Tata Group. He was acknowledged as the "Father of the Indian Industry" due to his influential presence in that domain. While Jamshedji was traveling around the world to comprehend the advancements in the textile industry, he heard the speech of a British author, Thomas Carlyle, who said, "The nation which will have the steel will have the gold." This statement influenced him to such an extent that the Parsi Legend spent almost 30 years of his life tirelessly working to establish the iron and steel plant in India. Despite having enormous wealth, Jamshedji envisioned building a strong economic foundation for India rather than making his fortune. The pioneer industrialist was a great multi-tasker who spent decades collecting samples of iron ores while managing his textile business. After 17 long years of exploration, when Tata's geologists successfully discovered the massive tons of iron ore, a crucial element used in steel production, India embarked on its journey to participate in the steel revolution of the world. Unfortunately, Jamshedji was not there to see his dream turn into reality. The legend passed away in 1904. His unfulfilled dream was taken forward by his two sons, Dorabji Tata and Ratanji Tata, and eventually, Tata Steel Limited was incorporated in the year 1907.
Presently, T.V. Narendran is the Chief Executive Officer and Managing Director of Tata Steel Limited. With an experience of more than 34 years, he has overseen the organic and inorganic growth of the firm. He is in charge of the business and corporate affairs of Tata Steel globally.
Indian Steel Industry
The Indian Steel Industry marked a valuation of $76 billion in FY22 and includes companies like Tata Steel, JSW, SAIL, and others. After facing a major setback on the grounds of the Covid-19 outbreak for a year, it was restored in FY22, following a 26% growth in crude steel production in the initial eight months of the financial year compared to the same period a year ago. India emerged as the world's second-largest crude steel producer, with a production of 9.8 MT as of October 2021, due to the domestic availability of key materials such as iron ore and affordable labour. We have seen the steel sector contributing significantly to the growth of India's GDP as the country exported 13.5 million tonnes of finished steel worth a whopping amount of ₹1000 billion in FY22. India's finished steel exports surged remarkably as the increased international prices prompted Indian mills to soar shipments.
In contrast, the imports declined to less than half of the total exports worth ₹460 billion, resulting in a trade surplus for the country during FY22. The country's per capita consumption of steel surged from 57.6 kgs to 74.10 kgs during the last five years. The production-linked incentive (PLI), which aims to attract investment worth ₹400 billion and enlarge steel capacity by 25 million tonnes, was approved by the Indian Government. In addition, the authority gave a green signal to 100% Foreign Direct Investment in the steel sector through the automatic route. The Indian steel sector has a massive growth potential given the plentitude of crucial raw materials such as iron ore, coal, and other elements required for the production of iron and steel. The metal's production capacity and per capita consumption are expected to increase to 300 million tonnes and 160 kgs by FY31.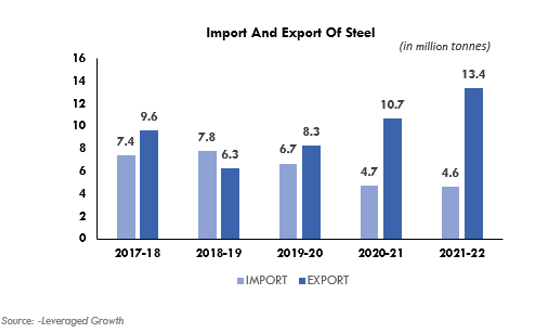 Business Model
The company deals in a wide array of products such as direct rolled, metallic coated steel, and other services to several key segments, including Agriculture, Energy & Power, Aerospace, and others. Tata Steel stands out as one of the few steel businesses with complete integration from mining to manufacturing and marketing of the finished goods. It owns and operates captive mines that assist in preserving cost-competitiveness and production efficiencies through an undisturbed supply of raw materials. These factors have established the company as the lowest-cost manufacturer in Asia.
The revenue drivers are:
The Steel Value Chain accounts for 92% of the company's revenue, which comprises operations ranging from captive mining to downstream steel business.
From the mining of chrome and manganese ore to the sale of alloys and minerals, the raw material value chains account for 7% of the total revenue.
Other businesses, including bearings and agricultural equipment manufacturing, contribute 1% of the total revenue.
Subsidiaries
As of FY22, the steel pioneer had 172 subsidiaries and 45 associate companies, including a few overseas businesses in Europe, Thailand, and Canada. Beyond steel-making, Tata Steel is foraying into new materials, including Fibre, Reinforced Polymer, and Graphene, to immune itself from the cyclicality of the steel industry. The company made some acquisitions in mining, ferro alloys, and advanced ceramics. However, the most strategic decision in FY22 was the proposal regarding the acquisition of Neelachal Ispat Nigam Limited by Tata Steel Long Products Limited, which is expected to complete in early FY23. NINL is particularly important given its proximity to Tata Steel's Kalinganagar site and its potential to become the future long-products business hub.
SWOT Analysis
Strengths
Pronounced Market Presence: Tata Steel is known to have a commendable market position in India as well as globally, alluding to its diverse product portfolio, strategies, and others. The steel-making company secured a market capitalization of ₹1305 billion in FY22 and was ranked as the world's second-most geographically-diversified steel producer. It has a commercial presence in over 50 countries, with operations expanding to 26 countries around the globe, sparking off a boost to the company's market penetration and share.
Robust Manufacturing: Tata Steel utilizes its own captive mines to execute the entire process starting from drawing out materials from mines to manufacturing finished steel material. The uninterrupted supply of key materials used for steel making ensures cost competitiveness and saves time while maintaining quality.
Trust in Product Portfolio: Tata Steel imparts a broad spectrum of products and solutions, including flat steel products, agricultural tools, and construction products, which boosts customer traction. The robust product portfolio enables access to global markets through revenue diversification across multiple sources. The company gains immense brand equity through association with the foremost trusted Indian brand, Tata, which is known for exemplary quality and customer-focused philosophy.
Weaknesses
Tata Europe's dependency on suppliers: The disintegrated operations being executed in Tata Steel, Europe, are causing paramount anxiety to the company. The Indian-owned foreign company is heavily dependent on suppliers from other nations, which can have a brutal impact on the cost and quality of the products offered. In addition, Tata Steel possesses a substantial international footprint and derives a sizable portion of its income from Europe. Hence, any economic slowdown or unprecedented event within the territory can tumble the profitability of the steel producer.
Lagging in operational efficiency: Tata Steel lags behind other international leaders in terms of operational efficiency. In compliance with modern technology might make steel making time-consuming and expensive, eventually dampening quality.
Opportunities
Acquiring new technologies: Tata Steel envisions itself as a technology and innovation leader in the entire steel industry. However, the steel producer is falling behind its rivals in the race to utilize the modern megatrends. It has a golden opportunity to adopt newer technologies and strengthen its presence back in the game.
Growth prospects in the steel industry: The National Steel Policy in 2017, approved by the Indian Government, strives to establish a worldwide competitive steel industry by FY31. Investments made by the Government in infrastructure along with rapid urbanization, soaring preference for personal mobility, and improvement in the capital goods sector are expected to boost steel demand in India, which Tata Steel could leverage.
Threats
Steel alternatives steal the spotlight: The key industries catered by Tata Steel, namely Automotive and Aerospace, have increasingly started preferring aluminum over steel. Negligible opportunity cost, higher recyclability with low investment, and sustainability have lured away the customers to purchase aluminum. Even some big automobile manufacturers have replaced steel with this lightweight alternative, posing a massive threat to Tata Steel's revenues. This sudden shift poses a considerable threat to the company's revenue.
Volatility in raw material prices: The prices of raw materials tumbled due to a turbulent geopolitical scenario, volatile input costs, and lockdowns accompanied by the pandemic. Along with the price fluctuations, disruption in the supply chain placed a heavy burden on Tata Steel.
Differentiating Strategies
Pricing strategy
Tata Steel is well recognized for maintaining low production costs and gaining the upper hand over its rivals. The steel producer's market penetration strategy has helped them gain a considerable market share by imposing reasonable and inexpensive product pricing. It procures raw materials from domestic as well as international sources and possesses multiple ore mines across India. Due to such factors, Tata Steel can keep low prices and retain its customers.
Retaining leadership positions in adjacent businesses
One of the key differentiating strategies has been achieving and maintaining leadership positions in existing as well as new business segments. It fosters and sustains healthy relationships with customers and channel partners while managing a countrywide distribution network. The main agenda of the steel-making company is to accelerate the capacity of Indian operations through organic and inorganic growth. Furthermore, it envisions creating value through new and engaging products and solutions while maintaining quality and trust.
Catalyzing new sources of revenue
The company leverages the market opportunities created by modified technology and megatrends to leverage its existing portfolio of adjacent businesses and generate new sources of income that complement the steel business. Tata Steel is establishing new ventures in technology-centric materials with a comprehensive scope, such as fiber, reinforced polymer composites, medical materials, and graphene.
Michael Porter's 5-Force Analysis
Bargaining Power of Suppliers
The escalating raw material prices and the fragmented suppliers might budge the stance of the pioneer, Tata Steel, as it outsources significant raw materials from regional and international locations. However, the possession and operations of various mines by the steel producer might minimize the pricing effect and establish an uninterrupted and constant supply flow of raw materials. Therefore, suppliers' bargaining power is low to moderate for the steel pioneer.
Power of Buyers
The steel buyers hold low bargaining power as there exists an enormous demand for steel and its products globally. Various events in the FY22, such as initiatives taken by the Indian Government to promote this sector and reaping benefits of advancements in other sectors like real estate, health, and more, have fueled the demand for the metal.
Rivalry among Competitors
Competition in the steel industry makes it difficult for newly commenced businesses to enter. The existing companies in the sector have gained people's trust over the years and the new entrant will have to do the same in order to attract new customers. Moreover, the high capital nature of the industry resists new participants.
Barriers to Entry
Competition in the steel industry makes it difficult for newly commenced businesses to enter. The existing companies in the sector have gained people's trust over the years and the new entrant will have to do the same in order to attract new customers. Moreover, the high capital nature of the industry resists new participants.
Threat of Substitutes
Tata Steel's products are highly exposed to the threat of substitutes owing to the vast series of homogeneous products chosen by the consumers as a steel alternative. Lightweight and sustainable commodities like aluminum and carbon fiber are captivating the attention of steel buyers and are gradually stealing the metal's limelight and market share.
Branding
"Customer first har haal me."
The company has always believed in this philosophy. It aligns with the changing needs of its customers, especially those in the Automotive and Construction sectors, which helps maintain healthy relations with them. Moreover, it also tracks the purchase history of its loyal customers and aims to deliver benefits through customized services and solutions. This has helped them win the prestigious "CII-EXIM Bank" award for business excellence. Tata Steel is indulging itself in new businesses such as Pravesh Steel Outdoors, Nest-In housing solutions, etc, to salvage them from the cyclicality of the steel industry.
Tata Steel has taken various initiatives in multiple segments in FY22. As a first step, the steel pioneer introduced numerous transformational initiatives in its business segments, including the extension of DigEca, a digital solution for ECA business, to 1300 end customers and ensuring information transparency by transforming the customer's supply chain experience through the digital solution, COMPASS. Apart from this, they undertook transformational initiatives in other market segments, namely Automotive, Construction, Engineering, and Services & Solutions.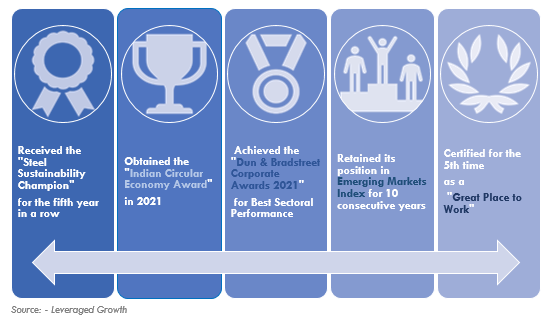 Financial Analysis
EBITDA margin witnessed a record high performance: Tata Steel attained the highest ever consolidated EBITDA of ₹ 638 billion, an impressive growth of 107% in FY22. Despite consistent turbulence in the market, the pioneers' commendable resilience, agility, and adjustability allowed it to reach such heights. Despite the pandemic and unprecedented geopolitical scenario, crude steel production reached 19 million tonnes for the first time with a 13% YOY growth. Tata Steel (standalone) saw an increase of 88% in its EBITDA to ₹ 514 billion in FY22 compared to the previous year alluding to the increased steel prices, which was partially offset by higher input cost. The EBITDA margin rose from 19% in FY21 to 26% in FY22 due to increased operating profits on account of higher prices influenced by soared input rates. However, the margin plummeted to 12% in FY20 because of a decrease in operating profits.
Declining Debt to Equity Ratio: The integrated net debt initially stood at ₹753 billion in FY21, which was later paid off and reduced by 32% to ₹ 510 billion in FY22 through internal cash flows. This resulted in a drop in the net debt to equity ratio from 0.98 in FY21 to 0.52 in FY22. The consolidated debt of Tata Steel subsequently fell due to an increase in cash and cash equivalents, including current investments in its subsidiaries, Tata Steel Long Products and Tata Steel Europe. The total equity rose from ₹ 775 billion in FY21 to ₹ 1170 billion in FY22, owing to a significant surge in the company's retained earnings. The steel producer aims to bolster its balance sheet by generating stable cash flows while continuing to pay off its debt.
Current Ratio: The current ratio rose to 1.07 in FY22 compared to 0.94 in the previous year due to a massive increase of 53% in the current assets standing at ₹ 922 billion. After a continuous downward trend till FY21 due to economic slowdown and reduced operations, the current ratio surged beyond 1 because of increased current assets resulting from increased cash and cash equivalents, operating cash flows, and robust financial management. Tata Steel Europe delivered a strong annual performance alluding to the improved demand-supply conditions post the recovery from the pandemic following an improvement in operating performance.
Return on Total Assets: In FY22, the total assets of the company stood at ₹ 2854 billion, rising YoY by ~16% due to improved financial performance, a boost in operating cash flows, and an increase in revenue. The ROA of the steel-making company accelerated to 14.87% due to a significant upscale in the revenue from operations that rose by 56% from ₹1573 billion to ₹2447 billion, on the grounds of increased deliveries of the company's products at Tata Steel Standalone and Tata Steel Europe.
FY23 Q1 Highlights: Mr. TV Narendran, Chief Executive Officer & Managing Director: "This has been a challenging quarter for the Global and Indian economy with rising interest rates, supply chain constraints and slowdown in China due to COVID. Despite these multiple headwinds, Tata Steel has delivered a strong performance with an improvement in margins."

The higher pet coke prices had an adverse effect on the quarter's performance increasing the operating costs, while the government's export duties hit exports and its volumes.
Headwinds
The profit after tax for the quarter declined by 12.82% YoY to Rs. 7.764.96 crore in Q1 FY23
The EPS for Q1 FY23 stood at Rs. 63.59, declining 14.35% YOY
Tailwinds
The revenue from operations stood at Rs. 63.430.07 crore in Q1 FY23, witnessing a 18.64% YoY increase from Rs.53.465.43 crore in Q1 FY22
The 6 MTPA Pellet plant at Kalinganagar will be commissioned in Q3 FY23, followed by the Cold Roll Mill complex and the 5 MTPA expansion
Environmental, Social, and Governance
Environmental
Waste management
Tata Steel has been leading in recreating novel products from waste and by-products, hence making a significant contribution to a sustainable ecosystem in the iron and steel industry. It strives for a 'zero waste' goal and provides renewed products as key materials to diverse segments, including cement, chemical, construction, and many more. With consistent investment in R&D, the steel producer is endeavoring to build technology to reuse iron and steel slags. Tata Steel Jamshedpur and Tata Steel Kalinganagar accomplished 100% solid waste utilization in FY22.
Envisioning a decarbonized future
Tata Steel is striving toward diminishing its carbon footprint in manufacturing throughout the life cycle of the product. It is the foremost company in India to have endorsed the guidance of the Task Force on Climate-Related Financial Disclosures (TCFD), which the Financial Stability Board created to enhance and boost reporting of climate-related financial information.
Social
A long-term relationship with their consumer has been the key to its success. During the pandemic, the company ensured that accurate and timely communication with stakeholders was maintained in the interest of business continuity and safety. Moreover, they stood intact with under-served communities during hard times and provided them with necessary facilities. It aims to establish a safety leadership capability at all levels to attain zero harm by FY30. The CSR program strives to create a profound social capital by leading a societal impact in the country's Eastern region with its own resources.
They have influenced the lives of over 1.82 million people across India during the pandemic through various initiatives such as providing food, generation of oxygen plant at Jharia, and organizing covid community vaccination. The company also focuses on aspects that require a revolutionary change, such as child labor, schooling of underprivileged children, health parameters of the population, and much more. The non-covid initiatives introduced by Tata Steel stood advantageous to more than 1.5 million CSR beneficiaries. They have also initiated eco-friendly practices in the supply chain by deploying about 59 CNG/LNG-based vehicles in the final delivery to reduce their CO2 footprint.
Governance
In compliance with the company's policy, the Board comprises eleven members as of March 31, 2022, with two executive directors, three non-executive directors, and six independent directors, two of whom are women. Following the Companies Act, 2013, Koushik Chatterjee, Executive Director and CFO of Tata Steel Limited, retired at the ensuing Annual General Meeting and sought re-appointment.
The shareholding pattern of Tata Steel Limited witnessed a change in FY22. The Foreign institutional investor's holding rose to 22.87% from 21.36%. The shareholding pattern of the promoters remained the same as of FY21 at 33.92%. Mutual Funds reduced their holdings from 10.37% to 10.08% in March 2022. Tata Steel Limited (Standalone) provided ₹ 30 billion as equity dividend to its shareholders in FY22. The Board recommended paying ₹ 51 worth of dividend from the annual profits.
Risk Analysis
FY22 was turbulent for Tata Steel as there were a series of volatile movements, including the second and third waves of Covid-19, the Russia-Ukraine war crises, and many other events that unfolded and exposed the steel industry to major risks. Tata Steel has placed a well-defined Enterprise Risk Management (ERM) to actively identify and mitigate key risks for achieving its strategic objectives.
Financial Risk- The Russia-Ukraine war crisis turned the whole world pessimistic, resulting in rising inflation and a surge in the financing cost, threatening Tata Steel's CAPEX plans and exposing it to currency volatility. Tata Steel plans to imply specific mitigation measures like generating strong cash flows, a solid hedging policy, and a robust capital allocation strategy, among others, to limit the financial risk.
Safety Risk- Inconsistent attention to workforce safety requirements, safety laws, and regulations may hamper business operations. COVID-19 pandemic posed a risk to workforce health and safety. Tata Steel has adopted measures like organizing campaigns on various safety topics, experiential learning, and others to mitigate this risk.
Commodity Risk- Volatility in raw material prices due to the changing climate, unprecedented geopolitical events & the Covid-19 pandemic affects the input costs, influencing the company's product prices. Mitigation measures used to minimize the risk are sound commodity hedging policies, reliable domestic supply of raw materials, and risk assessment.
Supply Chain Risk- The unavailability of raw materials due to geopolitical uncertainty might put Tata Steel in a difficult position. Political instability coupled with cyclical waves of the pandemic affects the supply of raw materials as well as shipping and container freight accessibility. The formation of "one supply chain" division, implementation of hedging strategies, and usage of digitalization and optimization come under the measures followed by Tata Steel to tackle supply chain risk.
Impact of COVID-19
Like every other company in the manufacturing sector, Tata Steel was significantly impacted by the imposition of lockdown. In 2020, when the world had taken a toll due to Covid-19, the crude steel production of Tata Steel fell by 7%.
Crude steel production rose in the first quarter of FY22 by 55% to 4.62 million tonnes from 2.99 million tonnes in the same period last year. Amidst the second wave of the pandemic, Tata Steel recorded the highest ever annual crude steel production with an increment of 13% YOY at 19 million tonnes. Despite the stringent nationwide lockdowns and protocols, the overall deliveries grew by 6%, and the domestic deliveries by 14%, driven by the retrieved demand and the robust marketing network of the steel-making company. Besides the positive outcomes, Tata Steel faced complex challenges during the ongoing lockdown in FY22. Firstly, it sources its raw material from multiple vendors in different locations worldwide. The pandemic made supply chain management more tedious as multiple restrictions were levied in almost every country around the world. Secondly, Tata steel's B2B segment comprising automotive, construction, and other industries, were impacted by the pandemic, which eventually affected the sales and production of the steel producer.
The End-Note
Tata Steel aims to deleverage its balance sheet while enhancing its strategic growth. By sustaining the excellent health of its balance sheet, Tata Steel anticipates to grow in India through the cash flow it generates from the country. Tata Steel owns and operates captive mines in order to ensure an uninterrupted supply of raw materials. It also intends to increase mining capacity from 35 million tonnes to around 65 million tonnes to strengthen its steel growth in the future. The solutions offered are gaining customer traction, and thereby it is anticipated to double from ₹ 5 billion to a ₹ 10 billion business. Tata Steel believes that focusing more on these services will help them withstand cyclicality better. In FY23, Tata Steel plans to strengthen its supply chain through necessary logistics and investments in newer ventures, services, and solutions that provide a significant edge.
Tata Steel has forayed into new business segments such as graphene and ready-to-use steel. Hereby, an important question arises,
Will this portfolio expansion strategy work in favor of Tata Steel in the long run?
Stock Price History for the Past 10 Years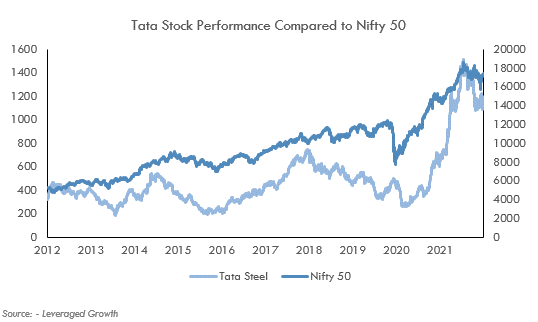 Disclaimer: The report and information contained herein are strictly confidential and meant solely for the selected recipient and may not be altered in any way, transmitted to, copied, or distributed, in part or whole, to any other person or the media or reproduced in any form, without prior written consent. This report and information herein are solely for informational purposes and may not be used or considered as an offer document or solicitation of an offer to buy or sell or subscribe for securities or other financial instruments. Nothing in this report constitutes investment, legal, accounting, and tax advice or a representation that any investment or strategy is suitable or appropriate to your specific circumstances. The securities discussed and opinions expressed in this report may not be suitable for all investors, who must make their own investment decisions, based on their investment objectives, financial positions, and the needs of a specific recipient. This may not be taken in substitution for the exercise of independent judgment by any recipient. Each recipient of this document should make such investigations as it deems necessary to arrive at an independent evaluation of an investment in the securities of companies referred to in this document (including the merits and risks involved), and should consult its advisors to determine the merits and risks of such an investment. The investment discussed or views expressed may not be suitable for all investors. Certain transactions -including those involving futures, options, other derivative products as well as non-investment grade securities – involve substantial risk and are not suitable for all investors. No representation or warranty, express or implied, is made as to the accuracy, completeness, or fairness of the information and opinions contained in this document. The Disclosures of Interest Statement incorporated in this document are provided solely to enhance the transparency and should not be treated as an endorsement of the views expressed in the report. This information is subject to change without any prior notice. The Company reserves the right to make modifications and alternations to this statement as may be required from time to time without any prior approval. Leveraged growth, its associates, their directors, and the employees may from time to time, effect or have effected an own account transaction in, or deal as principal or agent in or for the securities mentioned in this document. They may perform or seek to perform investment banking or other services for, or solicit investment banking or other business from, any Company referred to in this report. Each of these entities functions as separate, distinct and independent of each other. The recipient should take this into account before interpreting the document. This report has been prepared based on information that is already available in publicly accessible media or developed through an analysis of Leveraged Growth. The views expressed are those of the analyst, and the Company may or may not subscribe to all the views expressed therein. This document is being supplied to you solely for your information and may not be reproduced, redistributed, or passed on, directly or indirectly, to any other person or published, copied, in whole or in part, for any purpose. This report is not directed or intended for distribution to, or use by, any person or entity who is a citizen or resident of or located in any locality, state, country, or other jurisdiction, where such distribution, publication, availability, or use would be contrary to law, regulation or which would subject Leveraged Growth to any registration or licensing requirement within such jurisdiction. The securities described herein may or may not be eligible for sale in all jurisdictions or to a certain category of investors. Persons in whose possession this document may come are required to inform themselves of and to observe such restriction. Neither the firm nor its directors, employees, agents, or representatives shall be liable for any damages whether direct or indirect, incidental, special or consequential including lost revenue or lost profits that may arise from or in connection with the use of the information. The person accessing this information specifically agrees to exempt Leveraged Growth or any of its affiliates or employees from, any responsibility/liability arising from such misuse and agrees not to hold Leveraged Growth or any of its affiliates or employees responsible for any such misuse and further agrees to hold Leveraged Growth or any of its affiliates or employees free and harmless from all losses, costs, damages, expenses that may be suffered by the person accessing this information due to any errors and delays.
Contributor: Team Leveraged Growth
Co-Contributor: Khushe Bothra
Research Desk | Leveraged Growth