Click here to download the report
Lemon Tree Hotels Limited ("the Company" or "LTHL") is involved in the business of developing, owning, acquiring, renovating, operating, managing and promoting hotels, motels, resorts and restaurants; a first of its kind and has its presence across the value chain. LTHL opened its first hotel with 49 rooms in May 2004. As of Q3FY20 the company operates 7,979 rooms in 56 hotels across 33 cities in India. LTHL is India's 3rd largest hotel company on the basis of owned and leased rooms. They are primarily engaged in providing mid-priced rooms in the following segments:
The Company's business model caters to following consumer segments:
Business Travel
Leisure Travel
MICE Demand
Weddings and Social Travel
Diplomatic Travel
Airlines and Airline Crew
Transit Demand
How was LTHL born?
An entrepreneur by chance, Patanjali Keswani stumbled into hospitality while he was working on his last assignment with the TATA Group as the Senior Vice President & Chief Operating Officer of the Taj Group of Hotels. After leaving the Tatas, this IIT-Delhi & IIM-Calcutta alumnus joined an international consulting firm AT Kearney, wherein Patu had to do strategic assignments for multinationals who wanted to enter the Indian market which included hotel groups. Patu says "I discovered there was this huge gap in India. At the top-end you have the Taj, the Oberoi and ITC and in the mid and low segment, there are no national chains. Globally the biggest hotel market is mid-market and economy.
As Taj's COO, I had seen how their second-rung hotels, like the Taj Residency, made money and I had a clear idea on how they could make even more money." In 2002, Patu Keswani took an impulsive decision to start Lemon Tree Hotels at the age of 42 while he was going through mid-life crisis and wished to wake up every day & love what he was doing.
Indian Hotel Industry
Indian Travel and Tourism Industry's contribution to GDP stood at USD 247 billion in 2018 and is expected to increase to USD 492 billion in 2028. Of the direct tourism and travel GDP, 87% came from domestic travelers.
In 2017, India recorded 1.65 billion domestic tourist visits, an increase of 2.3% over the previous year.
The Indian middle class population has increased from 600 million in 2012 to 780 million in 2018 and is expected to overtake that of US and China by 2027.
117 million domestic passengers travelled by domestic airlines in India in 2017, registering a 19% increase over the last fiscal and growing at a CAGR of 16% in the past five years. The growth in domestic travel will be driven by improved air and road connectivity, a growing aspirational middle class, increasing urbanization and higher disposable incomes. LTHL, with its dominance in the fastest growing hotel segments i.e. upper-midscale, midscale and economy segments, is in a sweet spot to capitalize on market conditions.
India has around 130,000 branded chain affiliated hotel rooms which is expected to grow to nearly 165,000 in the next 5 years.
According to Horwath's Indian Hotel Market Review 2017 report, demand CAGR over 2018-21 is expected at 11.6% outpacing supply CAGR over 2018-21 at 8% which will lead to further improvement in occupancy.
The organized hotel industry is structured as follows: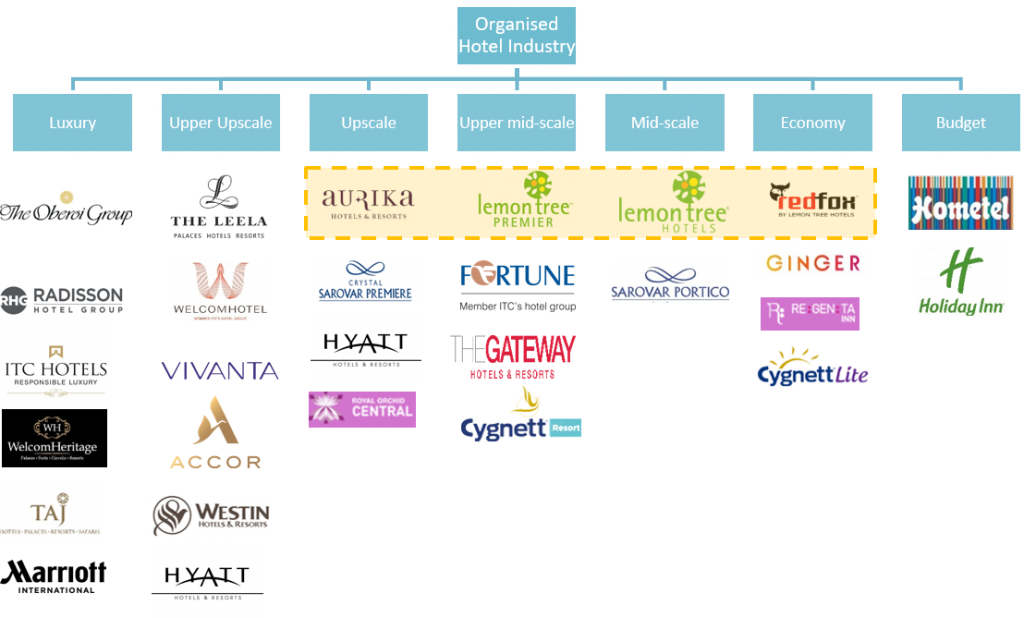 Business Model
Lemon Tree caters largely to the upper-midscale, midscale and economy segments where it has developed a differentiated business model, thus, making it a dominant player in these segments. Company has always been able to achieve an occupancy premium vis-à-vis its peers due to its value-for-money proposition. In fiscal 2018, company achieved RevPAR premium of 17%, 34% and 61% over industry average in upper-midscale, midscale and economy segments respectively. Things working in favour of this Company are its robust pipe-line of inventory addition, focus on asset light business model, inorganic expansion through acquisition of Keys Hotels and foray into upscale segment through the Aurika brand. The Company's asset-light strategy will lead to distribution of costs, cheaper sourcing of raw materials and efficient deployment of capital. It has mostly been using asset monetization and asset recycling strategy to fund organic and inorganic growth opportunities and reduce debt.
COVID-19 – Facing Turbulent Tides
The ongoing coronavirus outbreak has had a severe impact on the hotel bookings in India with massive forward booking cancellations across cities. This in turn has eroded the profitability of hotels across India with heavy loss of business during this peak season time. The extent of this lost business has primarily been seen across all major tourist and business destinations and situations are expected to remain severely weak with individuals cancelling or deferring their travel plans and thousands of companies adopting the 'work from home' and 'no travel' policies. A significant drop in revenues (or expected revenue growth) owing to lower occupancy is anticipated. Revenue from MICE and F&B which are lucrative segments for hotels, are also expected to fall off the cliff.
Differentiating Strategies
Strategic Locations & Strong Pipeline
LTHL has a solid pipeline of owned, leased & managed hotels that are situated in demand dense locations, which offer high prices & have high barriers to entry. The most critical cities include Delhi, Mumbai, Hyderabad & Bangalore and building a hotel at such locations isn't financially feasible. LTHL has many ongoing projects in these cities & plans to make this the moat of their company. The Company enjoys high proportion of repeat customers and a network advantage due to its brand's strength and customer reach. As a result, it is able to stabilize its hotels in new geographies, especially in demand dense markets like Mumbai, in a comparatively short span of time. The management believes that there are significant opportunities to derive multiple synergies from the recent Keys Hotels acquisition in under penetrated areas.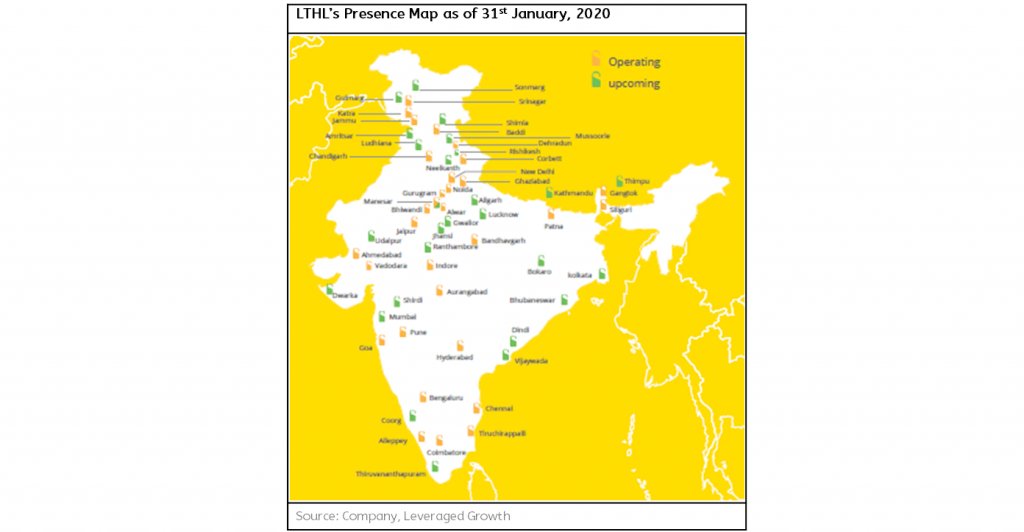 Low cost rooms are an untapped opportunity
Another trend that will work in favor of LTHL is it's higher than average occupancy rates in its low cost rooms. This poses a great opportunity for LTHL as it has already built a strong presence for itself in the segment. To improve prices charged in the segment, the Company targets the retail customer who pays 1.2x the average rate. The share of retail has grown to 39% this year from 36%. It is projected to be 50%, two years down the line.
Maintaining cost Leadership
With its focus largely towards cost reduction, by transferring a high cost & good quality resource from an existing well established hotel to a new hotel & replacing that with a low cost resource, LTHL is always churning its employees within hotels. Moreover, LTHL cross-skills its employees so it is less likely for LTHL to lay off employees during a crisis. Per management, although the Company focuses on driving occupancy in the initial period, it also tries to ensure cost efficiency by managing semi variable cost like staffing, power, fuel and other similar expenses. Over the next 2 years the Company targets to reduce its cost per room irrespective of inflation being at 4 or 5%. When compared to Chalet Hotels Limited (CHL), the company that manages properties for hotel chains such as JW Marriott and Westin in India, LTHL seems better placed as it shifts towards a hotel management strategy.
Successful Shift to an asset light strategy
Over the years, LTHL has expanded their leased & managed hotels portfolio through various contracts & inorganic growth strategies. This has helped them distribute costs, access raw materials at cheaper rates, deploy capital efficiently, monetize on assets & simultaneously increase their consumer base. This very strategy will start paying-off in a big manner as the company's cost structure is much leaner as compared to its closest competitors. This will be a very important advantage that LTHL will reap in coming quarters and will help it gain market share. Therefore, in FY2019, we saw fees from managed hotels increase by 52.6% YoY- solidifying the shift in strategy.
International Foray
As a major diversification strategy, the Company stepped into the international markets with the opening of Lemon Tree Hotel in Dubai during Q3FY20. The hotel is strategically located in close proximity to famous tourist spots in the city. LTHL will also be launching its second international hotel in Thimphu, Bhutan soon.
SWOT Analysis
Strengths
Cost Leadership: LTHL's vision is to become India's largest & most preferred chain of hotels & resorts in the mid-priced hotel sector that includes upper-midscale, mid-scale & economy hotel segments. Various lease & management agreements, asset monetization & recycle strategies, help LTHL provide better services at competitive prices.
Brand visibility & Networking: Lemon Tree's loyalty program 'Smiles' has led to a high proportion of repeat guests & gives LTHL a network advantage that helps them stabilize their hotels in new geographies in a relatively short span of time.
Weaknesses
Nearly one-third of the company's operational owned/leased inventory was in stabilization phase as of December 2019 (less than three years since commencement of operations), and is yet to meaningfully start contributing to profitability. Accordingly, the company's RoE remained low at 0.62% in FY2019.
A significant portion of LTHL's revenue comes from hotels situated in a few geographical regions and there is a lack of diversification. Due to this any adverse development affecting these regions can have an adverse effect on its business.
LTHL had moderate debt coverage indicators and has an estimated interest and repayment obligations of Rs. 22 billion in FY2021, to be serviced post the Reserve Bank of India's forbearance period, from June 2020 onwards. Given the significant operating costs and debt servicing requirement, the company has initiated various cost containment measures. Nonetheless, the sharp scale-down in revenues may have a severe impact on the company's credit profile. The extent of weakening of the demand conditions would depend upon the pace at which normalcy returns.
Opportunities
Enhanced flight connectivity in Amritsar, Lucknow, Jaisalmer & Varanasi are drawing large number of leisure & MICE visitors, therefore with comparatively less hotels in Jaisalmer & Varanasi these cities are yet to be tapped by the Indian hotel companies.
Further UDAN operations will benefit regional locations like Belgavi & Hubli, Ajmer and Pushkar.
With absolutely no LTHL hotels operational in Indore, Surat, Vishakhapatnam & Guwahati that have drawn more business & MICE demand due to their regional growth, LTHL has a great opportunity left to be taken advantage of.
Threats
Policies are always changing and that hurts investment capital & returns. For e.g. high liquor costs & potential prohibition in Andhra Pradesh will hurt revenues, however, the option to operate 24/7 in Mumbai might provide a relief with increased late night demands.
Given the discretionary nature of consumer spending (especially on leisure travel), the travel and tourism industry has always been highly susceptible to exogenous shocks like wars, terror attacks, disease outbreaks and meltdowns. COVID-19's impact is expected to be far more severe and broad-based than during previous instances. While some deferred travel, particularly for business, will eventually come back in following some semblance of normalcy, room nights are essentially perishable commodities.
Economic slowdown: The hotel industry being a non-essential sector, is the first to get hit by any economic crisis. LTHL focuses on the mid-priced hotel segment, with a customer base which will not be willing to pay at all during economic downturns.
Michael Porter's 5-Forces Analysis
Barriers to Entry
Land: Availability of lands at desired locations with dense demand & high costs of the same are one of the most primary challenges faced by any company trying to enter the hotel industry.
Huge capital investment: With several hotel projects defaulting on their debts, banks are relatively cautious when providing financing to the same, interest costs range from 10% to 14%. A large amount of equity investment is also required for project development to meet cash shortfalls during operations.
Regulatory approvals: Companies in the hotel sector require several approvals & licensing, which is extremely time consuming & uncertainties of the same lead to delay in the opening of hotels.
Bargaining power of suppliers
LTHL has a wide presence across the value chain wherein they are involved in everything from acquiring land, building, leasing, owning, managing & marketing hotels. This reduces LTHL's dependence on many stakeholders across the value chain.
LTHL is however is heavily dependent on its human resources, although the bargaining power is largely exercised by LTHL in a demand-constrained labor market like India.
Bargaining power of buyers
Space to leverage brand: LTHL's presence in the mid-scale segment means that buyers exercise relatively higher bargaining power, especially in situations like the current crisis where most consumers become price-sensitive.
Rivalry among competitors
Presence of the unorganized sector: The hotel industry is a highly fragmented industry; hence lack of concentrated market share makes it difficult for the companies to hike prices.
Threat of substitutes
High due to fragmentation in the industry: Most of India's low cost hotels are in the unorganized sector and the supply of rooms has historically gone up faster than demand in this segment.
Branding & Other Initiatives
Re-pricing strategy – leveraging brand name
LTHL opens new hotels at attractive prices, and as soon as the occupancy rate hits a certain level, they start re-pricing. However, because price hikes are never welcomed & LTHL has a large demand from corporate customers who sometimes aren't willing to pay a high price, they replace the low rate customers with high rate customers. This doesn't create an issue as the high rate customers were already paying the high price; LTHL just gets more of high rate customers. However, due to its flexible pricing strategy, it will be able to attract more corporates looking to slash their costs, away from its competitors.

Competing with Online
Online Travel Agents are better able to attract customers with cash backs. However, LTHL's strategy to keep up with the OTAs is by controlling supplies, strengthening its loyalty program 'Lemon Tree Smiles' that has close to 1 million loyalty program members & hence get more customers directly. LTHL's brand strength has led to repeat guests being close to 35% of their total guests. This gives them a network advantage due to which they are able to stabilize their hotels in new geographies in a relatively short span of time.
F&B Strategy
F&B across India in the hotel segment has been slowing down partly because many customers preferred to order food from Swiggy or Zomato. The Company is trying to compensate for that through its banquet business.
Lemon Tree's focus on learning and development is one of its key differentiators
This area of work has been developed extensively over the years and resources added to the function so the focus is on building world class capabilities. The vision of the L&D function is to enable talent at all levels and create a pipeline of new leaders within the system. This is done to match the growth of the company in terms of inventory being added every year. Lemon Tree classifies all hotel job roles in four quadrants based on degree of Criticality to Business and Criticality to Customer. It identifies High Performers and Super High Achievers and closely monitors and trains them to be promoted to the quadrant which is critical to both business and customer. This journey ensures that the employee gets experience in each critical function of operations, before they are inducted into a senior leadership role. This focus on employee satisfaction is what enables LTHL to lower their manpower costs as compared to competitors.
Financial Analysis
Profitability becomes questionable
Hotel industry has majority of its costs fixed, with power/lighting and employee costs taking the major share. With abysmally low levels of occupancy owing to COVID-19 and a sharp fall in non-room revenues, which have a higher margin, hotel players are expected to take a massive hit on their profitability. LTHL's cost effectiveness might place it in a better position, but it is staring a tough time ahead with normalcy expected to return only after FY2020. LTHL's revenue grew at an impressive 13.5% in FY2019 and its EBITDA grew by 23.9%, as margins increased from 28% to 30%. EPS increased three-fold from Rs.0.2/share to Rs.0.7/share. Revenue during Q3FY20 increased by 39% and EBITDA recorded a 65.7% growth. This was driven mainly by a 49% increase in rooms to 7979 rooms in Q3FY20, and the application of IndAS 116, which reclassified rental expense to depreciation expenses. The Company however is staring at a difficult time ahead, much like the entire industry and this crisis will be a true test of the Company's financial resilience.
Debt hemorrhaging the Balance Sheet
LTHL's future was very much linked to the ramping up of new hotels as the company sits on significant debt. Prolonged disruption in tourism, could lead to the balance sheet problem further worsening the P&L situation. By CY22, the Company planned to add 2,673 rooms (748 rooms owned and 1,925 managed). The capex was expected to be Rs.8.55 billion, of which Rs.3.01 billion has already been spent as of Dec 2019. The Company expected that it will be able to finance the capex mainly through internal accruals and rest through debt refinancing. Debt was to peak out at Rs.15.5 billion, however, a total absence of internal accruals will place the company in a tough spot. Total debt in H1FY20 increased by 21% YoY to Rs.13.35 billion and the debt to equity ratio stood at 1.06x in H1FY20 as compared to 0.88x in H1FY19. Capex plans will also have to be delayed, as the Company focuses its resources on coming out of the crisis still breathing.
Negative Cash Flows can pose a threat due to debt repayments
LTHL already has negative cash flows due in part to its aggressive expansion plan and various upcoming projects in Tier II and I cities. As is visible below, the company has maintained high capex, keeping its FCFF in the negative territory. Additionally, the company has seen a ratings cut on back of concerns that it might face an immediate liquidity crunch disabling it to service its debt in the near term. LTHL is going through a capex cycle and has been adding properties at a rapid pace by taking on additional leverage. However, LTHL's rising interest coverage along with its debt is indicative of improving cash flows and better cash flow management by the Company, even during a capex cycle. The management had initially planned to repay a portion of its debt by FY2021, however looking at the current scenario that would not be possible. Apart from this, LTHL made the decision to undertake a floating rate loan, which now puts it in a better position as we will see expansionary policies and a further lowering of interest rates, to boost spending.


RoE and RoA
The Company's RoE and RoA have turned positive after an incessant focus of the management to justify cost structures and build a better revenue model which has immensely helped profitability in the recent quarters. More hotels stabilizing and contributing to revenues has also been a big factor and this is a healthy trend. However, maintaining the same structures will be immensely difficult for the management going forward as structural changes take place in the industry and everything will be dependent on how much demand comes back online and how fast.

Number of Rooms and RevPAR
LTHL recorded a YoY increase of 49% in the number of rooms from 5291 as of Q3FY19 to 7914 as of Q3FY20. Inorganic increase in the number of rooms because of the acquisition of Keys Hotels stood at 1591 rooms and the organic growth in the number of rooms of LTHL stood at 1032 rooms (20% YoY). RevPar at Rs.3311 grew 2% YoY. However, the RevPar for LTHL (excluding the RevPar of Keys Hotels) grew 8% YoY.
Segmental Analysis
Risk Analysis
Cyclicality & seasonality of the industry: Hotel industry is a luxury sector, & with LTHL's focus mainly on the mid hotel-segment, a slowdown in economic growth along with seasonal variations can have an adverse effect on the operations & financial condition of the company.
Main business threats: LTHL's main revenue comes from owned & leased hotels. Hence, delays in the construction of new buildings or improvements of the properties can have an impact on the company's performance. Moreover, compliance with lease agreements, renewing old ones & entering into new agreements with favorable conditions also need to be kept in mind.
Lack of geographical diversification: A large portion of LTHL's revenues comes from a few hotels that are concentrated in a few geographical locations, and hence any change in regulations in these locations that are unfavorable for the company can affect its earnings.
Large workforce: LTHL has workforce deployed across its numerous hotels, hence with a workforce so large it is prone to service related claims and losses or employee disruptions that can affect the company's reputation that is mainly known for rendering services of high quality.
Reliance on existing brands: LTHL's heavy reliance on its existing brands helps the company attract customers, hence any failure in quality control systems, absence of standardized parameters in managing hotels & difference in customer experience can hamper the business reputation.
Competition: Presence of the unorganized sector & intense competition with other brands due to lack of concentrated market share might lead to LTHL losing its market share to its competitors.
Corporate Governance
The Company's Board consisted of 12 Directors out of which 6 were Independent Directors including one woman Director. This composition is in compliance with the SEBI (LODR) Regulations.
One of the directors Mr. Aditya Madhav Keswani is the son of Mr. Patanjali Keswani, besides this, there are no other inter-se relationships amongst the Board members.
Independent directors of LTHL, Mr. Ashish Kumar Guha is a director in Cosmo Films Ltd & CG Power and Industrial Solutions Ltd. and Mr. Arvind Singhania who is a managing director in Ester Industries Ltd. However, none of the directors of the Company hold Directorships in more than 20 companies or more than 10 public companies whether listed or not.
Besides the six board meetings that were held in FY2019, one separate meeting was held among the independent directors on May 29, 2019 in the presence of the Compliance Officer of the company wherein they reviewed the performance of non-independent directors, the chairperson & assessed the quality, quantity & timeliness of the flow of information between the Company management & the Board.
A Familiarization Programme for Independent Directors has been put in place wherein an orientation program is conducted that includes familiarization with the Company, their roles & the industry in which the Company operates.
Promoters have not increased their pledged holdings which have remained constant at 33.76% of their total holdings which stand at 31.24%
The end-note
COVID-19 has dealt a severe blow to the plan and the financials of the Company. The pandemic has caught LTHL in the middle of a capex cycle when its balance sheet is bulked up with debt and its projects are mid-way in many cities. A complete loss of 3-months' revenue will prove difficult to overcome, and will adversely impact almost all of the Company's strategic plans.
The management needs to introspect hard about the new world that the hotel industry faces and strategize to face the challenges in its way so that it comes out on top of the situation.
Taking on more debt can be imprudent, however the Company is hard-bent for choices and might have to do so in the near term. Refinancing existing debt however, should not be a problem as the interest rate environment remains benevolent and the Company should take full advantage of the same.
On the demand scenario – a lot will depend on how fast and how much of it will be back. Many western countries have started seeing green shoots in holidaying destinations that reassure that some of the pent up demand will be released as soon relaxations come into effect.
Being positioned majorly in mid-scale segment, LTHL has an upper-hand when it comes to slow-downs in the economy as these markets are somewhat shielded from the full effects of the slow-down due to their accessibility, affordability and brand loyalty.
Disclaimer: The report and information contained herein is strictly confidential and meant solely for the selected recipient and may not be altered in any way, transmitted to, copied or distributed, in part or in whole, to any other person or to the media or reproduced in any form, without prior written consent. This report and information herein is solely for informational purpose and may not be used or considered as an offer document or solicitation of offer to buy or sell or subscribe for securities or other financial instruments. Nothing in this report constitutes investment, legal, accounting and tax advice or a representation that any investment or strategy is suitable or appropriate to your specific circumstances. The securities discussed and opinions expressed in this report may not be suitable for all investors, who must make their own investment decisions, based on their own investment objectives, financial positions and needs of specific recipient. This may not be taken in substitution for the exercise of independent judgment by any recipient. Each recipient of this document should make such investigations as it deems necessary to arrive at an independent evaluation of an investment in the securities of companies referred to in this document (including the merits and risks involved), and should consult its own advisors to determine the merits and risks of such an investment. The investment discussed or views expressed may not be suitable for all investors. Certain transactions -including those involving futures, options, another derivative products as well as non-investment grade securities – involve substantial risk and are not suitable for all investors. No representation or warranty, express or implied, is made as to the accuracy, completeness or fairness of the information and opinions contained in this document. The Disclosures of Interest Statement incorporated in this document is provided solely to enhance the transparency and should not be treated as endorsement of the views expressed in the report. This information is subject to change without any prior notice. The Company reserves the right to make modifications and alternations to this statement as may be required from time to time without any prior approval. Leveraged Growth, its associates, their directors and the employees may from time to time, effect or have effected an own account transaction in, or deal as principal or agent in or for the securities mentioned in this document. They may perform or seek to perform investment banking or other services for, or solicit investment banking or other business from, any company referred to in this report. Each of these entities functions as a separate, distinct and independent of each other. The recipient should take this into account before interpreting the document. This report has been prepared on the basis of information that is already available in publicly accessible media or developed through analysis of Leveraged Growth. The views expressed are those of the analyst, and the Company may or may not subscribe to all the views expressed therein. This document is being supplied to you solely for your information and may not be reproduced, redistributed or passed on, directly or indirectly, to any other person or published, copied, in whole or in part, for any purpose. This report is not directed or intended for distribution to, or use by, any person or entity who is a citizen or resident of or located in any locality, state, country or other jurisdiction, where such distribution, publication, availability or use would be contrary to law, regulation or which would subject Leveraged Growth to any registration or licensing requirement within such jurisdiction. The securities described herein may or may not be eligible for sale in all jurisdictions or to certain category of investors. Persons in whose possession this document may come are required to inform themselves of and to observe such restriction. Neither the Firm, not its directors, employees, agents or representatives shall be liable for any damages whether direct or indirect, incidental, special or consequential including lost revenue or lost profits that may arise from or in connection with the use of the information. The person accessing this information specifically agrees to exempt Leveraged Growth or any of its affiliates or employees from, any and all responsibility/liability arising from such misuse and agrees not to hold Leveraged Growth or any of its affiliates or employees responsible for any such misuse and further agrees to hold Leveraged Growth or any of its affiliates or employees free and harmless from all losses, costs, damages, expenses that may be suffered by the person accessing this information due to any errors and delays.