Click here to download the report
Pressure Cooker King
Hawkins Cookers Limited ("the Company" or "Hawkins") is involved in the manufacturing & marketing of pressure cookers & other cookware appliances. Hawkins is well known for its brand & careful selection of materials. With best manufacturing practices and rigid quality controls, the Company has been able to generate sales of over 72 million pressure cookers worldwide . Hawkins is the leader in the pressure cooker market in India with a market share of 32.0%.
Hawkins offers 85 different pressure cooker models under 12 different categories. The pressure cookers are marketed under the following brand names:
Hawkins Classic
Futura
Miss Mary
Contura
Heavy base
Big Boy
The cookware segment brand names include:
How was Hawkins Born?
In the 1950s, a serial entrepreneur, Hari Dutt Vasudeva, had been trying his luck in various businesses such as general insurance companies, manufacturing cold storage units, etc. He noticed a major concern in rural India was that women faced severe issues with cooking food in 'chulhas' or clay stoves. It took a considerable amount of time as well as fuel like wood or coal. To overcome this problem, Mr. Vasudeva came up with the solution of pressure cookers. Pressure cooker, being airtight cookware, the steam pressure inside helped to cook the food faster, hence it would reduce the cooking time as well as fuel consumption. Thus in 1959, Mr. Vasudeva disposed of his other businesses and established Hawkins Cookers Limited in technical collaboration with L.G. Hawkins of England with a capital of just Rs.20,000. The Company went public in 1978. His son, Mr. Brahm Vasudeva, joined him in 1968 & took over the responsibilities from his father in 1984. After 38 years of his distinguished service to the organization, Mr. Brahm Vasudeva retired in 2006 & handed over charge to Mr. Subhadip Dutta Choudhury, an IIT- Kharagpur & IIM-Calcutta alumnus.
Indian Cookware Industry
The Pressure Cooker market in India has grown from Rs.13 billion in FY14 to around Rs.15 billion as of FY18 at a CAGR of 3.6%. The market for organized brands is estimated at 60.0% of the total market while the balance is consisting of majorly regional unorganized players. The kitchen appliances segment is more fragmented with organized players having 35.0-40.0% market share only .
Cookware Industry falls under the category of consumer durables-domestic appliance sector. Indian consumer durables and consumer electronics market stood at USD 10.9 billion in 2019 which is less than 0.4% GDP of India (USD 2,800.2 billion ). Hence, there lies a huge scope of growth for this market in India.
As per IBEF, the Indian Consumer durables market is expected to increase at 11.7% CAGR to reach USD 21.2 billion by 2025 and become the fifth-largest consumer durables market in the world. As of FY20, the domestic appliances market in India is estimated to be around USD 1.8 billion.
Revenue growth of the industry benefited from the Government's thrust on providing LPG connections to rural households and electrification of rural areas under the Pradhan Mantri Ujjwala Yojana (PMUY) scheme. This led to increased rural penetration of consumer goods such as pressure cookers & other kitchen appliances. It is also seen that there is a shift in the trend of consumers towards the organized sector & preference for branded products.
Government initiatives coupled with an estimated rise in rural income would be major drivers for generating significant demand from rural areas across the country for kitchen and home appliances. According to CEIC, as of FY19-20, GDP per capita of India is USD 2,139 & is projected to reach USD 3,210 by 2024 . It is expected that the organized players will grow faster than the unorganized players given narrowing price gap, strong brand name, and superior quality of products, which in turn will benefit branded players like Hawkins.
Business Model
Hawkins operates in the kitchenware segment consisting of Pressure Cookers and Cookware.
Major raw materials used in manufacturing are aluminium & steel. Hindalco is the largest supplier of aluminium while stainless steel is procured from ISO-14001 compliant suppliers.
Hawkins' products are easily available on online retail platforms as well as dealer stores. The Company is having a Pan-India presence across 29 states and sells its products through a wholesale and retail network of 5,050 dealers. It also has a network of 700 authorized service centres. One of the largest customers of Hawkins is the Canteen Stores Department, a solely owned Government of India Enterprise under Ministry of Defence, catering to the soldiers, ex-servicemen and their families.
The Company's revenue distribution comprises of the domestic market contributing around 94.2% to its overall sales and foreign markets generating the rest. It is having its 3 factories at Thane (Maharashtra), Jaunpur (UP) & Hoshiarpur (Punjab).
Hawkins had no subsidiaries as of March'20
Impact of Covid-19 & Lockdown
As per CMIE, consumer durable industrial production decreased by 33.1% in March'20 . The COVID-19 pandemic and the consequent lockdown adversely impacted the operations of Q4FY20. In the short term, earnings are expected to be negatively impacted, due to the complete washout of sales from April to mid of May. Uncertainties in disposable incomes are making consumers hold on to liquidity & prefer low-cost products over branded ones. With gradual relaxation of lockdown, retail sales are having encouraging results with footfalls gradually improving (owing to pent-up demand). Hence, Hawkins, with its strong balance sheet & reputed brand patronage, is expected to tide over the current situation.
Differentiating Strategies
Focusing on Prudent Capital Allocation
Hawkins has been focusing prudently on its core business while diversifying only into cookware. Restricting to toy around other unviable ventures has helped the Company to sustain & consolidate brand image. During the past 11 years, Hawkins has spent only Rs. 555 million on capital expenditure . Hawkins firmly falls into the category of low capital intensity-high rates of return business that can generate a significant amount of cash flows even with low capital investment. The cash in the business has been growing over time due to management's continuous focus on its core business and is being prudently utilized in two ways – by returning to the shareholders in the form of dividends & by capital expenditure for expansion of the business. It developed its expertise through long years of experience in factories and home-grown Research & Development . As on April 1, 2020, there were 54 valid patents and design registrations in force .
Corporate Fixed Deposit (FD) schemes
Hawkins also offers Corporate Fixed Deposit schemes having a stable "MAA" rating of ICRA (meaning high credit quality with low credit risk), and had been successful in raising capital via such FDs since September 2016, offering a good return to investors (10% p.a. for 1 year, 10.25% p.a. for 2 years & 10.5% p.a. for 3 years ). As a result, the Company's cost of capital remains low (10.5%) while Return on Capital Employed (ROCE) is considerably high (above 40%).
Organic Growth amidst Credit Conundrum
The emergence of the Indian credit crisis in 2018 has led to the downfall of many players in the industry due to the failure of loan repayment. Since Hawkins preferred organic growth, and expanded without acquisitions, to grow its business, it did not require huge debt or aggressive borrowing. The Company expanded with its profits & cash flows as required to meet the demand. Also, the Company adopts a policy of effective capital management by providing discounts to dealers for paying upfront. Hence, the Company has not been majorly affected by the credit squeeze that has largely crippled the economy currently. Moreover, Hawkins had been working on the development of in-house technology manufacturing rather than contractual outsourcing, which significantly reduced miscellaneous other expenses as compared to its competitor TTK Prestige.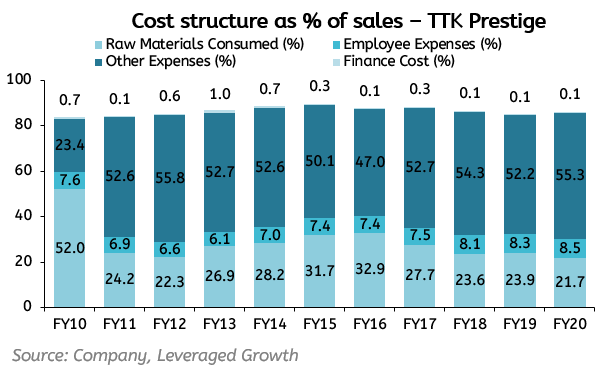 A Major Player in the Export Market
Hawkins's exports have been growing at a CAGR of 12.5% , highest among all competitors due to the vast reach of the network across 6 continents worldwide. With Indian Prime Minister raising the initiative to go vocal for local in economic reform measures to combat COVID-19 setback, it would play a game-changing move for Hawkins which aims to capture many more nations to increase its export share as well as the domestic share of the market.
SWOT Analysis
Strengths
As on 31st March 2020, the Company's low debt structure (debt-to-equity: 0.3x) as compared to its current assets along with industry-leading RoE (56.1%) & RoCE (50.5%) positions it as one of the strongest & unwavering contenders in the segment.
Hawkins is the leading player in the pressure cooker segment with strong brand image in the domestic as well as international market built over the decades. The Company continues to invest in brand building for generating a higher demand-pull backed by the sound experience of its promoters and management in the industry.
The products have aesthetics to enhance saleability & pleasing distinctiveness that remains appealing to the customers . To ensure user safety and user convenience, which has been of utmost significance, the Company has also developed Test Kitchen Centres for trial runs.
Weaknesses
The Company's product portfolio remains concentrated towards cooker and cookware segments and is vulnerable to economic downturns. On the other hand, its biggest competitor, TTK Prestige has grown at a faster pace than Hawkins by diversifying beyond cookware & launching products in categories including Kitchen Electrical Appliances, Gas Stoves, and Other Home Appliances. Hawkins has been expanding at a slower pace by focusing only on their circle of competence.
The Company has been generously spending cash in terms of dividend back to its shareholders at about 70.0% pay-out ratio every year . Hence, the remaining cash leads to significantly low capital expenditure for expansion as compared to its competitors, thereby making it defensive in growth.
Opportunities
Implementation of GST has helped in greater formalization of the sector aiding the Company's revenue growth. Further, in the medium-term, the Government's increasing efforts on providing LPG connections to rural households is expected to stimulate the penetration of pressure cookers and cookware in rural areas.
The penetration of organized cooker & cookware players is low especially in rural areas. Hence, there lies an untapped market that can be captured for growth. Also, with the advent of modern advancements & people aspiring to move towards smart kitchen, there is a huge scope of improvement in product technology for the Company to capitalize on the brand name.
The Company's growth prospects are supported by a shift of consumer sentiment towards branded products. The management expects an increase in demand with consumers preferring to cook more at home as COVID-19 after-effects rather moving out to restaurants, which seems to be a good opportunity for the Company.
Threats
The principal commodity used by the Company is aluminium. Raw material cost constitutes around 33.9% of revenue for the firm. Although the Company tries to mitigate the increasing cost of aluminium through price hikes in its products, it might be discerning to the customers. Hence, this remains a posing threat to the sales of the firm.
Michael Porter's 5 – Force Analysis
Barriers to Entry
Huge capital requirement: The cost of setting up a factory for a new entrant in the industry is extremely high. Hence, huge capital requirement poses a high barrier to entry.
Strict regulations: Approval from regulators for registration & licensing from both the Central & State governments is difficult as well as time-consuming.
GST boon: Since 40.0% of the pressure cooker industry is still dominated by unorganized players, GST would be positive for organized players like Hawkins because GST compliant invoices would increase compliance costs for unorganized players.
Labour Management: The industry is highly labour-intensive & prone to labour unrest . Operating in such an industry poses a high labour cost structure for any new entrant. Also, any mismanagement or ill-treatment may severely affect labour relations, thereby adversely affecting production of the firm.
Bargaining Power of Buyers
Cooker, being a discretionary item, is purchased by a consumer once every 4-5 years. Hence, it becomes difficult for the Company to retain its customers because, during the next cycle of cooker or cookware purchase, the customer preferably does a cost-benefit analysis amongst the various alternatives. Hence, the bargaining power of buyers is comparatively high.
Bargaining power of Suppliers
The principal commodity used by the Company is aluminium as raw material. Hindalco is the largest supplier of aluminium for Hawkins . The Company's profitability remains exposed to volatility in aluminium prices that have exhibited fluctuations in the past. Aluminium prices are quoted on the London Metal Exchange daily. Hence, raw material cost is highly regulated, thereby giving enormous bargaining power to suppliers.
Rivalry among Competitors
The market for organized brands is estimated at 60.0% of the total market while the balance is consisting of majorly regional unorganized players. The kitchen appliances segment is fragmented with organized players having 35-40% market share only. Hence, limited penetration & high competitiveness among peers pose a challenge to the Company on considerable price hikes.
Threat of Substitutes
The Company is exposed to competition within the industry majorly from regional players. The kitchenware segment is more unorganized & fragmented as compared to cookers. As the consumers can easily switch to low-cost products, hence, threat from substitutes remain high.
Branding and Other Initiatives
Hawkins sells across several brands with varying price points like Classic, Contura, Hevibase etc. The management is a follower of David Ogilvy as it mentions that the purpose of advertising is "To make cash registers ring!" At the end of each advertising campaign, the management reviews them against hard sales data. The idea is accepted only if it succeeds in generating a considerable amount of sales.
Product differentiation has helped the Company in creating & retaining brand image for decades. At Hawkins, the packaging is designed not only for product protection in transit and in storage but also for display value to aid the product leap from dealers' shelves into the hands of consumers. Accessories such as how to use and take care of the product, recipes, and helpful tips for cooking, etc. are included in a cartoon box. Hawkins offers free service throughout the life of the pressure cooker & also replaces certain parts which are under guarantee without any charge.
The Company has been making advertisement commercials over the years through digital as well as print media.
Financial Analysis
Benign Profitability Growth
Sales growth in the cookware industry are found to be very much volatile on the account of highly varying cost of aluminium. Sales growth has remained within the range of 16.5% to -0.6% for Hawkins. However, TTK Prestige witnessed significant volatility between FY11 and FY14. It is found that in 2014 & 2017; the sales & profit growths took sharp downturns due to the peaking aluminium cost during these periods. In FY20, the sales growth of Hawkins declined considerably from 15.7% in FY19 to 3.06% due to the lockdown imposed across India in view of COVID-19.
In the pressure cooker category, Hawkins has managed to outperform TTK Prestige with a five-year (FY14-FY19) CAGR of 7.0% while TTK Prestige witnessed a CAGR of 3.4% over the same period. It is because of Hawkins's specific focus on improving cookers, unlike TTK Prestige which focussed majorly on product catalogue diversification.
Impressive Inventory Management
Over the past 10 years, the inventory outstanding days of Hawkins has remained stable between 50 to 53 days on an average as compared to its peer TTK Prestige. However, the inventory outstanding days rose sharply in FY20 as the COVID-19 related national lockdowns halted the sales in second half of March, 2020 and increased inventory accumulation.
Reducing Debt & improving Interest Coverage
The debt of the Company has reduced considerably since 2010 from Rs.422.5 million to Rs.396.4 million in FY20. As of 31st March 2020, Debt-to-Equity ratio stands at 0.3 along with an improving Interest coverage ratio of 25.7 times . Despite the adverse times of COVID-19, the Company didn't borrow in the month of April when there were no sales. Instead, the Company worked around to improve the operations, increase the profitability, and reduce its fixed cost. Therefore, such a cautious approach has helped the Company to perform better even in turbulent times.
Stellar Return on Capital
Working Capital turnover of Hawkins is presumably one of the best in the industry, beating its peer, TTK Prestige, in 9 out of the last 11 fiscal years . Also, as we saw earlier that Hawkins had been having lower inventory outstanding days as well. Hence, with minimum cash blocked into working capital, along with its efficient capital management & deployment, Hawkins has given a stellar performing RoCE with a median value of 50.5%. This shows how prudent capital allocation done by the management over several years has helped Hawkins in becoming such a valuable brand it is today.
Segmental Analysis
Hawkins accounts for 80.0% of its revenue from selling pressure cookers, 17.0% from cookware & remaining 3.0% from other kitchenware . It offers 85 different pressure cooker models in 12 different types. The Company's revenue distribution comprises the domestic market contributing around 94.2% to its overall sales and overseas markets generating the rest. The international market of exports includes countries like Nepal, Bhutan, Yugoslavia, Japan, Panama, Mexico & over 30 other nations in 6 continents around the world as on FY19.
Risk Analysis
Vulnerable raw material prices combined with Forex fluctuations: The Company's profitability remains exposed to volatility in raw material prices, majorly aluminium. The cost of raw material is in USD, hence also subjected to currency risk of USD vs. INR. Hence, fluctuations & volatility in aluminium prices will hurt the Company's performance. The Company's ability to sustain and enhance its market share; and pass on the raw material cost increase to its consumers remains a key risk that would also affect its ratings .
Regulatory risk: Hawkins had been facing tough times from the regulators on majorly 3 occasions . In 1971, Mr. Y. B. Chavan, then Finance Minister imposed excise duty on pressure cookers by 20.0% . Secondly, in 1978, George Fernandes, then Minister of Industry, included pressure cookers among 700 other items in reservation list prohibiting its expansion beyond the limit of investment in plant and machinery set for small-scale industry . Thirdly, in 2011, Punjab Pollution Control Board (PPCB), alleged that the Hoshiarpur Factory was producing pollutants beyond permissible limits . The Company denied the allegations and the matter was taken to the Honourable High Court of Punjab and Haryana at Chandigarh. An Environmental Engineer of PPCB was directed to visit the Hoshiarpur Factory to verify the facts and submitted a detailed report along with his recommendations. After closing of all suggested recommendations, the NOC and Consents were received by the Company through PPCB's Orders by Feb'13 . The above occasions reflect that the industry & its players are subjected to significant regulatory risk from governmental actions that would hinder production, sales & profitability of the Company.
Labour Relations: In 2011, the Wage Settlement for Jaunpur factory workers became due for renegotiation. The majority of workers started a campaign of a go-slow of production and went on a 15-day strike in September'11 . Supply was hindered by deteriorated labour relations. The long-winded process of negotiation with the worker's representatives led nowhere. Later, workers' representatives negotiated on behalf of the workers to arrive at a settlement directly with management . The Company later signed an agreement with 85.0% of the Jaunpur factory workers individually in August'12 . In the future, similar situations may arise due to the labour-intensive nature of the Company, posing a risk to production supplies.
Demand-Supply Mismatch: In 2011, the Company fell short of supply of pressure cookers . The demand for cookers & cookware soared given faster growth in consumer income, a trend towards better brands, and better consumer service as per management commentary. The growth of demand is not under direct control by the Company. Consumers are affected by their moods, macroeconomic factors, competition, etc., that creates a risk in itself for volatile markets.
Corporate Governance
As on March'20, the Company's Board consisted of 11 Directors: A Non-Executive Chairman, a Non-Executive director, a Vice-Chairman-cum-Executive director, another Executive director & seven Independent directors . This composition complies with the SEBI Listing Obligations & Disclosure Requirement (LODR) Regulations, 2015.
One of the executive directors, Mr. Sudeep Yadav is the son-in-law of Mr. Brahm Vasudeva (Chairman of BOD); one of the non-executive directors, Mrs. Susan M. Vasudeva is the wife of Mr. Brahm Vasudeva . Apart from these two, there are no other inter-relationships amongst the Board members.
Directorship of Independent directors of Hawkins in other companies:
• Mr. Shishir K. Diwanji – Independent director in Kaira Can Company Ltd .
• Mr. E.A. Kshirsagar – Independent director in Batliboi Limited & JM Financial Ltd .
Besides the five board meetings that were held in FY20 , one separate meeting was held among the independent directors on May 21, 2020, reviewing the performance of non-independent directors, the Board as a whole & the Chairman of the Board . It also assessed the quality, quantity & timeliness of the flow of information between the Company management & the Board.
As of March 2020, the promoter's equity stake had remained the same at 56.03% & public shareholding stood at 43.97 %. The promoters have not pledged any of their holdings. Following chart shows the shareholding breakup of Hawkins as on March 2020:
The End-Note
The Company had resumed its process operations gingerly taking into account the Government's regulations. The management stated that the demand for products is increasing slowly post the opening of the lockdown in one of its June'20 SEBI LODR filings . While the future impact of COVID-19 is difficult to predict, the Company's capital and financial resources, liquidity position, supply chain, and assets are comparatively healthy .
With an impressive RoCE & working capital turnover as seen previously, the Company can afford to invest more in Capex in the future to diversify its product catalogue to maintain a competitive advantage over others.
With increasing Government's thrust on providing LPG connections to rural households and electrification under the Pradhan Mantri Ujjwala Yojana (PMUY) scheme, it is expected to remain a key growth driver of the Company. LPG penetration in rural areas had increased to 95.0% currently from 56.0% in FY2014 , implying a big market share opportunity to capture.
The major concern is with the inventory turnover of the Company & fluctuating inventory growth with respect to sales growth. Hence, it throws an opportunity for the management to improve its distribution network, both online & offline.
A survey by Mckinsey in June'20 showed Indians preferring to defer the purchase of discretionary items due to income uncertainties. Online bookings are preferred over store visits. Interestingly, it is found that people are intending to stick towards branded & trustworthy names providing free home deliveries . Management stated that they are preparing for digital transitions as well as changing their approach to sales, logistics, marketing, people development, and customer service to be better prepared for the coming times through innovative and wider use of technology. This would enable the Company to gain market share from unorganized players.
Disclaimer: The report and information contained herein is strictly confidential and meant solely for the selected recipient and may not be altered in any way, transmitted to, copied or distributed, in part or in whole, to any other person or to the media or reproduced in any form, without prior written consent. This report and information herein is solely for informational purpose and may not be used or considered as an offer document or solicitation of offer to buy or sell or subscribe for securities or other financial instruments. Nothing in this report constitutes investment, legal, accounting and tax advice or a representation that any investment or strategy is suitable or appropriate to your specific circumstances. The securities discussed and opinions expressed in this report may not be suitable for all investors, who must make their own investment decisions, based on their own investment objectives, financial positions and needs of specific recipient. This may not be taken in substitution for the exercise of independent judgment by any recipient. Each recipient of this document should make such investigations as it deems necessary to arrive at an independent evaluation of an investment in the securities of companies referred to in this document (including the merits and risks involved), and should consult its own advisors to determine the merits and risks of such an investment. The investment discussed or views expressed may not be suitable for all investors. Certain transactions -including those involving futures, options, another derivative products as well as non-investment grade securities – involve substantial risk and are not suitable for all investors. No representation or warranty, express or implied, is made as to the accuracy, completeness or fairness of the information and opinions contained in this document. The Disclosures of Interest Statement incorporated in this document is provided solely to enhance the transparency and should not be treated as endorsement of the views expressed in the report. This information is subject to change without any prior notice. The Company reserves the right to make modifications and alternations to this statement as may be required from time to time without any prior approval. Leveraged Growth, its associates, their directors and the employees may from time to time, effect or have effected an own account transaction in, or deal as principal or agent in or for the securities mentioned in this document. They may perform or seek to perform investment banking or other services for, or solicit investment banking or other business from, any company referred to in this report. Each of these entities functions as a separate, distinct and independent of each other. The recipient should take this into account before interpreting the document. This report has been prepared on the basis of information that is already available in publicly accessible media or developed through analysis of Leveraged Growth. The views expressed are those of the analyst, and the Company may or may not subscribe to all the views expressed therein. This document is being supplied to you solely for your information and may not be reproduced, redistributed or passed on, directly or indirectly, to any other person or published, copied, in whole or in part, for any purpose. This report is not directed or intended for distribution to, or use by, any person or entity who is a citizen or resident of or located in any locality, state, country or other jurisdiction, where such distribution, publication, availability or use would be contrary to law, regulation or which would subject Leveraged Growth to any registration or licensing requirement within such jurisdiction. The securities described herein may or may not be eligible for sale in all jurisdictions or to certain category of investors. Persons in whose possession this document may come are required to inform themselves of and to observe such restriction. Neither the Firm, not its directors, employees, agents or representatives shall be liable for any damages whether direct or indirect, incidental, special or consequential including lost revenue or lost profits that may arise from or in connection with the use of the information. The person accessing this information specifically agrees to exempt Leveraged Growth or any of its affiliates or employees from, any and all responsibility/liability arising from such misuse and agrees not to hold Leveraged Growth or any of its affiliates or employees responsible for any such misuse and further agrees to hold Leveraged Growth or any of its affiliates or employees free and harmless from all losses, costs, damages, expenses that may be suffered by the person accessing this information due to any errors and delays.
Contributor: Team Leveraged Growth
Co-Contributor: Debayan Saha
Research Desk | Leveraged Growth