Click here to download the report
A Pioneer in BOPP Films
Cosmo Films Limited ('the Company' or 'Cosmo') is a global leader in producing flexible films for packaging, lamination, labeling and industrial applications with a roughly 32% market share in the flexible packaging industry. The films include:
Bi-axially Oriented Polypropylene (BOPP) films: Due to its features like moisture resistance, optical clarity, recyclability, etc., BOPP films have become the most popular and highly demanded films across the globe. These are widely used in packaging, labelling, lamination and industrial purposes.
Cast Polypropylene Films (CPP): These are soft films like polythene. CPP films have higher tear resistance than BOPP films and have better sealing properties. Applications include packing and pouching of bakery products, pasta, etc.
Thermal Lamination Films: A value-add on BOPP films, these are a very thin layer of packaging or decorative film which can be commonly seen in textbook covers, brochures, diaries, etc.
Metallized Films: These are a variant of BOPP films which have excellent oxygen- and moisture-barrier property and an outstanding metal appearance. These are widely used for packaging and labelling purposes.
Cosmo accounts for nearly 26% of total BOPP capacity in India. Cosmo is the world's largest producer of thermal lamination films and a leading exporter of BOPP films in India with a customer base in more than 100 countries. Cosmo's customer base includes leading global flexible packaging and label face stock manufacturers like Amcor, Constantia, Huhtamaki, etc., which service brands like PepsiCo, HUL, Coca-Cola, Unilever, P&G, Apple, Nestle, etc.
Origin of Cosmo
Mr. Ashok Jaipuria, a first-generation entrepreneur, founded Cosmo Films in 1981 after separating from his huge industrial family. Today, he has an experience of over 40 years in the corporate world. Apart from being the Chairman and Managing Director of Cosmo, he is also a member of the Board of Governors in IIT Indore and an independent director in the Board of Hindustan Sanitaryware.
Mr. Ashok started his career in his father's company, Swadeshi Cotton Mills as a Sales Executive. A tale of grit and determination, he started Cosmo with his own funds and a ten-year loan and sailed the Company through tough times on the path of continuous growth. In those times, the most prominent material used for packaging was cellophane, made from wood. Soon, the Government realized that BOPP is a good replacement for cellophane. Cosmo had already begun its 'green' journey long back and established itself as a pioneer in the BOPP industry.
Indian Packaging Industry
Besides being the 5th largest sector in the Indian economy, the packaging sector is also one of the fastest-growing sectors. According to the Packaging Industry Association of India, the packaging sector is growing at a rate of 22% to 25% p.a.
Valued at $50.5 billion in 2019, the packaging market in India is expected to reach $204.81 billion by 2025 while registering a CAGR of 26.7%.
BOPP film is among the most recommended packing material across the industrial spectrum as they are more flexible and enable faster packaging with advanced sealing properties.
The global BOPP production capacity is around 8 million MT. In India, it is estimated to be approx. 640,000 MT p.a., out of which 500,000 MT is domestically consumed p.a. and the remaining is broadly exported. The Indian BOPP industry has been growing at nearly double of India's GDP growth rate over the long term.
Packaged food penetration is low in India. With rising personal disposable income, people are expected to demand more of packaged foods and hence a rise in demand for packaging films therein. A shift in the packaging format from rigid to flexible will further add to the growing demand.
Environmental regulation has paved the way for flexible packaging material. Flexible packaging, unlike rigid packaging, uses fewer materials in the process ultimately reducing costs. It uses less water and energy in the production cycle. It is more durable, has a higher shelf life, and is one of the best eco-friendly options for packaging.
The top players in the BOPP industry are Jindal Poly Films Ltd. (largest capacity), Cosmo Films Ltd, Uflex, and Max Specialty Films among others.

Business Model
Cosmo's business is based on a business to business (B2B) model with a strong global presence. The Company mostly caters to the packaging demands from FMCG and pharmaceutical companies. Tape and textile Industries are the major customers in the Industrial Films segment. The Company caters to its customer's sustainable goals by providing them with recyclable packaging solutions.
The Company has divided its product portfolio into two segments- commodity films and specialty films. Specialty films are value-added products that have higher margins (anywhere between 2x and 10x of BOPP films) and are also less competitive than BOPP commodity films. The Company's current focus is to de-commoditize its business by shifting from normal BOPP commodity films like adhesive tapes to more of specialty films like velvet Lamination films (lamination film used in giving rich velvet touch to printed surface), heat resistant BOPP films (used as a printing layer in a duplex/triplex laminate structure), cigarette overwrap, synthetic paper, etc. Cosmo is one of the very few companies in the world and the only one in India that produces BOPP synthetic paper.

Cosmo has a very unique product mix which enables it to take the advantage of any opportunity that arises in the market. During the period from FY16 to FY19, when BOPP margins were low, margins for specialty films compensated for it, thus stabilizing the earnings of the Company and giving a better result vis-à-vis its peers.
The Company does very limited sales directly to brands. Although the specifications and the price are decided by the brand, the supply happens to the converters only. Only unprinted overwrap films are sold directly to brands. Cosmo does not intend to move down the value chain since then it would be competing with its customers.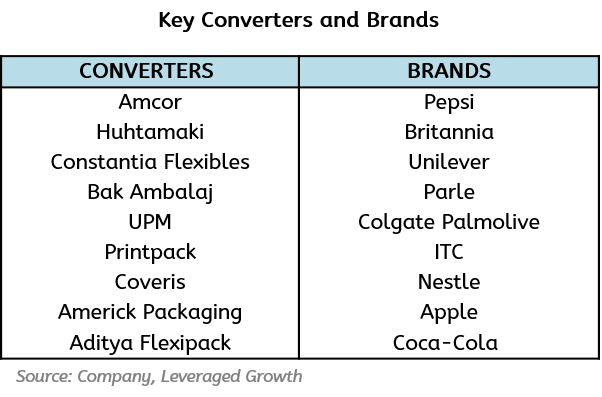 In 2002, Cosmo acquired Gujarat Propack Limited with 13,000 Metric Tonnes (MT) and 2 production lines. The Company acquired GBC Commercial in 2009 to become the largest producer of thermal lamination films. A line for production of masterbatches is also expected to be set up by the Company in FY21.
In FY20, 43% of total sales were exported since Cosmo finds export market more attractive in terms of margins.
The main raw material for BOPP films is polypropylene, a derivative of crude oil, which is procured from suppliers like Indian Oil Corporation, and Reliance Industries Limited. The nature of this industry is such that the raw material prices are a pass-through to customers because of the cost-plus operating model (a pricing model where the selling price of the product is determined based on the cost of producing it and hence the burden of cost of raw materials is passed on to the customer). As such, the Company does not get the benefit of lower raw material price in terms of margin. But a contraction of the price benefits Cosmo in terms of market expansion and also a lower working capital for the Company.
COVID-19 Impact
The packaging industry is in a better position to navigate through the COVID-19 crisis compared to other sectors. Due to supply chain disruptions of raw materials and labor shortage, the industry had to witness high costs and limited demand. Although Cosmo did not face labor issues, the Company had to shut down its operations in Maharashtra and Gujarat for a few days following the Government's order. But since the industry caters to essential commodities, they were allowed to resume operations shortly. However, because the thermal lamination films are mainly used for decorative packaging and are not majorly used for essential commodities, this segment has been adversely impacted. A ramp-up in the business is expected soon as other countries open up their economy. Moreover, with a boom in the pharmaceutical industry and an increasing concern for food safety and sanitation, the importance of good packaging will rise evermore. Post-COVID-19, a major shift in consumer preferences is expected where people would prefer packaged items and would preferably shift to e-commerce. Cosmo is already providing innovative packaging solutions and is well poised to tap into the opportunities that are lined up for the packaging industry in future.
Differentiating Strategies
A Relentless R&D Team
Innovation is at the core of the Company's various strategies. Cosmo has an advanced state-of-the-art R&D team to continuously test new materials, inks, coating, adhesives, etc. Cosmo is focused on doing customer-centric innovation and providing innovating solutions to its customers as opposed to normal commodity films. In FY20, the Company launched three new products- High Barrier CPP Films, Digitally Printable Synthetic Paper and High Tear Resistant Synthetic Paper. All these products are the pinnacle of innovation. This innovation is facilitated by sophisticated R&D labs in India and the US and hired professionals with PhDs and Post-Doctorates from all over the world allowing the Company to do innovation in-house. Such a robust R&D facility allows the Company to launch new and innovative products every year and build a moat around them. Cosmo has been increasing the expenditure on R&D every year as visible from the graph. Moreover, the Company is also focusing on doing backward integration to ensure that their raw material composition remains confidential and they are able to exercise their Intellectual Property (I.P.) rights. Currently, Cosmo owns 6 patents in India and 3 in the US.
A Uniquely Positioned Mix of Speciality and BOPP Films
Cosmo proffers an all-inclusive range of BOPP films for packaging, lamination, labelling and industrial applications. This also includes specialty films such as high barrier films, insulation films, velvet thermal lamination films and direct thermal printable films. A distinctive product mix helps the Company tap any opportunities in the BOPP space. As per Q1FY20, the specialty films counted for 40-45% of overall sales. Cosmo is trying to skew its product mix towards specialty films since it has higher margins. Specialty films require heavy innovation and have to go through a long process of manufacturing and hence demand higher margins. Cosmo is targeting to become a specialty company in the next 3-5 years by increasing the volume of speciality films business to 2/3rd of its total sales. Specialty films contributed to over 2/3rd of EBITDA for the Company before the BOPP margins improved in Q4FY19.

Strong Export Footprints
The Company is well-acclaimed and recognized globally for its innovative and sustainable products. Cosmo has established its sales offices in strategic locations to cater to demand from all over the World. It has sales offices in the US, Canada, Germany, China and Japan, other than the manufacturing locations. Cosmo is the leading exporter of BOPP specialty films from India.
SWOT Analysis
Strengths
A diverse portfolio with a unique mix of commodity and specialty films. Cosmo stands as a one-stop-shop for all types of packaging solutions across the Globe. The Company is trying to bring more focus on specialty films since it has higher margins and is less competitive than BOPP films.
Cosmo has an intensive and extremely strong R&D team that innovates and develops new products each year giving it an edge over other companies in the BOPP space.
Cosmo has a strong Customer Relationship Management in place to enable customer centricity with robust service offers, cross-functional alignment and improving end-user engagement. This helps the Company attract and sustain customers and build a strong relationship with them.
Weaknesses
Cosmo has been susceptible to one-off factors that have affected its margins in the past few years. All the manufacturing units of Cosmo in India are based in only two states- Maharashtra (primarily) and Gujarat. Any significant disruptive event in any of these two states will have a huge impact on the normal working of the Company.
Cosmo's subsidiaries have performed poorly in the past and their performance remains a concern due to operational inefficiencies involved therein. However, the subsidiaries have started growing in the recent few quarters and this remains one of the key focus of the Company for the future too.
Opportunities
Increasing demand for ready-to-eat packaged foods, snacks and confectionaries have been the driving force behind the demand for BOPP films, where it is used for packaging and labelling. Moreover, post-COVID-19, the demand is expected to increase even more as consumers would look for hygiene and sanitation.
The growing importance of bio-based polymers and increasing demand from pharmaceuticals and food packaging is driving the demand for specialty films also. Specialty films have high tensile strength and act as a protective shield due to which it is used for packaging in various sectors. The global specialty film market is expected to reach $41.3 billion by CY20. Moreover, the Asian-Pacific region is projected to be the largest region in global specialty films and high-performance films. Strong growth of end-user industries in ASEAN is driving strong growth of these films. Cosmo is well placed in Korea and Japan to tap into this opportunity.
Regulators around the world are taking various steps to minimize and manage packaging waste. In India too, the Government favors recyclable substrates and formats for packaging. An increasing number of awareness campaigns are also held by different nations. All of this has put the BOPP films into the limelight since they are recyclable and biodegradable and are one of the best eco-friendly films obtainable in the market.
Nowadays, consumers increasingly prefer e-commerce given its ease of shopping. This provides a global opportunity for BOPP players as flexible packaging is a light-weight and a safe alternative that can be used to reduce handling and shipping cost, benefiting both the e-commerce companies and the end consumers.
The growing demand for tapes in industrial packaging owing to their high demand in retail packaging applications provides an opportunity and a product entry point for BOPP market players. These tapes are used by e-commerce companies while shipping products hence, boosting its demand further in the coming years.
Packaging shapes and structures are congruent with the brand image of a product. Rising consciousness about brand image among marketers will increase the importance of well-designed and fresh packaging.
Many consumers are unaware of the varied applications of the products made by Cosmo. Intensive marketing strategies by the Company to increase consumer awareness would present a good opportunity for Cosmo to broaden its customer base.
Threats
Recycling of plastic waste proves to be a somewhat costly affair. It needs to be carried out with the support of Urban local bodies (ULBs). Since ULBs are less effective, private firms need to step in and take responsibility and end up incurring high costs.
The growth opportunity in specialty films has attracted competition from major players in the industry. This may impact the growth plan of the Company in the medium to long term.
Since polypropylene is a derivative of crude oil, volatility in crude oil prices can have an impact on the its prices, although they are not linearly correlated. Since the industry operates in a cost-plus operating model, much of the burden of high raw material passes on to the customers. But any time lag can impact the Company adversely.
Rupee appreciation can impose a threat to the export margins of the Company impacting it adversely.
Michael Porter's 5-Forces Analysis
Barriers to Entry
High investment in R&D is required in the packaging industry to keep innovating new products. Since these investments take a long time to give returns, not many players would be willing to do so.
For a new entrant, consolidating the client base would be difficult given the long-standing players in the industry who already would be having a contractual relationship with their clients.
Regulations in the Plastic Industry: Companies entering the packaging industry have to comply with several regulations. They have to maintain standards promulgated by the Bureau of Indian Standards.
Bargaining Power of Suppliers
The polypropylene and polymer manufacturers in India run in an oligopolistic market with a few big players like Reliance Industries Limited, Indian Oil Corporation, and Hindustan Petroleum Corporation Limited among others from which the Company get its raw materials. Due to such a low number of potential suppliers, bargaining power of suppliers is bound to be high. In consideration of the fact that crude oil prices are subject to global demand-supply dynamics, the suppliers can only have a marginal impact on the price companies pays for it.
Many companies in the packaging industry including Cosmo have taken initiatives for backward integration of the products they manufacture. This reduces their reliance on suppliers for raw materials.
Bargaining Power of Buyers
The flexible packaging industry operates in a cost-plus operating model. Hence, the end-user would feel the impact of any change in raw material prices. So, the scope of bargain is less since the buyers do not have an option other than paying the cost-pus price set by the companies.
Threat of Substitutes
BOPP films are the preferred packaging option for those who want to create sustainable value in packaging. Since 'sustainability' is the buzz word now and in future, customers would rather prefer BOPP over other non-sustainable packaging products. Hence, the threat of substitutes is less. Also, Cosmo has stepped up in manufacturing BOPP synthetic paper which will act as a replacement for pulp paper in a lot of applications.
Rivalry among Competitors
Although the packaging materials manufactured today by various firms vary in features and applications, there is still a scope of product differentiation due to their enormous usage potential. Hence, big players in the industry have a competitive advantage in terms of their capabilities to bring that innovation in the market. To survive in the specialty films business also requires innovational and technological sophistication. Small players would not be able to survive in the market for long without continuous innovation.
The packaging industry has a large number of small unorganized players. The lack of concentrated market share in the industry makes it difficult for companies to hike prices. However, unlike BOPP films where the prices are based on the demand-supply situations, specialty films producers, like Cosmo, have their own pricing power due to the value-addition that is involved therein.
Branding and Other Initiatives
Branding
A B2B company's branding is all about building a strong relationship with the customers. Cosmo ensures that it takes every step in making the Company customer-centric to become the global preferred player in packaging.
• Strengthening the sales team with dedicated resources for engagement with global brands.
• Improving end-user engagement
• Establishing a tripartite relationship between the Company, the converter and the brands to find solutions for unmet needs.
• Cosmo runs its brand visibility campaign globally through digital marketing, print media advertising, trade shows participation, etc.
Sustainable Practices – For a greener tomorrow
Apart from its products which are highly eco-friendly and sustainable, Cosmo also follows green manufacturing practises and has a well-defined environment, health and safety system in place to enable a circular economy.
• Recycling of paper and scrap material to be used as inputs for production
• Regular energy audits to identify gaps and to take corrective actions accordingly
• Cosmo complies with all the requirements of 'BRC Global Standard for Packaging and Packaging Material' for direct food contact and non-food applications.

CSR
• Cosmo has set up Cosmo Foundation (2008) as the philanthropic arm of the Company. Cosmo Foundation has been carrying several initiatives like running dispensaries, providing educational workshops and beautification of the cities of Karjan (Vadodara) and Gangapur (Aurangabad).
• The vision of the foundation is to 'assist underprivileged children and youth to realize their potential'. To transform this vision to reality, it has undertaken several initiatives such as the Computer Literacy Program, Cosmo Gyan Vihar Kendra, Basic English Learning Program and Life Skill Education Program.
• Cosmo Foundation till now has impacted lives of over 24000 students partnering with 34 government schools across 23 villages in Aurangabad and Vadodara. Cosmo has also been doing a lot of CSR activities in nearby villages during the COVID-19 period. This helps the Company build confidence among its employees and other stakeholders.

Improving Quality Culture
• Implementation of Six Sigma System at the organizational level.
• Customer complaint Weekly Q&A meeting has been started to add value to the quality management system.
• Cameras installed on BOPP, Coating and Extrusion Coating Lines to detect defects in the line and rectify them.
Financial Analysis
Bottom Line Not Equally Good as the Top Line
Cosmo has been showing a good topline growth YoY. Net sales have increased to Rs.2203.53 cr. in FY20, a 2.18% increase YoY. This was mainly due to the growth in the specialty films business of the Company by 11% YoY. Specialty films have gained much traction in recent years and its customers are increasing every quarter. In recent quarters, BOPP margins have also improved significantly. This has also been contributing to the top-line growth. However, the bottom line has not been equally good for the Company. One of the reasons for this conclusion is the high total expenses as % to sales. As of FY20, the total expenses as a % to sales has been as high as 89.75%. This figure is much high when compared to its peer, Jindal Poly Films Limited (JPFL), which has the largest tonnage capacity of BOPP films in the world. For Cosmo, finance cost and depreciation had increased considerably from FY18 onwards. This was due to commission of a new line in February 2017 and subsequent additions in the coming years. This impacted its expenses and eventually the bottom-line results. This is in contrast to JPFL where the depreciation cost reduced by more than half in FY19. When a new line is deployed, it takes time for it to run at full capacity. This time lag impacts the results of the Company in the short run.
The prices of the BOPP commodity films are largely based on the demand-supply dynamics of the market, whereas for specialty films, the Company has the majority of pricing power due to the uniqueness of the product. Even though specialty films constitute a large part of total sales of Cosmo unlike JPFL, in FY18 and FY19, with every increase in the specialty sales, BOPP margins subdued more, thus adversely impacting the bottom line of the Company. Now that the BOPP margins have improved, the Company could look to improve its margins more through cost-reduction measures. Although the industry works in a cost-plus operating model, a reduction in cost helps the Company widen its customer base, increase the working capital and improve on margins. As of the COVID-19 period, some overheads like travel cost, etc. have come down on its own. The crude oil prices have also plummeted. JPFL has produced commendable results in FY20, ousting Cosmo as the leader in margins. Nevertheless, Cosmo's margins are more stable which poise well for the investors. Also, it can be confidently said that the Company's margins are more sustainable, unlike its peers, due to its unique product mix and a good business model.
Doing Well to Reduce Debt
The Company seems to have well-executed its plan to reduce the net debt and improve its credit metrics. The consolidated net leverage has declined to 2.1x in FY20 from 3.6x in FY19. This is partly due to an increase in profitability (EBITDA) by 54.39% YoY and partly due to a reduction in CapEx to around Rs.50 cr., which is 44.89% less than the previous year. The Net Debt in FY20 has reduced sharply by around 16% YoY. The Company has kept CapEx under check to focus more on reducing net debt levels and debt to EBITDA ratio to less than 2.5x. Cosmo had earlier expected a 35,000 TPA BOPET (Bi-axially Oriented Polyethylene Terephthalate) films line (for specialty packaging) to be set up in FY21, which was likely to be funded in the debt to equity ratio of 80:20. However, the Company has now deferred the project to bring the debt to EBITDA ratio to comfortable levels. Cosmo has instead decided to set up a subsidiary project for producing masterbatches (an essential ingredient of flexible packaging film). This project would involve minimal CapEx and would primarily be funded through internal accruals. But in case the Company plans to resume its work on the BOPET line and fails to manage its accruals, the Company will be back to square one with a spiked net leverage ratio.
In light of the improvement in net leverage on the back of substantial improvement in the profitability of the Company during FY20, its credit ratings have been revised from negative to stable.

Good EBITDA Numbers
The Company posted an impressive growth of 54.38% in its EBITDA in FY20, as specialty sales increased by 11% YoY, and also because of the improved performance of the subsidiaries. The BOPP margins have improved due to better demand-supply dynamics, it being Rs.23 during March 2020 quarter compared to a level of Rs.15 in the previous years. The FY20 results show that Cosmo is back on track after a few quarters of slowdown owing to one-off factors like demonetization, GST and transport strike in Maharashtra. The new 6th coating specialty line has started production in Q2FY20 and is now fully stabilized which will hopefully add to the profitability.
Smooth Free Cash Flow
Cosmo's rising free cash flows is a good indication of the fact that the Company is taking its debt reduction plan very seriously and thus, has planned to reduce their CapEx budget for a few quarters. The Company's free cash flow is dependent upon the CapEx plans it undertakes each year. A deep negative free cash flow in FY17 was due to the CapEx on 10th BOPP line and 4th Metallizer line. Since the Company reached its peak with net debt in FY19 amounting to Rs.754 crores, it is now necessary for Cosmo to keep CapEx under check and ensure a smooth and healthy flow of cash, which, as of FY20, is visible.
Return on Equity (RoE)
Cosmo has posted an impressive RoE and RoA of 15.46% and 6% in FY20 respectively, recovering from poor figures in the previous three consecutive years. The RoE of the Company from FY16 to FY19 was mainly impacted due to the sharp fall in the Net Profit margin of the Company from 5.92% in FY16 to 2.81% in FY19, owing to different factors like demonetization, transport strike in Maharashtra, subdued BOPP margins, and operational inefficiency of the subsidiaries. The inefficiency of the Company in effectively using its assets is also one of the factors contributing to low RoE figures. In 2017, 10th BOPP line and 4th Metallizer Line and in 2018, CPP Line-2 was added. When the Company deploys a new line, it takes some time for it to run in full capacity. Hence, this time lag is one of the reasons why the Asset Turnover Ratio for Cosmo has decreased from 1.42 in FY16 to 1.18 in FY20. FY20 has been altogether a good year for Cosmo since the Equity Multiplier has decreased to 2.6 from 2.8 in FY19 and the Net Profit margin has also increased to 5.10%. A decreasing Equity Multiplier shows that the Company is trying to deleverage itself which is evident from the debt/equity ratio also which has decreased to 1.07 in FY20 from 1.19 in FY19. However, Asset Turnover has also decreased but it does not have a major effect on the RoE and thus RoE has improved a lot in FY20. And now that the new 6th Coating Line has fully stabilized its operation, Asset Turnover is expected to improve. Corporate tax cuts announced in FY20 will further enhance profits and hence, RoE is expected to increase furthermore.
Risk Analysis
Volatility in Crude Oil Prices: The raw material (polypropylene) prices are affected by the volatility in crude oil prices, although they are not linearly correlated. The raw material price effect is generally passed on to the customers but any time lag can impact the margins of the Company.
Currency Volatility: Cosmo, having a worldwide presence, has an exposure to multiple currencies. The Company has taken foreign currency-denominated loans and also imports raw materials from the Middle-East. Any fluctuation in exchange rates could impact the earnings of the Company. However, Cosmo mitigates a part of the risk through hedging currency and partly through offset by natural hedge provided by export revenues.
Geopolitical Issues and Trade Wars: Although Cosmo has never had any adverse impact of any geopolitical issues, there is always a threat. Instability in the Korean peninsula could impact its functioning there. Also, the frequent trade wars involving the US is an issue that Cosmo is subject to.
Finance Cost Risk: The Company is susceptible to interest rate fluctuations due to term loans and foreign currency loans it has taken.
The Emergence of Competition in Specialty Films: Being the leading manufacturer of specialty films in India, the emergence of competition in this space may impact the growth plans of the Company with regards to such films in the medium to long term.
Corporate Governance
The Company's Board has 10 directors, out of which 2 are executive Directors, 1 is a non-independent non-executive Director and 7 are independent non-executive Directors. The composition of the Board of Directors conforms with SEBI (LODR) Regulations, 2015.
There is no inter-relationship among any member of the board.
Directors of the Board hold directorship in other listed entities but not more than 10 listed companies, nor is a chairman of more than 5 such companies.
Cosmo had 4 Board meetings in FY19. Apart from this, the independent directors had a separate meeting on 13th February 2019 where they reviewed the performance of the Executive Directors, non-independent directors, Chairman and the Board as a whole. They also reviewed the quality, quantity and timeliness of the flow of information between the Company management and the Board.
The Company follows a well-structured familiarization programme for Directors where they are briefed about the Company, its management, its operation and the industry in which they operate.
There were no materially significant related-party transactions during the financial year which conflicted with the interest of the Company.
Cosmo has a vigil whistleblower policy in place whereby the stakeholders and the employees are encouraged to freely communicate their concerns about illegal or unethical practices.
In August of FY16, promoters increased their shareholding twice to around 43.32%, showing confidence in the Company.
The shareholding pattern of the Company has very marginally changed over the years with the proportion of DIIs significantly increasing over the years. Promoters have 44.15% shareholding in the Company as of FY20, as compared to 44.40% in FY19.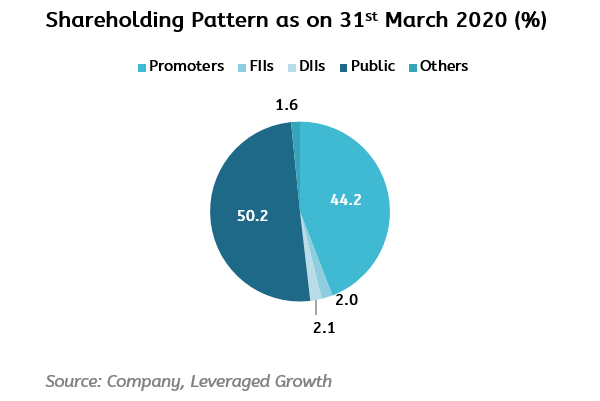 The End Note
The Company is now expanding into specialty chemicals division with a very significant focus on chemicals and adhesives in the time to come. Apart from diversification, this will help Cosmo reduce its reliance on suppliers for some chemicals like masterbatches used by them as raw materials.
Post-COVID-19, flexible packaging industry may see an immense growth due to the anticipated shift in consumer preferences favouring the same. This will be mainly due to the increased hygienic concern among the consumers and the growing demand for packaging films for pharmaceutical.
Cosmo has timely reduced its debt to comfortable levels in FY20. It is now prudent for the Company to resume its CapEx plans for FY21. With crude oil prices reaching a record low, the Company could take advantage of the situation.
A farther reach of information is required about the innovative products sold by the Company. Not many know about the BOPP soap wraps made by Cosmo or even the various applications of BOPP synthetic paper such as menu cards, certificates, etc.
Cosmo's R&D will help it stand out in the industry through its continuous innovation and new product launches. The Company's growth is expected to be prominent in the foreseeable future given the favorable market conditions and a good business model of Cosmo.
Disclaimer: The report and information contained herein is strictly confidential and meant solely for the selected recipient and may not be altered in any way, transmitted to, copied or distributed, in part or in whole, to any other person or to the media or reproduced in any form, without prior written consent. This report and information herein is solely for informational purpose and may not be used or considered as an offer document or solicitation of offer to buy or sell or subscribe for securities or other financial instruments. Nothing in this report constitutes investment, legal, accounting and tax advice or a representation that any investment or strategy is suitable or appropriate to your specific circumstances. The securities discussed and opinions expressed in this report may not be suitable for all investors, who must make their own investment decisions, based on their own investment objectives, financial positions and needs of specific recipient. This may not be taken in substitution for the exercise of independent judgment by any recipient. Each recipient of this document should make such investigations as it deems necessary to arrive at an independent evaluation of an investment in the securities of companies referred to in this document (including the merits and risks involved), and should consult its own advisors to determine the merits and risks of such an investment. The investment discussed or views expressed may not be suitable for all investors. Certain transactions -including those involving futures, options, another derivative products as well as non-investment grade securities – involve substantial risk and are not suitable for all investors. No representation or warranty, express or implied, is made as to the accuracy, completeness or fairness of the information and opinions contained in this document. The Disclosures of Interest Statement incorporated in this document is provided solely to enhance the transparency and should not be treated as endorsement of the views expressed in the report. This information is subject to change without any prior notice. The Company reserves the right to make modifications and alternations to this statement as may be required from time to time without any prior approval. Leveraged Growth, its associates, their directors and the employees may from time to time, effect or have effected an own account transaction in, or deal as principal or agent in or for the securities mentioned in this document. They may perform or seek to perform investment banking or other services for, or solicit investment banking or other business from, any company referred to in this report. Each of these entities functions as a separate, distinct and independent of each other. The recipient should take this into account before interpreting the document. This report has been prepared on the basis of information that is already available in publicly accessible media or developed through analysis of Leveraged Growth. The views expressed are those of the analyst, and the Company may or may not subscribe to all the views expressed therein. This document is being supplied to you solely for your information and may not be reproduced, redistributed or passed on, directly or indirectly, to any other person or published, copied, in whole or in part, for any purpose. This report is not directed or intended for distribution to, or use by, any person or entity who is a citizen or resident of or located in any locality, state, country or other jurisdiction, where such distribution, publication, availability or use would be contrary to law, regulation or which would subject Leveraged Growth to any registration or licensing requirement within such jurisdiction. The securities described herein may or may not be eligible for sale in all jurisdictions or to certain category of investors. Persons in whose possession this document may come are required to inform themselves of and to observe such restriction. Neither the Firm, not its directors, employees, agents or representatives shall be liable for any damages whether direct or indirect, incidental, special or consequential including lost revenue or lost profits that may arise from or in connection with the use of the information. The person accessing this information specifically agrees to exempt Leveraged Growth or any of its affiliates or employees from, any and all responsibility/liability arising from such misuse and agrees not to hold Leveraged Growth or any of its affiliates or employees responsible for any such misuse and further agrees to hold Leveraged Growth or any of its affiliates or employees free and harmless from all losses, costs, damages, expenses that may be suffered by the person accessing this information due to any errors and delays.
Contributor: Team Leveraged Growth
Co-Contributor: Gaurav Jalan
Research Desk | Leveraged Growth